Get to know our CSW Advisory Committee (CSWAC) members through CSWAC Corner! We are proud to have an advisory committee made up of feminist scholars working in various fields from gender studies to public health to film and television. Each month, we'll feature a CSWAC member to learn more about them and their work.
For July 2021, we're spotlighting:
Associate Professor, World Arts and Cultures/Dance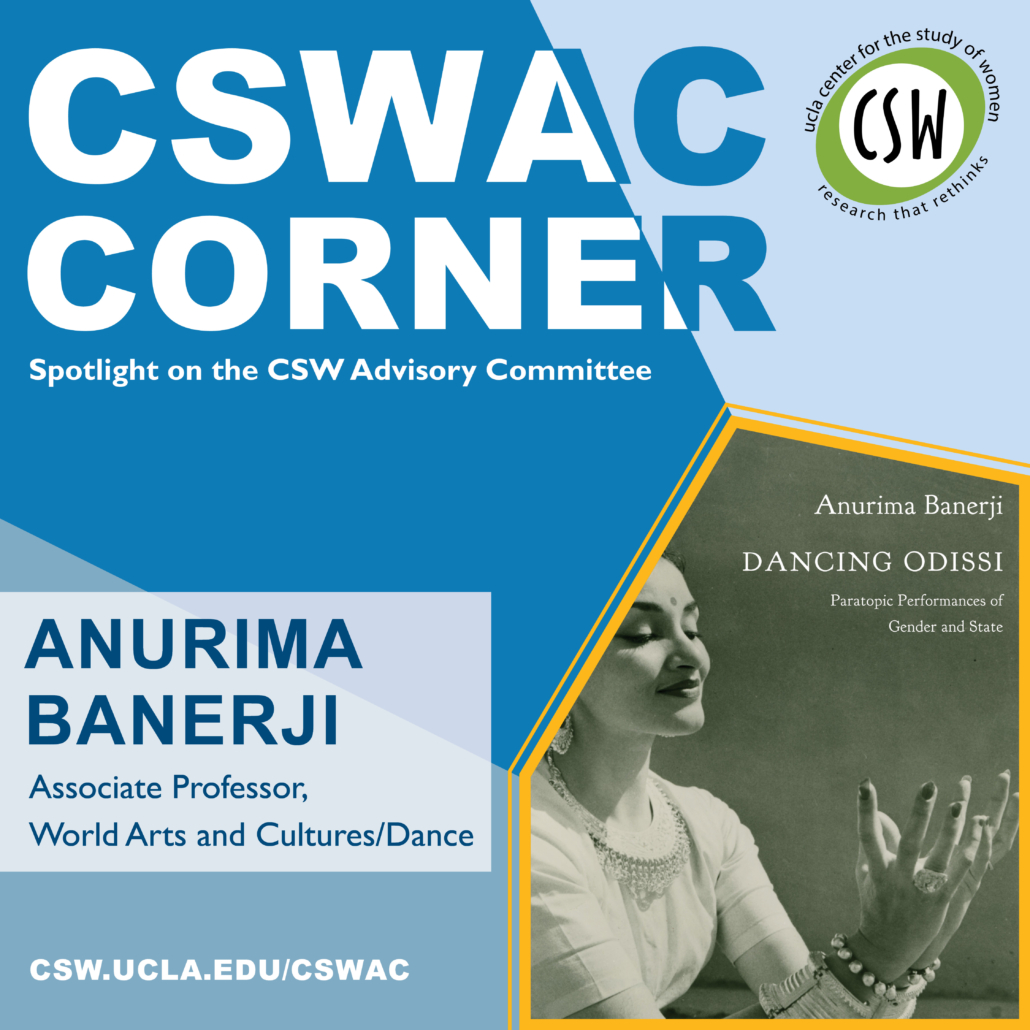 1. What are you currently working on?
Currently I'm working on a book project called the Impossibility of Indian Classical Dance. I've been interested in the question of aesthetic categories in dance and trying to investigate how to understand classicism in specific, because it's a form that's privileged and elevated as a sign of the state in India. My argument is that there is no such thing as "Indian Classical Dance" because each term in that seemingly stable formulation can be critically interrogated to reveal its contingencies–and beyond that, there is no actual framework for the "classical" in the Indian aesthetic realm, historically and culturally speaking. I suggest that the phrase "Indian Classical Dance" is a misleading misnomer, given that it is not "Indian," but regional and transnational in character; not "classical," but a confluence of ritual, folk, court, and concert forms; and not "dance," but interdisciplinary performance. I propose that the ideology of classicism was imported to India during the British colonial period and used as a politicized lexical term by Indian cultural elites to establish the value of Indian artistic practices through a eurocentric framework. Analyzing Indian constructions of classicism also requires a related inquiry into Western classicism in the dance realm and comparing these double deployments. So rather than assuming the "classical" as a universal or self-evident category, the book is aimed at provincializing, historicizing, and hopefully, in the process, demystifying and decolonizing the "classical" as a prevailing genre in dance and kindred arts

2. Any news you would like to share?
My monograph, Dancing Odissi: Paratopic Performance of Gender and State (Seagull Books/University of Chicago Press), was recently awarded the 2020 de la Torre Bueno Prize from the Dance Studies Association.
CSW generously provided funding for research related to the book and also sponsored the manuscript workshop that led to its completion, so I'm very grateful for that support!

3. Where can we find you on social media?
I do not use any social media platforms, on principle, because I view them as deeply problematic in terms of issues related to privacy, data mining, and the fostering of political polarization and violence. At another level, there is a lot of research showing these platforms amplify inequities–while commodifying the idea of connection with others–while interrupting the time and energy required for deep thinking. Sometimes it seems like there are no alternatives but to use these systems; but I try to remember that there are other channels of communication that promote more meaningful engagement, and so I try to avoid social media as much as possible. However, I also understand that for many people, being on social media is a professional requirement, and that on a personal level facilitates contact with family, friends, and colleagues globally.

4. What are you currently reading?
During the pandemic, I've been drawn mainly to nonfiction and poetry (including fiction rendered poetically). For me, some theory has a lyrical dimension too. I've also revisited some favourite writings and found new meaning in them during this exceptionally challenging time. Right now I'm toggling between Olga Tocarczuk's Flights, Cristina Perri Rossi's The Museum of Useless Efforts, Nicole Sealey's Ordinary Beast, Michel Foucault's Aesthetics, Methods, and Epistemology, and Leonard Cohen's Stranger Music.

5. What have you been listening to lately? Music?
I've been listening to the music of Louz and the Yakuza, Arlo Parks, and Moses Sumney. Classic songs from Hindi cinema composed by R.D. Burman and S.D. Burman, as sung by Kishore Kumar. Hemanta Mukherjee's renditions of Tagore songs. The vocals of Veena Sahasrabuddhe. And Radiohead and Massive Attack.

6. What movie would you recommend to others and why?
I would recommend the film Shahrzaad's Tale (2015) by Shahin Parhami. The documentary is a complex portrait of a fascinating figure: Kobra Amin-Sa'idi, known as Shahrzaad, was an iconic actor and dancer in Iranian popular cinema from the pre-Revolutionary period, and also the first woman to direct a movie in the industry. She was additionally a respected poet. Yet after the Revolution in 1979, her films were banned and she lived under the radar for decades, virtually homeless and in dire straits. Parhami tracked her down in Iran with great difficulty and made this film. I find Shahrzaad's Tale to be a brilliant and multilayered documentary that offers insights into contemporary Iranian society, gender inequality, the politics of artmaking, as well as the ethics of representation and self-reflexive approaches to artmaking. Parhami was a fiercely independent Iranian-Canadian director who made experimental documentaries focusing on artists in the margins. He was talented at every aspect of the filmmaking process–writing, editing, sound design, cinematography. Sadly, he passed away of cancer during the pandemic. Shahrzaad's Tale was acclaimed at festivals worldwide, and won several awards, but in the current media landscape, it can be difficult for independent artists to access the channels that can allow their work to be seen by a wider public. This film, and others by Parhami, can be viewed on Vimeo at:  https://vimeo.com/162709888

If you are a CSW Advisory Committee member who would like to be featured in CSWAC Corner, please fill out this Google form
.