Get to know our CSW Advisory Committee (CSWAC) members through CSWAC Corner! We are proud to have an advisory committee made up of feminist scholars working in various fields from gender studies to public health to film and television. Each month, we'll feature a CSWAC member to learn more about them and their work.
For April 2021, we're spotlighting:
Associate Professor, Information Studies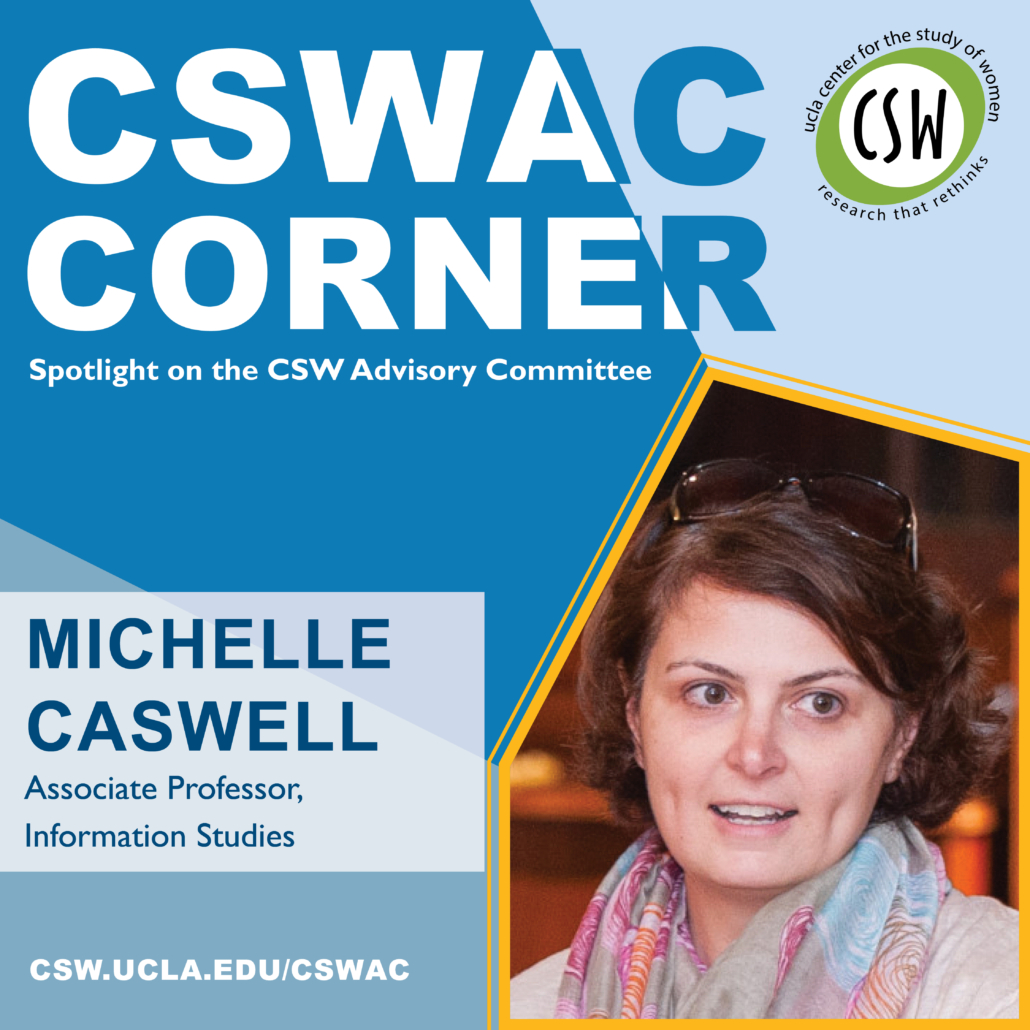 1) What are you currently working on?
I am working on a joint grant proposal right now with two community archives: The South Asian American Digital Archive (SAADA) and the Texas After Violence Project (TAVP). The project is a community-led action research project where we study the emotional impact of having one's story told, recorded, and archived online and then, based on the research findings, build participatory digital projects that best meet the emotional needs of the communities served and represented by the two organizations. I also have a six-year-old son who has been at home for the past year, so I am working on raising him to be his full brilliant, kind, and creative self.
2) What featured events or publications are coming up?
I have a new book coming out in May! Urgent Archives: Enacting Liberatory Memory Work, Routledge Press. The book proposes a new framework for thinking about activating archives in the present for liberation now, based on my engagement with community archives.
3) Where can we find you on social media?
Twitter: @professorcaz
4) What are you currently reading?
I am reading Producing the Archival Body by my dear friend and comrade, Jamie A. Lee. The book is a stunning meditation on interactions between archives and bodies, using queer theories to disrupt dominant Western archival studies. Jamie is the founder of the Arizona Queer Archives and a brilliant theorist. I highly recommend it!
5) Other than your current research interests, what other fields would you want to explore if you had the time?
So many fields are engaging critically with archival ideas, it is hard to keep up! Black feminist theory, queer theory, and abolitionist thinking are all really generative areas where I would like to spend some more time.
Outside of academic reading, I love reading fiction, cookbooks, and travel guides. I really miss the days when I could browse the beautiful cookbooks at the LA Public Library. I was a travel writer, briefly, before I became an academic and archivist, so I also enjoy reading travel guidebooks, just for fun, even guides to places I have no plans to visit.
6) Favorite food/quarantine recipes?
I have really upped my brisket game since the pandemic began. Melissa Clark's brisket recipe from the NY Times is my favorite so far.
If you are a CSW Advisory Committee member who would like to be featured in CSWAC Corner, please fill out this Google form.