Care and Vision: The Transformative Feminism of Ai-jen Poo
CSW will honor Ai-jen Poo with our 2019 Distinguished Leader in Feminism Award on May 30, 2019. Join us at our Awards and Benefit Reception to hear Ai-jen Poo's keynote address, "Organizing in a Time of Hate: Leading with Love."
Ai-jen Poo is a labor organizer whose work has transformed the lives of some of the most vulnerable workers in the United States: women who do the work of caring for others. Care work—done by  healthcare aids, nannies, housekeepers and other domestic workers—is predominantly undertaken by women, particularly women of color and women immigrants. This work serves a crucial social role, however, as Ai-jen Poo writes, care workers are frequently vulnerable and exploited:
"In return for the life-sustaining supports that care workers provide, we have failed to care for them. Care workers earn, on average, less than $10 per hour. They rarely receive paid vacation or sick days. Most workers are subject to termination without notice or severance pay; many without citizenship status fear they can do nothing to improve their situations. When individual workers try to raise their wages or improve their conditions with their employers, employers can simply hire another worker. Care work, historically associated with the unpaid work of homemakers or the poorly paid work of women of color and immigrant women, remains undervalued and virtually invisible to public consciousness."
Through her work as the Director of the National Domestic Workers Alliance, Ai-jen Poo has instigated transformational change in the working conditions of care workers across the country. This work is multifaceted and intersectional. Through the Domestic Worker Bills of Rights project, NDWA has achieved greater worker protections against workplace abuses and access to healthcare and other benefits that have historically been denied to domestic workers. Beyond Survival aims to end human trafficking of domestic workers and centers the stories of leadership and change led by those workers. Organizing projects and leadership programs like like We Dream in Black support and elevate the work and power of women of color.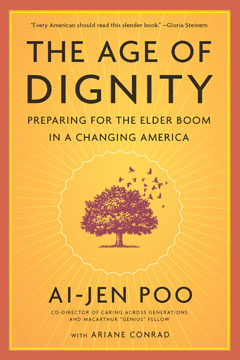 Ai-jen Poo is also the founder of Caring Across Generations, an initiative that is radically redefining what eldercare can look like in the United States by taking an intersectional perspective that understands how economic inequality, the devaluation of the labor of care workers, ageism, ableism, unequal access to healthcare, and gendered expectations around care have shaped eldercare. She also examines these issues in her celebrated book The Age of Dignity.
All of Ai-jen Poo's work looks towards building a better future through community, care, and alliances. She empowers emerging activists – for instance, funds from her 2014 MacArthur "Genius" Fellowship support the Dorothy Bolden Fellowship, which nurtures and provides support to new leaders among domestic workers. Her latest project aims to connect activists nationwide to mobilize for gender equality. Supermajority, which she heads up alongside Alicia Garza of the Black Lives Matter Global Network and Cecile Richards, former president of Planned Parenthood, is mobilizing women and building electoral participation and power and working towards, a "a comprehensive or holistic agenda that really addresses the needs, hopes, and aspirations of 21st-century women for equality and equity."
Ai-jen Poo has been recognized by the MacArthur Foundation, the Time's Up movement (she was featured as Meryl Streep's date at the 2018 Golden Globes) and more. CSW is honored to join these organizations in recognizing her work. Given Ai-jen Poo's groundbreaking work supporting and elevating the most vulnerable, CSW has selected Ai-jen Poo as the recipient of our 2019 Distinguished Leader in Feminism Award.
Please join us on May 30, 2019 when Ai-jen Poo will deliver the keynote address "Organizing in a Time of Hate: Leading with Love" at our Awards and Benefit Reception!
Read Ai-jen Poo's Work:
Read more about Ai-jen Poo: