This event is now past. Photo highlights of the 2019 Awards and Benefit Reception can be viewed HERE.
Join the UCLA Center for the Study of Women for a special end of the year event to honor the Center's accomplishments, student award recipients, and this year's Distinguished Leader in Feminism Award honoree!
FEATURING THE KEYNOTE ADDRESS

Founder & Executive Director, National Domestic Workers Alliance (NDWA)
Co-Director, Caring Across Generations
This year, CSW has selected Ai-jen Poo as the recipient of the Center for the Study of Women's 2019 Distinguished Leader in Feminism Award. She is an award-winning organizer, author, and social innovator, and will discuss our current political climate and the importance of multi-racial, multi-generational movements that center the most vulnerable among us. Ai-jen will explore the enormous potential for change in this moment and how women are leading the way.
---
Event Details and Registration
Thursday, May 30, 2019
6:00 – 8:00 PM
(Doors open at 5:45 PM)
UCLA Meyer and Renee Luskin Conference Center, Centennial Ballroom A/B
Cocktails and hors d'oeuvres will be served.
Tickets are $25 and non-refundable.

REGISTRATION IS NOW CLOSED
To make this event accessible and to accommodate all attendees, we ask for your help in making this event fragrance-free. We would appreciate that all guests avoid wearing products that contain fragrances, which can include perfumes, hair products, deodorants, detergents, etc. These products can make some members of our community very ill. For more information, visit our Event Accessibfevent aility page.
For questions, please contact CSW Management Services Officer Kristina Magpayo Nyden.
To be the first to hear updates on this event, join the CSW mailing list!
---
Location and Parking
The 2019 CSW Awards and Benefit Reception will take place at the UCLA Meyer and Renee Luskin Conference Center (425 Westwood Plaza, Los Angeles, CA 90095) located in Westwood Plaza on the corner of Strathmore and Westwood Boulevard (left map).
Within the Luskin Conference Center, the Reception will take place in the Centennial Ballroom A/B, located on the 1st floor (right map). Enter through the last two doors on the right at the end of the Centennial Ballroom Prefunction Area (do not enter through the first two doors leading to Ballroom C/D, as a different event will be taking place in those rooms).
For a full UCLA map, please visit http://maps.ucla.edu/downloads.
DIRECTIONS TO UCLA MEYER AND RENEE LUSKIN CONFERENCE CENTER
From I-405 North:
Take Exit 55B-C towards Wilshire Blvd. Follow signs for Westwood Blvd E/Westwood.
Use the left two lanes to turn onto Westwood Blvd.
Continue onto Westwood Plaza.
Parking is available in Parking Structure 8 to the left (see top left map).
From I-405 South:
Take Exit 57 toward Sunset Blvd.
Turn left onto N Church Ln.
Turn left onto Montana Ave and continue on to Gayley Ave.
Turn left onto Strathmore Pl. The conference center will be to the left, and Parking Structure 8 will be to the right.
Turn right onto Westwood Plaza to access the Structure 8 driveway.
PARKING
The closest parking area to the Luskin Conference Center is Parking Structure #8 (see map above-left). There are two ways to purchase parking in Structure #8:
Purchase Pay-by-License Plate parking on the 4th level (top floor) in the designated Visitor Parking area. Go to a self-service Daily Visitor Pay Station and follow posted instructions to purchase parking (remember license plate number). The self-service station will dispense a parking pass based on your license plate number. Please read posted instructions at each pay station carefully. Parking rates vary from $1 for 20 minutes to $12 for All-Day parking. Pay stations accept exact cash and credit cards. For more information, please visit the Transportation website.
Purchase All-Day parking for $12/day at the Parking Information Kiosk located in Westwood Plaza (designated by the "i" on the map above). Only cash is accepted at this kiosk (no bills higher than $20 accepted). Transportation Services representatives are also present at this kiosk to answer your questions.
A bridge is located on the 3rd floor of Structure #8 that leads directly to the Luskin Conference Center.
---
About the Keynote Speaker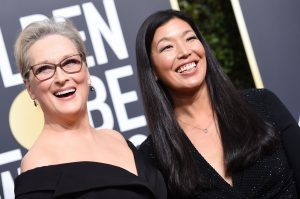 Ai-jen Poo is the Director of the National Domestic Workers Alliance and the Co-Director of Caring Across Generations. She is an award-winning organizer, author, and social innovator, and a leading voice in work and family care solutions. Ai-jen is a 2014 MacArthur "genius" Fellow, TIME 100 alumna, and recently featured speaker at TEDWomen. She has been an influential voice in the #MeToo movement and joined Times Up at the 2018 Golden Globes. Her work has been featured in The New York Times, Washington Post, TIME, and CNN. She is the author of The Age of Dignity: Preparing for the Elder Boom in a Changing America. Follow her at @aijenpoo.