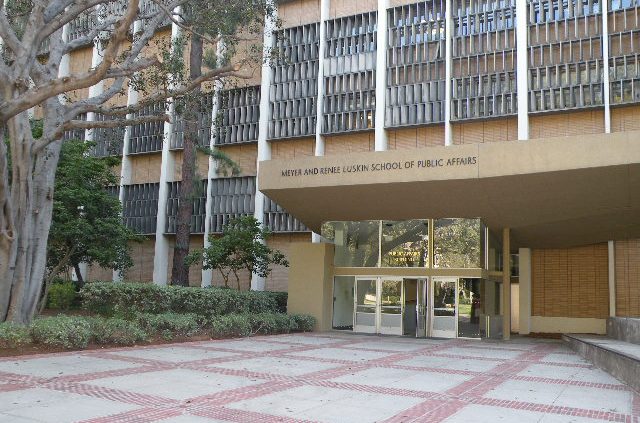 The Center for the Study of Women offices are located in the Luskin School of Public Affairs – a LEED-certified building.
Pictured above: The Center for the Study of Women offices are located in the Luskin School of Public Affairs – a LEED-certified building.
by Katherine Jabba
An Introduction
Before joining the Chemical Entanglements project, I knew very little about the harmful effects of fragrance. However, growing up in the Bay Area, I have been inundated with information about sustainability, environmental protection, and "going green," for as long as I can remember. Attending UCLA has further enhanced my understanding of the sustainability movement. As a child, my knowledge of "going green" meant learning to recycle, buying a reusable water bottle, and wanting to save the rainforest. Since then, I have learned that "going green" also encompasses reducing chemical waste, protecting the ozone layer, and improving air quality. My work with the Chemical Entanglements Project in studying fragrance-free initiatives prompted me to investigate how green sustainable efforts connect to the fragrance-free movement, both on the UCLA campus and at large.
What is LEED Certification?
One of the main ways in which institutions formally engage in the sustainable and green movement is though Leadership in Energy and Environmental Design [LEED] Certification, a rating system devised by the United States Green Building Council that evaluates and encourages environmentally-friendly buildings and building practices. Buildings receive credit points for different green and sustainable practices, and can achieve various levels of certification (U.S. Green Building Council). As of July 2017, thirty-five buildings at UCLA are LEED-certified and UCLA Sustainability, UCLA Facilities, UCLA Housing, and many other offices on campus work to maintain UCLA's LEED certification and improve sustainability on campus (UCLA Sustainability). Understanding how fragrance fits into LEED Certification is a challenge, as it is barely mentioned in the policy. The primary focus of LEED Certification is making buildings more environmentally-friendly and energy efficient, not improving human health, so few certification points and LEED prerequisites focus on chemical safety and air quality, as opposed to improving plumbing efficiency or using renewable energy. For example, buildings can earn up to fifteen points by providing alternatives to automobile commuting for regular building occupants, but can earn one point for reducing particulates in air distribution and one point for having a high performance green cleaning program instead of a standard green cleaning program, which is a certification prerequisite (U.S. Green Building Council). Although it is excellent that a green cleaning program is a prerequisite, it is clear that chemical safety, and by extension limiting fragrances, plays little role LEED Certification.
What is Green Cleaning?
The LEED green cleaning policy's main purpose is "to reduce the exposure of building occupants and maintenance personnel to potentially hazardous chemical, biological and particulate contaminants, which adversely affect air quality, human health, building finishes, building systems and the environment" (U.S. Green Building Council). It involves implementing sustainable cleaning products that meet Green Seal standards for industrial and institutional use. Green Seal is a non-profit organization that sets environmental standards for products and services, and then certifies products that meet these standards (Green Seal, Inc.). These specific standards, GL-37, GL-40, GL-41, and GL-42, are outlined on the official Green Seal website and focus on reducing volatile organic compounds (VOCs); protecting water and air quality for the sake of aquatic life and human health; and sustainable packaging (Green Seal, Inc.). Many fragrances are actually VOCs (Potera). However, fragrances are not mentioned in any of the policy summaries, except for GL-41, which outlines the standards for hand soap and cleaners, and states that any fragrances used must follow the Code of Practice of the International Fragrance Association (Green Seal, Inc.). A more detailed version of the requirements for cleaning products (GL-37) revealed that fragrances and VOCs are allowed in limited quantities (less than 1%) depending on the type of cleaning product and that added fragrances must follow the Code of Practice of the International Fragrance Association and must be disclosed to Green Seal even if they are not on the label (Green Seal, Inc.).
The International Fragrance Association [IFRA] is the main self-regulatory body for the fragrance industry and is located in Geneva, Switzerland. The association has been under fire recently, as their list of thousands of fragrance ingredients includes suspected carcinogens and endocrine disruptors, such as styrene and phthalates, and they have banned less than 200 ingredients (Made Safe). Considering that Green Seal standards comply with IFRA standards, there is still ample opportunity for harmful fragrances to enter green cleaning products and spread through LEED-certified buildings. Additionally, many businesses, especially those that do not try to meet Green Seal standards, do not comply with IFRA standards.
How does this relate to fragrance-free?
Ultimately, LEED standards and Green Seal standards do not require fragrance-free cleaning products, and do not put a central focus on air quality. However, the goals of these programs in reducing VOCs and regulating the chemicals in the environment have good intentions, and are headed in the right direction. Although not up fragrance-free standards, Green Seal-certified cleaning and LEED-certified buildings are undoubtedly better for health than no green or sustainable regulations at all. I look forward to seeing how these policies will improve in the future to better incorporate fragrance related issues. My concern is that many institutions and businesses that are LEED-certified or that do have green cleaning policies may believe that they are fragrance-free or may believe that their Green Seal products are fragrance-free. In reality, fragrance-free and green are not synonymous. Increasing awareness of what fragrance-free actually means is essential.
What does this mean for UCLA and for the future?
However, all of the green cleaning regulations surrounding VOCs and the power of the fragrance-free movement has prompted many cleaning companies to produce fragrance-free hand soaps, and some fragrance-free cleaning products as part of their green-certified lines. In my interviews with UCLA Facilities and UCLA Housing, I learned that the two offices are aware of the impacts of fragrances as a result of their green policies, and have switched to fragrance-free hand soap both on campus and in residential housing, a positive step in the right direction. Additionally, both of their green cleaning policies prioritize and aim to improve community health, not just environmental health. The sustainability movement and the fragrance-free movement may remain somewhat separate, but sustainability practices and policies have increased awareness of the harmful impacts of fragrance. This produces a unique opportunity for the growth of the fragrance-free movement, and its increased incorporation into green and sustainable policies. The little girl holding her reusable water bottle and trying to save the rainforest is excited to see where the future of these two movements takes us.
Katherine Jabba is an undergraduate student studying Society and Genetics. She was part of the Chemical Entanglements Undergraduate Group in Fall 2017.
---
Works Cited
"Green Cleaning Policy." U.S. Green Building Council, www.usgbc.org/credits/eqp3.
"GS-37 Green seal standard for cleaning products for industrial and institutional use." Green Seal, Inc., 8 Sept. 2017.
"GS-41 Green seal standard for hand cleaners for industrial and institutional use." Green Seal, Inc., 8 Sept. 2017.
"Fragrance." Made Safe, madesafe.org/science/toxicant-database/fragrance/.
"LEED Buildings at UCLA." UCLA Sustainability, www.sustain.ucla.edu/our-initiatives/green-building-design/leed-projects-at-ucla/.
"LEED Certification." What Is LEED? | U.S. Green Building Council, www.usgbc.org/help/what-leed.
"LEED Credit Library | U.S. Green Building Council." U.S. Green Building Council, www.usgbc.org/credits.
Potera, Carol. "Indoor air quality: Scented Products Emit a Bouquet of VOCs." Environmental Health Perspectives 119.1 (2011): A16. Print.
"What We Do." Green Seal > About Green Seal, Green Seal, Inc., www.greenseal.org/AboutGreenSeal.aspx.