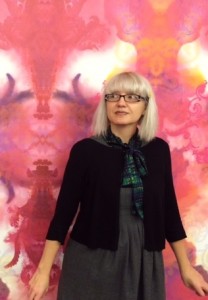 "Coming out the closet" has  been a political strategy in the gay rights movement since the early days of gay liberation in the 1960s. Yet, while "coming out" can be a strategic decision to embrace, and to some degree, reclaim a stigmatized identity, it can also be a claim about essentialism – about making public an innate aspect of identity and/or embodiment that cannot be acted upon or regulated by informal social control or state regulation – a logic often encapsulated in the 2010s LGBTQ activist slogan "born this way."  I explore the idea of "born this way" as a political strategy for addressing stigma and marginalization through the lens of my book project, Before and After, that centers on the experiences of people who make major changes to their embodiment and identity. Drawing on a preliminary analysis of my interview and ethnographic data, I explore two competing frames people use to make sense of such changes: coming out as your true self or becoming a new you.  — Kristen Schilt
One of the speakers at CSW's upcoming "Coming Out as…" colloquium, is Kristen Schilt, an associate professor at the University of Chicago. Her research interests center on sociology of gender and sexualities, the sociology of culture, and the sociology of work and occupations. A central focus of her work is finding new ways to make visible the taken-for-granted cultural assumptions about gender and sexuality that serve to naturalize and reproduce social inequality.
A recent article, titled "Doing Gender, Determining Gender" (Gender & Society, April 2014), which she co-authored with Laurel Westrup, addresses "determining gender," the umbrella term for social practices of placing others in gender categories. Their "cases address different social milieu: sports, employment, and government documents. Yet, each case is, at its core, about upholding the logic of gender segregation. In these ideological collisions, social actors struggle with where actual and imagined trans-people fit in gender- segregated spaces, such as public restrooms. These struggles provoke what we term 'gender panics,' situations where people react to disruptions to biology-based gender ideology by frantically reasserting the naturalness of a male–female binary."
Schilt and Westrup also recently authored "bathroom battlegrounds and penis panics" for Contexts (Summer 2015), a quarterly magazine that "makes cutting-edge social research accessible to general readers." After studying bills supporting transgender rights and access to public facilities, the authors noted that "opponents repeatedly expressed their belief that public restrooms have to be segregated on the basis of gender and that people's genitals, not their gender identities, should determine bathroom access." These opponents frequently suggested that bathroom access would lead to assaults of various types, reproducing notions about women's weakness and male assault to deny rights to transgender people; yet, the co-authors revealed: "In none of the media accounts we analyzed have opponents been able to cite an actual case of bathroom sexual assault after the passage of transgender-supportive policies."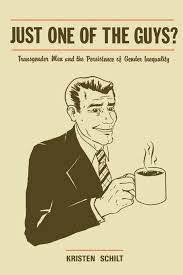 In 2010, she authored Just One of the Guys? Transgender Men and the Persistence of Gender Inequality (University of Chicago Press). In it, she illustrates how the workplace experiences of transgender men can help to illuminate the organizational and interactional processes that contribute to the persistence of gender, race, and sexuality-based inequalities in the workplace. In a review in the American Journal of Sociology (117: 3, November 2011, 993-995), Anastasia Prokos, Iowa State University, notes that Just One of the Guys? "offers new insights and strong empirical evidence to illuminate the complex ways that gender structures social life and workplace inequalities" and lauds it for"successfully integrating theoretical insights from both sexuality studies and gender theory" and for showing how —through interviews and case studies—"dominant contemporary 'bio-logical diversity' framework for understanding transgenderism ultimately reinscribes a sex/gender binary. "This framework therefore bolsters," Prokos notes, "arguments that biological differences underlie women's lower social and eco-nomic status and does not directly challenge the persistence of gendered cultures or structures. Yet Schilt is careful not to equate her explanation of the persistence of gender inequality with an argument for structural or cultural determinism. Indeed, she highlights throughout the book the ways that transmen challenge gender inequality."
In 2013-2014, Schilt conducted a year-long collaborative project with Toronto-based, multimedia artist, Chase Joynt (twitter: @ChaseJoynt). Sponsored by a Mellon Fellowship in Arts Practice & Scholarship at the Richard and Mary L. Gray Center for Arts and Inquiry, their project explored the construction of public narratives about transgender identities. The collaborators created a series of multimedia installations that deploy and disrupt positions of scholarly, artistic and experiential authority. A video about their project is available on YouTube: https://youtu.be/_GcB_q6iDk8
Schilt's current book project is titled 'Before and After': The Sociology of Major Life Transitions. In it, she looks at how ideas about the biological origins of social differences ease or heighten inequalities for marginalized groups. Using four case studies of individuals making major life transformations in identities commonly understood to be both stable and shaped by biology (weight, gender, sexual orientation, and Jewish identity), Schilt examines how biological frames are used to authenticate or invalidate the legitimacy of these transformations.

Because Schilt's work so seamlessly explores the inequalities present in gender, race and sexuality, CSW invited her to speak at "Coming Out As…," a colloquium on how the phrase "coming out" has expanded, migrated, and been re-purposed by various marginalized groups, such as transgender individuals, undocumented immigrants, or the plural marriage rights movement. Part of the UCLA Center for the Study of Women's Research and Equity Committee initiative, which is supported by the Office of Interdisciplinary and Cross Campus Affairs, and hosted by the UCLA Center for the Study of Women and the Williams Institute, the colloquium will also feature Laura E. Enriquez, an assistant professor in the Department of Sociology at UC Irvine and a former student of Saguy's, and Nicole Iturriaga, a doctoral student in the Department of Sociology at UCLA.; and Kristen Schilt, who received her Ph.D. in Sociology at UCLA and who is now an associate professor at the University of Chicago. James A. Schultz, an emeritus professor at UCLA, will be respondent. It takes place on February 8, from 2 to 5 at the Charles E Young Research Library, room 11360. Cosponsors are the César E. Chávez Department of Chicana and Chicano Studies, Chicano Studies Research Center, UCLA Library, LGBT Studies IDP, LBGT Resource Center,  and the Sociology Gender Working Group.
Photo of Kristen Schilt courtesy of University of Chicago