Thinking Gender 2020 Keynote Panel: Transformational Justice: Refusing Criminalization and Sexual Violence
THINKING GENDER, SEXUAL VIOLENCE AS STRUCTURAL VIOLENCE: FEMINIST VISIONS OF TRANSFORMATIVE JUSTICE
30TH ANNUAL GRADUATE STUDENT RESEARCH CONFERENCE
Friday, March 6, 2020
UCLA Carnesale Commons
Sexual Violence as Structural Violence: Feminist Visions of Transformative Justice will feature a keynote panel of distinguished scholar and activists, headline by Mariame Kaba. The keynote panel will follow an opening presentation by Tongva artist, Weshoyot Alvitre.
Toypurina: Bloodlines of Resistance
WESHOYOT ALVITRE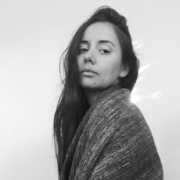 Weshoyot Alvitre is a female illustrator and comic book artist. She has a BA in fine art and studied illustration and animation. She is Tongva & Scottish. Weshoyot has contributed to many award-winning books including the Eisner award winning Umbrella Academy (Darkhorse Comics) and Little Nemo: Dream Another Dream (Locust Moon press). Her most recent projects include art for the graphic novel GHOST RIVER (Native Realities Press/Library Company of Philadelphia/Pew Arts & Heritage) based on the Paxton Massacre of the Conestoga people in Philadelphia, At The Mountains Base (Kokila), and art direction on the educational video game When Rivers Were Trails, which gives a Native perspective on westward expansion of the 1890's. She is currently writing and drawing Toypurina: Our Lady of Sorrow.
Transformational Justice: Refusing Criminalization and Sexual Violence
MARIAME KABA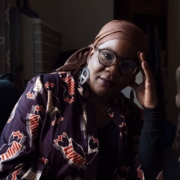 Read our blog post about Mariame Kaba.
Mariame Kaba is an organizer, educator and curator who is active in movements for racial, gender, and transformative justice. She is the founder and director of Project NIA, a grassroots organization with a vision to end youth incarceration. She has co-founded multiple organizations and projects over the years including We Charge Genocide, the Chicago Freedom School, the Chicago Taskforce on Violence against Girls and Young Women, Love & Protect, and most recently, Survived & Punished.
As a Researcher in Residence at the Barnard Center for Research on Women, Mariame Kaba works with Andrea J. Ritchie, fellow Researcher in Residence, on a new Social Justice Institute (SJI) initiative, Interrupting Criminalization: Research in Action.
Mariame is on the advisory boards of the Chicago Torture Justice Memorials, Critical Resistance and the Chicago Community Bond Fund. Her writing has appeared in numerous publications including The Nation Magazine, The Guardian, The Washington Post, In These Times, Teen Vogue, The New Inquiry and more. She runs the Prison Culture blog. Mariame's work has been recognized with several honors and awards.
MIMI KIM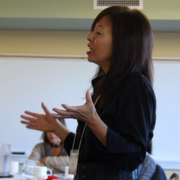 Mimi Kim is a long-time advocate and activist working on issues of gender-based violence in communities of color. She is a co-founder of Incite! Women, Transgender and Gender Non-Conforming People of Color Against Violence. In 2004, she established Creative Interventions which helped to develop collective, liberatory and non-criminalizing approaches to address and end domestic and sexual violence and has worked actively to develop feminist community accountability and transformative justice political frameworks and practices. Mimi's research on the historical development of carceral feminism and the contemporary transformative justice movement includes "The Carceral Creep: Gender-Based Violence, Race, and the Expansion of the Punitive State, 1973-1983" (2019). Mimi is an Assistant Professor of Social Work at California State University, Long Beach.
EMILY THUMA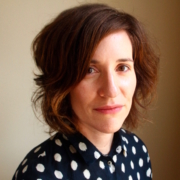 Emily Thuma is an Assistant Professor of U.S. Politics and Law at the University of Washington, Tacoma, and formerly an Assistant Professor of Gender and Sexuality Studies at the University of California, Irvine. She researches and teaches at the intersections of twentieth-century U.S. history and politics, feminist and queer studies, critical race and ethnic studies, legal studies, and carceral studies. Her book, All Our Trials: Prisons, Policing, and the Feminist Fight to End Violence, was published by the University of Illinois Press in 2019. A long-time participant in movements for racial and gender justice, Thuma is a member of the California Coalition for Women Prisoners and a co-coordinator, with Alisa Bierria, of the Feminist Decarceral Research Initiative.
SARAH HALEY (Moderator)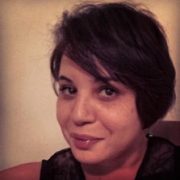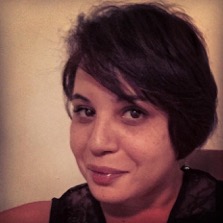 Sarah Haley is an Associate Professor of Gender Studies and African American Studies at UCLA. She has research and teaching investments in black feminism, gender history, carceral studies, labor, and black radicalism. She is the author of No Mercy Here: Gender, Punishment, and the Making of Jim Crow Modernity (UNC Press, 2016), which examines the lives of imprisoned women in the U.S. South from the 1870s to the 1930s and the role of carcerality in shaping cultural logics of race and gender under Jim Crow. She is currently working on a black feminist history of the rise of the contemporary carceral state that interrogates the role of state intrusion and violation of black domestic space. Her research has been supported by the Gilder Lehrman Center for the Study of Slavery, Resistance, and Abolition, the Ford Foundation, and the Woodrow Wilson Foundation. She has also worked as a paralegal for the New York Office of the Federal Public Defender and as a labor organizer with UNITE-HERE.