Organized by the UCLA Department of Asian American Studies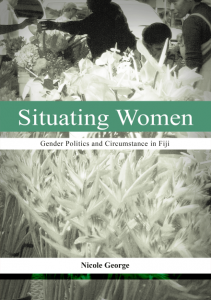 Since the early 2000s, United Nations Security Council Resolutions on Women Peace and Security, and particularly UNSCR 1325, have become a key focus of policy making and gender advocacy for those aiming to promote women's roles in conflict resolution and conflict transition in the western Pacific Islands region. But in these contexts, arguments about the rights of women to be recognized as those who bear specific sorts of burdens in times of instability, or those who bring particular types of skills or insights to the processes of post-conflict governance also come into friction with vernacular notions of security and localized sentiments about the foundations for the safe ordering of community. In this presentation Nicole George reflects on recent academic development of the concept of vernacular security and the insights this work might offer into the challenges surrounding promotion of women peace and security principles in this region. George then draws upon lessons learned from research with everyday communities of women impacted by the long process of conflict transition. George examines where and how frictions occur between conceptualizations of gendered security that uphold women's rights to safety and participation, and those which equate gendered security with respect for, and adherence to, gendered codes of responsibility to family and community.
Nicole George is a leading feminist in Oceania and the author of Situating Women: Gender Politics and Circumstance in Fiji (Australian National University Press, 2012).
DATE: April 9, 2018
TIME: 3:00 PM
LOCATION: Rolfe 2125