CSW is thrilled to feature Nonny de la Peña as part of Feminism and the Senses.
RSVP for the Talk (Nov. 13, 4pm, Faculty Center): https://csw.ucla.edu/VR
REQUEST an Individual Virtual Reality Appointment (Nov. 13, 10am-3:30pm): https://csw.ucla.edu/VR-Request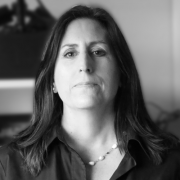 Nonny de la Peña, named "The Godmother of Virtual Reality" by The Guardian and Engadget and one of the 20 most influential Latina/os in tech by CNET, is a pioneer of virtual reality and immersive journalism. As the founder and CEO of Emblematic Group she has collaborated with PBS Frontline, Wall Street Journal, Planned Parenthood, the True Colors Fund, the New York Times, and other organizations to create impactful virtual reality experiences depicting real-life events. Her VR projects include "Across the Line," which helps viewers understand what some women go through to access abortion services, "After Solitary," which takes viewers inside the Maine State Prison to experience a harrowing story of solitary confinement, and "Out of Exile," which uses VR to draw attention to the plight of homeless LGBTQ youth. Other projects have explored Guantanamo Bay Prison, then experiences of refugees, and, most recently, the impact of climate change on the landscape of Greenland.
De la Peña's talk will explore how immersive journalism can function as a vehicle for change by "breaking the frame" and by engaging the senses of viewers. She will discuss how this approach is informed by feminism, and how gender inequity in the tech sector—and in VR in particular—shapes her work.
---
Experience Immersive Journalism First-Hand: Sign up for a Virtual Reality Appointment prior to the talk
CSW is thrilled to be partnering with Emblematic Group and the UCLA Transient Media Lab in order to offer members of our community a chance to experience Nonny de la Peña's immersive journalism through the use of Virtual Reality technology and equipment. We will offer the opportunity to view one of the following virtual reality experiences:
Across the Line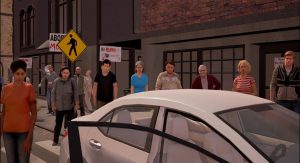 Produced in partnership with the Planned Parenthood Foundation of America, Across the Line helps viewers understand what some women go through to access abortion services. The experience places viewers in the shoes of a patient entering a health center. Using real audio gathered at protests, scripted scenes, and documentary footage, the film is a powerful multimedia depiction of the toxic environment that many health care providers, health center staff, and patients must endure to provide or access care on a daily basis.
Out of Exile: Daniel's Story
Out of Exile is a powerful reminder of the kind of hostility faced by so many in the LGBTQ community. The piece shines a light on a terrible statistic: forty per cent of homeless youth in America identify as LGBTQ, with the majority coming from communities of color. When Daniel Ashley Pierce is confronted about his sexual orientation by his family in a "religious intervention," the scene turns dramatic and violent. This piece, created in partnership with the True Colors Foundation, recreates the event using video captured by Daniel at the time.
Greenland Melting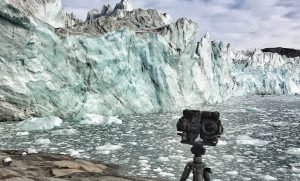 On the heels of the United State's withdrawal from the Paris Climate agreement, Emblematic's Greenland Melting – created in collaboration with FRONTLINE and NOVA – provides a rare, up-close view of icy Arctic scenery that's disappearing faster than predicted.
Please be aware that these experiences address sensitive topics and depict situations which viewers may find triggering, upsetting, or difficult to watch.
Appointments to view these pieces will take place on November 13th between 10:00 AM – 3:30 PM.
While Nonny de la Peña's talk is open to all, limited spots will be available for individual experiences of her virtual reality work.
---
THIS IS A FRAGRANCE-FREE EVENT. For the health and safety of all attendees, please refrain from wearing products that contain fragrances when attending CSW events. Such products include: perfumes, hair products, deodorants, detergents, etc. For more information, visit our Events Accessibility Page: https://csw.ucla.edu/event-accessibility.
If you require accommodations in order for this event to be accessible to you (e.g., sign language interpretation, large print materials, etc.), please contact CSW at csw@csw.ucla.edu at least two weeks prior to the event.
---
Co-sponsored by:
Supported by the Estrin Family Lecture Series Fund
Chicano Studies Research Center
Department of Communication Studies
Department of Information Studies
Program in Digital Humanities
Dr. Steve Anderson, Director of the UCLA Transient Media Lab, School of Theater, Film, and Television
Division of Social Sciences