Registration and additional information will be provided by March 2018.
Join the UCLA Center for the Study of Women for a special end of the year event to honor our student award recipients and the Center's accomplishments over the past year!
FEATURING A KEYNOTE ADDRESS BY
Paula Williams Madison
Chairman and CEO, Madison Media Management, LLC
Former CEO, Los Angeles Sparks
Executive Vice President and Chief Diversity Officer, NBCUniversal
If you have questions, please contact CSW Manager Kristina Magpayo Nyden at kristina@women.ucla.edu.
---
Paula Williams Madison is Chairman and CEO of Madison Media Management LLC, a Los Angeles-based media consultancy company with global reach. She also serves as a Founding Partner with The Group LLC, a
high-level strategy, marketing and communications consultancy also headquartered in Los Angeles.
In 2011, Madison retired from NBCUniversal where she was President and General Manager of NBC4 Los Angeles. She was also Los Angeles Regional General Manager for NBCU's Telemundo TV stations, and Vice President and News Director of NBC4 New York. Under Madison's watch, WNBC4 Los Angeles earned numerous Emmy, Golden Mike and Regional Edward R. Murrow Awards.
Her concurrent career as a writer and journalist also led to a 1996 Peabody Award for NBC4 New York's investigation, "A License to Kill."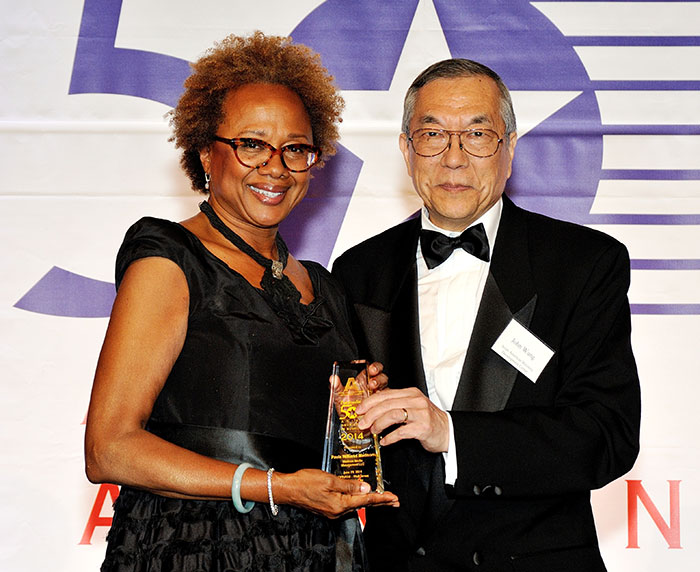 Madison is executive producer, and subject of, "Finding Samuel Lowe: From Harlem to China", a compelling documentary that chronicles her journey to her maternal grandfather's homeland in China and the reconnection of her family with his 300 descendants. HarperCollins published a memoir of the journey, "Finding Samuel Lowe China, Jamaica, Harlem" in April 2015 and Shenzhen Publishing (Shenzhen, China) reissued the book in 2016 in Chinese.
A highly sought-after public speaker, Madison received numerous honors and awards: named one of the "75 Most Powerful African Americans in Corporate America" by Black Enterprise Magazine in 2005, and included in the Hollywood Reporter's "Power 100". In 2013, Los Angeles Mayor Eric Garcetti appointed Madison to the Los Angeles Police Commission, where she served as Vice President until 2015.
Madison is the former Owner/CEO of the Los Angeles Sparks WNBA basketball team. She also serves on the Boards of the Los Angeles Chinese American Museum, the Maynard Institute for Journalism Education, Cardinal Spellman High School, the Greater Los Angeles United Way, the California Science
Center Foundation, as well as Chair of The Nell Williams Family Foundation, and National CineMedia, the largest cinema advertising network in the U.S., where she chairs the Nominating and the Governance Committee(s).
She is also an honorary member of the Delta Sigma Theta Sorority Inc., a predominantly African-American sorority whose members boast more than 250,000 college-educated women.
Madison graduated from Vassar College and has served 10 years as a Vassar Trustee (to the College); and two years as President of the Board of Directors of the Alumnae/I Association of Vassar College.