A Discussion Between Charlene Carruthers and C. Riley Snorton
This talk is part of the Black Feminism Initiative's 2020-2021 public program series, Conversations in Black Feminist Practice.
DATE: Friday, May 7, 2021
TIME: 1:00 PM-2:30 PM
LOCATION: Online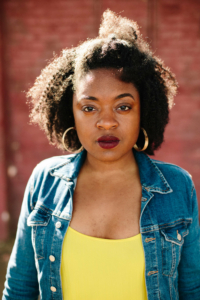 Charlene Carruthers is a political strategist, cultural worker, and PhD student in the Department of African American Studies at Northwestern University. A practitioner of telling more complete stories, her research includes Black feminist political economies, abolition of patriarchal and carceral systems, and the role of cultural work within the Black Radical Tradition.
Her work spans more than 15 years of community organizing across racial, gender and economic justice movements. As the founding national director of BYP100 (Black Youth Project 100), she has worked alongside hundreds of young Black activists to build a national base of activists in a member-led organization of Black 18-35 year olds dedicated to creating justice and freedom for all Black people. She is the author of the book Unapologetic: A Black, Queer, and Feminist Mandate for Radical Movements (available in English and Spanish language).


C. Riley Snorton, Professor of English Language and Literature at the University of Chicago, is jointly appointed in the department and the Center for Gender and Sexuality Studies. Snorton is a cultural theorist who focuses on racial, sexual and transgender histories and cultural productions. He is the author of Nobody Is Supposed to Know: Black Sexuality on the Down Low (University of Minnesota Press, 2014) and Black on Both Sides: A Racial History of Trans Identity (University of Minnesota Press, 2017), winner of the John Boswell Prize from the American Historical Association, the William Sanders Scarborough Prize from the Modern Language Association, the Lambda Literary Award for Transgender Nonfiction, the Sylvia Rivera Award in Transgender Studies from the Center for Lesbian and Gay Studies, and an honorable mention from the American Library Association Stonewall Book Award Committee. Snorton is also the co-editor of Saturation: Race, Art and the Circulation of Value (MIT Press/New Museum, 2020).