Support a Fragrance-Free Environment
Accessible Spaces: A Fragrance-Free Toolkit

Curious about why going fragrance-free is important? Want to make your space more accessible? Our new toolkit makes the answers easy to find and provides helpful tips and resources.
Consult the toolkit here: https://csw.ucla.edu/toolkit
Avoid the use of scented products. Improve your health and that of others.
Exposure to scented products can impact the health of all individuals, not just those with asthma, allergies, migraines, or chemical sensitivities.
Individuals can experience sinus congestion, sore throat, wheezing, coughing, runny nose, shortness of breath, headache, dizziness, anxiety, anger, nausea, fatigue, mental confusion, and an inability to concentrate.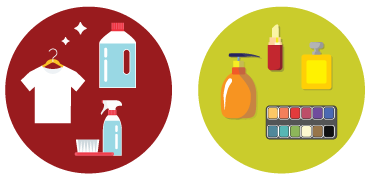 Scented products include many toxicants classified as volatile organic chemicals (VOCs), which are derived from petroleum. Since VOCs vaporize at room temperature, they can be readily inhaled, entering the respiratory tract and passing the blood-brain barrier.
These products include perfume, cologne, aftershave, deodorant, soap, shampoo, hairspray, bodyspray, makeup, and powders. Other products with added scents can include fabric softeners, laundry detergents, cleaners, carpet deodorizers, facial tissues, air fresheners, and candles.
Beware of products that list "fragrance/parfum" as an ingredient. In the U.S., fragrances are regulated under the federal Fair Packaging and Labeling Act of 1973, but the act does not require companies to list all the individual chemicals in scents. In fact, the formulas for scents can be protected as a "trade secret."

The Household Products Database from the U.S. Department of Health and Human Services has information on the potential health effects of many products.
Because it can be overwhelming to read a label on the back of a shampoo bottle and see a host of scientific terms—and, a "fragrance" can be composed of many, many chemicals—some community-based activist organizations and companies have provided information on the potential health risks associated with the ingredients in household products on their websites:
The Environmental Working Group launched Skin Deep in 2004 to provide online safety profiles for cosmetics and personal care products. The searchable products database includes ingredient information with product type, product use and composition, target demographic, and special product claims. It currently contains information on 8,783 ingredients found in 63,976 products. You can also view information on their methodology HERE.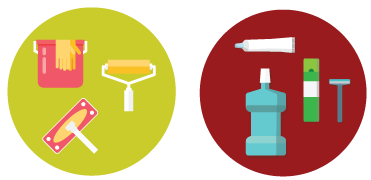 The Campaign for Safe Cosmetics lists several chemicals of concern in personal care products, then further breaks down the information into the following categories: found in; what is ___?; what to look for on the label; health concerns; vulnerable populations; regulations; how to avoid; and references. Their Red List includes printable lists of ingredients to avoid in shampoo, conditioner, creams, sunscreen, color cosmetics, hair color, and skin lighteners.
The David Suzuki Foundation offers an overview of 12 toxic ingredients in cosmetics they call the "Dirty Dozen". For each ingredient, they also provide details on use in cosmetics; health and environmental hazards; regulatory status; and related ingredients. There is also a printable shopper's guide.
Beautycounter is a cosmetics company based in Los Angeles. They claim to have banned 1,500 ingredients from their products because of links to potential health hazards, while the U.S. government has only banned 11. They publish a "Never List" that details ingredients they will never use in their products along with the rationale for avoiding them. You can also print off a wallet-sized Never List to carry with you for easy reference.
Purehaven Essentials is a company that makes safer cosmetic and cleaning products. They have published a list of ingredients to avoid in your everyday products.
Note: This list is provided for informational purposes only. The UCLA Center for the Study of Women does not endorse any of these organizations or companies.
CSW's Chemical Entanglements Project
Fragrance is just one source of chemical exposure that can cause negative health outcomes. CSW's Chemical Entanglements Project examines the connection between gender and exposure, and how everyday exposures to toxicants via personal care products, fragrances, cleaning products, etc. is a reproductive justice issue. To find out more about the project, visit our Chemical Entanglements research hub.
The Center for the Study of Women is dedicated to creating a safe and accessible space for everyone who participates in our events and programs. For more on our accessibility policy, visit: csw.ucla.edu/event-accessibility
Anne C. Steinemann, Fragranced consumer products and undisclosed ingredients, Environmental Impact Assessment Review, 2009
Anne C. Steinemann, Human exposure, health hazards, and environmental regulations, Environmental Impact Assessment Review, 2004
Anne C. Steinemann, Ian C. MacGregor, Sydney M. Gordon, Lisa G. Gallagher, Amy L. Davis, Daniel S. Ribeiro, and Lance A. Wallace, Fragranced consumer products: Chemicals emitted, ingredients unlisted, Environmental Impact Assessment Review, 2011
B. Safford, A.M. Api, C. Barratt, D. Comiskey, E.J. Daly, G. Ellis, C. McNamara, C. O'Mahony, S. Robison, B. Smith, R. Thomas, and S. Tozer, Use of an aggregate exposure model to estimate consumer exposure to fragrance ingredients in personal care and cosmetic products, Regulatory Toxicology and Pharmacology, 2015
M.M. Nijkamp, B.G.H. Bokkers, M.I. Bakker, J. Ezendam, and J.E. Delmaar, Quantitative risk assessment of the aggregate dermal exposure to the sensitizing fragrance geraniol in personal care products and household cleaning agents, Regulatory Toxicology and Pharmacology, 2015
Vera Homem, Eduardo Silva, Arminda Alves, and Lœcia Santos, Scented traces: Dermal exposure of synthetic musk fragrances in personal care products and environmental input assessment, Chemosphere, 2015
Erik Uhde and Nicole Schulz, Impact of room fragrance products on indoor air quality, Atmospheric Environment, 2015
M. Trantallidi, C. Dimitroulopoulou, P. Wolkoff, S. Kephalopoulos, and P. Carrer, EPHECT III: Health risk assessment of exposure to household consumer products, Science of the Total Environment, 2015
D. Comiskey, A.M. Api, C. Barratt, E.J. Daly, G. Ellis, C. McNamara, C. O'Mahony, S.H. Robison, B. Safford, B. Smith, and S. Tozer, Novel database for exposure to fragrance ingredients in cosmetics and personal care products, Regulatory Toxicology and Pharmacology, 2015
J. Bartzis, P. Wolkoff, M. Stranger, G. Efthimiou, E.I. Tolis, F. Maes, A.W. Nørgaard, G. Ventura, K.K. Kalimeri, E. Goelen, O. Fernandes, On organic emissions testing from indoor consumer products' use, Journal of Hazardous Materials, 2015