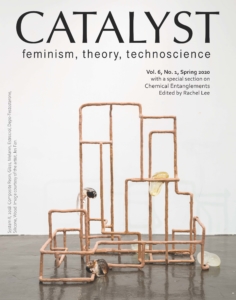 The UCLA Center for the Study of Women (CSW) announces the publication of a Special Issue of Catalyst: Feminism, Theory, Technoscience 6.1 (May 2020) rooted in the May 2017 UCLA CSW symposium, "Chemical Entanglements: Gender and Exposure," hosted by CSW and co-sponsored by the Luskin Endowment for Thought Leadership.
This issue features multi-disciplinary research from an array of fields, such as anthropology, public health, legal history, environmental health sciences, poetry, bio-art, waste studies, queer theory, disabilities studies, and decolonial science and technologies studies. 
The introduction by CSW Director Rachel C. Lee provides a map of the special issue's scholarship by way of four clusters: 
"

Petro- and Agro-Wars by Chemical Proxy"

focuses on the foreclosure of reproductive futurity for Indigenous and Brown settler populations by undeclared but

de facto

colonial "wars" conducted by the petrochemical, oil, and agricultural industries.  

Interviews, short essays, and a longer research article probing

"Educational Entanglements"

highlight how educational institutions (from K-12 schools to labs at public research universities), in their current dimensions, need reforming so that they do not extend chemical and social injury.  

Three of the essays, identified as "

Vernaculars of Consumption,"

address the chemical entanglements of "feminine" purchasing and waste circuits, in relation to beauty creams, menstrual technology, and various body-care and food options scrutinized by pregnant women. 

A final grouping, "

Cognicizing Chemicals through Aesthetic Forms,"

comes together by way of critical reflexivity on art as a mode to materialize and represent lateral movements toward disability justice among intoxicated subjects.  
Additionally, in "A Lattice of Chemicalized Kinship: Toxicant Reckoning in a Depressive Reparative Mode," Lee provides background on the toxic chemical events underlying Eve Sedgwick's humanist theorizing of affective moods (such as paranoia, shame, depression, and joy).