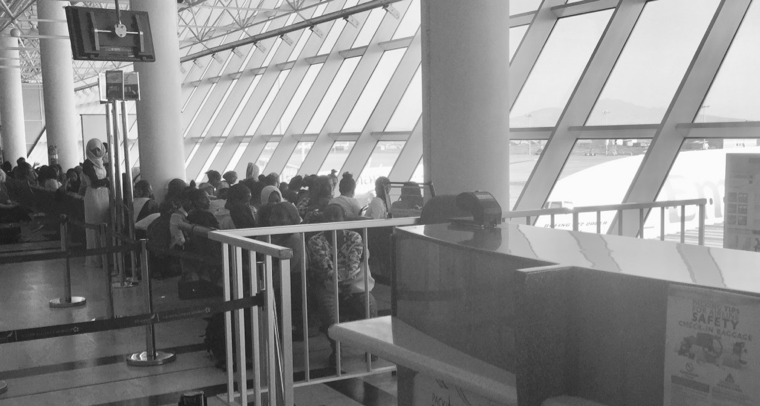 Seeking Change: Ethiopian Migrant Domestic Workers' Predicament
by Eva R. Melstrom
 In October 2013 the Ethiopian government banned its citizens from traveling to the Middle East to work as domestic and unskilled laborers.1 This prohibition followed international reports regarding the abuse of Ethiopian domestic workers in several of the Gulf Cooperation Council countries and Lebanon.2  One video in particular, which circulated across Facebook and was broadcasted by the BBC, Al Jazeera, and LBCI3, is commonly cited as the impetus for the ban.4 This grainy video graphically detailed the abuse of one female Ethiopian domestic worker by her male employer, ultimately bringing global attention to an infamous problem—the mistreatment of domestic workers. During this same period in 2013, the Kingdom of Saudi Arabia repatriated more than 160,000 Ethiopians in just four months (de Regt and Tafesse 2016), highlighting further the precarious status of Ethiopian migrant workers in geographically proximate nations. This confluence of factors, however, did not (and presently does not) appear to deter young Ethiopian women from migrating to the Middle East for domestic work. In fact, unofficial estimates suggest that as many as 60,000 women leave Ethiopia each year for domestic work alone, a significant increase from just a decade ago.5
Lured by promises of economic prosperity, and often burdened by the necessity to facilitate and maintain economic survival strategies for their kinship networks, young Ethiopian women continue to enter the Gulf countries through both legal and unregulated migration patterns. Legally, women may use the assistance of a Private Employment Agency (PEA); more often, however, women find work and travel abroad by way of a Delala—a local, unlicensed broker or agent.
While in pursuit of a better life, by way of domestic work abroad, many young Ethiopian women instead encounter episodes of disorder and violence during their time as domestic workers. Such experiences include incidents of social isolation; the withholding of passports, compensation, and food; as well as physical, psychical, and sexual assault. As these young women return to Ethiopia many are fraught with underlying emotional and mental unwellness. For the purposes of my work, I focus on women with emotional and mental unwellness associated with dramatic symptomology—unwellness overtly manifested through disordered thought and speech, delusions, hallucinations, violent behavior toward others, memory loss, and severe changes in eating and sleeping habits. The episodes of unwellness often begin while women are in their place of work abroad and continue anywhere from a few days to several weeks after their return to Ethiopia.6 Local mental health professionals largely understand these experiences of unwellness as forms of psychosis, depression, or post-traumatic stress disorder. These diagnoses often lead to a particular type of care, rehabilitation, and reintegration. My project begins here, examining the intersection between an individual's drive to participate in transnational domestic work and the emotional and mental unwellness that follows such experiences, as narrated by the individual women and those who provide mental health care for them.
As a psychological and medical anthropologist, my methodological bent of person-centered ethnography is grounded in opening up philosophical questions long-championed by phenomenologists and feminist theory undergirding care ethics (Ahmed 2006; Beauvoir 1993 [1952]; Das 2007; Held 2006, 2010; Mattingly 2010, 2014; Noddings 2013 [1984]; Pinto 2014; Tronto 1993, 2010). In other words, my research is qualitative, giving serious weight to the detailed ways in which individual women describe their decision to migrate, their experiences as domestic workers, and their understandings of the triggered unwellness. With this appreciation for the singular, I also maintain classic anthropological curiosities about how such understandings are woven into macro structural realities.
The often life altering decision to pursue domestic work abroad depends on highly individualized experiences, but the figure of the domestic worker can also traffic in discursive objectification. The term "domestic worker" often suggests sameness and shared understanding, and can become an ideological mechanism for describing a certain person or phenomenon, ultimately preventing holistic understandings (Dominguez 1992). In an effort to not narrate individual domestic workers' experiences as though they are void of singularity, I want to first refute the notion that the decisions made by many of these young women are uninformed or heedless. Instead, the decision-making process can be understood as an indicator of strength as well as an expression of the moral importance of familial obligation and the commitment to bringing oneself and one's family out of poverty. Most of the young women with whom I spoke undertook domestic work as a way to change not only their lives, but also the lives of those most dear to them. Again, I remind the reader that I am writing from a perspective based on specific encounters, in a particular time, at a particular place. There are certainly cases of domestic labor migrants whose agency and decision-making capabilities have been compromised, and there is ongoing work in Addis Ababa addressing issues of human trafficking.7
Emabet is one woman whose narrative fits the aforementioned reasoning. She grew up in the Northern Highlands, is the daughter of a farmer and completed three years of school. She tells me she left school because, as the second of five children, her time was better spent helping her family—cleaning the house, fetching water—and as a caretaker to her three much younger siblings. Emabet described a somewhat contentious, yet seemingly normal, teenage relationship with her mother: "I fight with my mom. I would go out with my friends and my mother would kick me for that. She wanted me to help her in the house."
"How did you react to this?" I asked.
"I would say to her, 'This is none of your business.' And I would run away."
Describing this teenage behavior makes Emabet smile. Her plump cheeks roll into spherical embodiments of fond reminiscence; and her shy laughter reveals a self-awareness regarding her earlier boldness. My overall sense from our numerous interviews is that she was a good-natured and clever child. Yet, her mention of this interaction is perhaps an attempt to defend her own actions, situating a kind of self that is headstrong and persistent, a particular type of moral self (Mattingly 2014).
Her strong-willed nature may also be inferred in her decision to marry young. After asking her parents to send her to "an Arab country," which was met with a firm "No, you are too young," Emabet took it upon herself to change her life. At seventeen she married a local man, and shortly thereafter, as she describes it, "he sent me to the Arab country." They paid a Delala 6,500birr—about 220USD—to facilitate this process, an enormous sum of money for the couple.8
This brief anecdote about Emabet raises questions about whether or not her decision to marry was strategic and informed—what type of marriage was it? What were her intentions? His intentions? Why was this marriage dissolved following her return from Kuwait? Such questions encourage a consideration of not only the ways in which an individual accesses particular resources that meet her basic needs, but also raises further questions about what constitutes access, resources, and the meeting of needs in the context of larger geopolitical relations concerning migrant labor dynamics and care (Whisnant and DesAutels 2008).
For Emabet, we may also determine that there is a heightened sense of awareness of not just herself, her family, and her role as a woman, but also the world around her and her opportunities within it. Her decision to marry and later migrate for work also appears to involve some sort of recognition of the ethical and moral delineations of care. Emabet, as the second oldest child in her family, is forbidden to go abroad by her parents as her place is in the home. Yet, Emabet understands that her duty is to take care of her family and as she describes it, she was "worried for my family."
Emabet's worry is based in her astute awareness of the current sociopolitical environment of Ethiopia. She explains: "Life is very expensive [here] and there is no change. There is no way to improve your life." In observing that, "there is no change," Emabet is referring to the possibility for change in terms of her position and capacity to participate in social and economic shifts in a rapidly changing Ethiopia.9 There is no opportunity for her "to make money," she tells me. She is not wrong: with nearly 65 percent of the population under 25 years of age, Ethiopia's economy is burdened by youth unemployment rates, and Ethiopian women are unemployed at nearly double the rate of their male counterparts (Central Intelligence Agency 2018). Thus, migrant work becomes the most viable and obvious option for her to enact her moral and ethical obligations to her family.
Emabet evidently has an awareness not only of her position as a caretaker and the relations she is caught within, but also an awareness of her ambiguous relation to the nation-state. She feels left behind or left out of economic opportunities available to men, those with more education, or individuals from the urban districts. She is thus resourceful and thoughtful in her decision to migrate for work. Her peers at the shelter echo a similar narrative. Fanosh tells me there are no jobs in Ethiopia, and that she too wanted to change her life. Shada agrees, "Even people who have a degree have nothing to do—they're drinking, chewing chat. So our option is to go to the Arab country." All three women, then, seem to recognize their precarious position and the need to change their worldly fate.
What Emabet, Fanosh, and Shada encountered during their time as domestic workers further illuminates the complexities of caring relations and highlights the moral and ethical dimensions of care, and the experiences of these young women can help develop more nuanced understandings of processes of care and the associated experiences of unwellness. What the women at the core of my study ultimately reveal is that there is an awareness regarding their precarious position as women and as workers and an undeniable and resolute drive to change their situation.
Eva Melstrom is a PhD candidate in Anthropology, concentrating in medical and psycho­logical anthropology. Her research in Addis Ababa, Ethiopia examines issues of mental and emotional unwellness experienced by women following domestic work in countries of the Arabian Gulf. She hopes this study will bring to light avenues for advocacy and (re)inform national and global agendas working toward the prevention of exploitation and abuse faced by migrant workers moving between regions of the Global South. Eva completed her BA in Human Development and Social Relations at Kalamazoo College and her MS in Medical Anthropology and Cross Cultural Practice at Boston University. In 2018, she was awarded CSW's Jean Stone Dissertation Research Fellowship.
Bibliography
Ahmed, Sara. 2006. Queer Phenomenology: Orientations, Objects, Others. First Edition edition. Durham: Duke University Press Books.
Beauvoir, Simone de. 1993. The Second Sex. Vintage.
Central Intelligence Agency. 2018. "The World Factbook." https://www.cia.gov/library/publications/the-world-factbook/geos/print_et.html.
Das, Veena. 2007. Life and Words: Violence and the Descent Into the Ordinary. University of California Press.
Dominguez, Virginia R. 1992. "Invoking Culture: The Messy Side of 'Cultural Politics'"." The South Atlantic Quarterly 91 (1): 19–42.
Fernandez, Bina, and Marina de Regt, eds. 2014. Migrant Domestic Workers in the Middle East. Palgrave Macmillan. http://www.palgrave.com/la/book/9781137482105.
Held, Virginia. 2007. The Ethics of Care: Personal, Political, and Global. Oxford; New York: Oxford University Press.
———. 2008. "Gender Identity and the Ethics of Care in Globalized Society." In Global Feminist Ethics, edited by Rebecca Whisnant and Peggy DesAutels, 43–57. Rowman & Littlefield.
Mattingly, Cheryl. 2010. The Paradox of Hope: Journeys through a Clinical Borderland. University of California Press.
———. 2014. Moral Laboratories: Family Peril and the Struggle for a Good Life. Univ of California Press.
Noddings, Nel. 2013. Caring: A Relational Approach to Ethics and Moral Education. Univ of California Press.
Pinto, Sarah. 2014. Daughters of Parvati. Women and Madness in Contemporary India. University of Pennsylvania Press, Inc.
Regt, Marina de, and Medareshaw Tafesse. 2016. "Deported before Experiencing the Good Sides of Migration: Ethiopians Returning from Saudi Arabia." African and Black Diaspora: An International Journal 9 (2): 228–42. https://doi.org/10.1080/17528631.2015.1083178.
Tronto, Joan. 1993. Moral Boundaries: A Political Argument for an Ethic of Care. New York: Routledge.
———. 2010. "Creating Caring Institutions: Politics, Plurality, and Purpose." Ethics and Social Welfare 4 (2): 158–71. https://doi.org/10.1080/17496535.2010.484259.
Whisnant, Rebecca, and Peggy DesAutels. 2008. Global Feminist Ethics. Rowman & Littlefield.