We are pleased to announce the recipients of the 2018 CSW awards!
Penny Kanner Dissertation Research Fellowship
A CSW Research Affiliate from 1990-2016, Penny Kanner funded this research fellowship to recognize an exceptional dissertation research project pertaining to women or gender that uses historical materials and methods.
Award Recipient: Thabisile Griffin
Thabisile Griffin is a doctoral candidate in History. Her research focuses on Black indigenous women in the Caribbean during the late 18th century. Specifically, she works on revealing narratives of the remarkable ways Black carib women resisted and enacted subterfuge against British and French colonialism. She received two Masters degrees from UCLA—one in History and one in African American Studies, and received her B.A in Pan African Studies from Cal State LA. Her work has been previously supported by the International Institute at UCLA, Eugene Cota-Robles Foundation and the Gary B. Nash Research Fund.
---
Elizabeth Blackwell, MD, Graduate Award
Also funded by Penny Kanner and named for the first woman to receive a medical degree in the United States, the Elizabeth Blackwell, MD, award recognizes an outstanding research report, thesis, or article related to women and health or women in health-related endeavors.
Award Recipients: Emma Bright and Ronak Shah
Emma Bright is a doctoral candidate in the Department of Psychology. Broadly, her research focuses on how individuals and their caregivers cope with and adjust to chronic stressors, such as cancer. Her current research examines the relationship between psychosocial factors, such as social support, coping strategies, and depressive symptoms on endocrine therapy adherence among women with breast cancer. She received her master's degree in Psychology at UCLA and her bachelor's degree in Psychology at Carnegie Mellon University.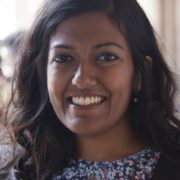 Ronak Shah moved between Mumbai, India, and New Jersey, USA, until she was fourteen years old. Because of this, she considers herself as much Indian as American. As a current graduate student pursuing her MFA in Film Directing at UCLA's school of Theater, Film and Television, Ronak wrote and directed a feature film called 'Love Goes Through Your Stomach' as her thesis. When she's not making movies, Ronak loves to hike, paint and meditate.
---
Jean Stone Dissertation Research Fellowship
Jean Stone, born Jean Factor, was involved with and supported UCLA for more than fifty years. She cared deeply about the graduate students whose research embodied the promise of the next generation of feminist scholars. She funded the Jean Stone Research Dissertation Fellowship to provide support for a doctoral student engaged in research focusing on women and/or gender.
Award Recipient: Eva Melstrom
Eva Melstrom is a PhD candidate in Anthropology, concentrating in medical and psychological anthropology. Her research in Addis Ababa, Ethiopia examines issues of mental and emotional unwellness experienced by women following domestic work in countries of the Arabian Gulf. She hopes this study will bring to light avenues for advocacy and (re)inform national and global agendas working toward the prevention of exploitation and abuse faced by migrant workers moving between regions of the Global South. Eva completed her Bachelor of Arts in Human Development and Social Relations at Kalamazoo College and her Master of Science in Medical Anthropology and Cross Cultural Practice at Boston University.
---
Paula Stone Legal Research Fellowship
Funded by Jean Stone and named in honor of her daughter, the Paula Stone Legal Research Fellowship supports research that focuses on women and the law with preference given to research on women in the criminal/legal justice system.
Award Recipient: Chantal Jones
Chantal Jones is a PhD candidate in Higher Education and Organizational Change. She received her Bachelor of Fine Arts from Arizona State University, Master of Education from the University of Southern California, and Master of Arts in education from the University of California Los Angeles. Chantal's research centers higher education, Critical Race Theory, and qualitative methodologies. Her dissertation looks to law schools and graduates in the era of Supreme Court decisions including Grutter v. Bollinger and Fisher v. University of Texas at Austin and is currently titled "Law Graduates into the Future: The Educational Diversity Project."
---
Constance Coiner Awards
The Constance Coiner Awards honor the lives of Dr. Constance Coiner, 48, and her daughter, Ana Duarte-Coiner, 12, who perished on TWA flight #800 in June of 1996. Made possible through donations of family and friends, these awards support research on feminist and working-class issues and honor excellence in teaching and a commitment to teaching as activism.
Graduate Award Recipient: Rocío García
Rocío García is a doctoral candidate in the Department of Sociology and proud daughter of formerly undocumented Mexican immigrant parents. Her research examines the origins and distinguishing features of a pan-ethnoracial Latinx feminist framework, and the implications of this framework for intersectional movements for global justice. In her dissertation, García explores the common and divergent ideas of Latinx feminists not only to reimagine what we think we know about Latinx, but also how we come to know it. García holds a BA in Sociology and Spanish from California State University Stanislaus and MA degrees in Sociology from the University of Nevada at Reno and UCLA.
Graduate Recognition Recipient: Barbara Galindo
Barbara Galindo is a PhD candidate in Hispanic Languages and Literatures. Her research examines representations of the Andean mining space and the multi-discursive construction of modern mining in Peruvian cultural production of the 20th century, and the contemporary perspectives of Andean communities who suffer the consequences of mining extractivism in their daily lives. Since 2010, she has collaborated with the Sachamama Center for Biocultural Regeneration (SCBR), a non-profit organization located in the Peruvian High Amazon and committed to the biocultural regeneration of the region in cooperation with the indigenous Kichwa-Lamistas communities.
Undergraduate Award Recipient: Alonzo Ackerman
Alonzo Ackerman is a senior undergraduate student majoring in Sociology. His research examines teachers' movements in the southern state of Chiapas, Mexico. He highlights their relationship with other movements and how have teachers become important political actors in the region. His research has been supported by the Mellon-Mays Undergraduate Fellowship and the Leadership Alliance. Before starting college he worked as a volunteer at different advocacy projects for Central American migrants in different parts of Mexico and in San Diego, California. After graduation he plans to pursue a PhD in sociology.
---
Renaissance Award
Created and funded by CSW Research Affiliate Myrna Hant, the Renaissance Award, rewards the rebirth of academic aspirations among women whose college careers were interrupted or delayed by family and/or career obligations and encourages achievement in the pursuit of a bachelor's degree at UCLA.
 Award Recipients: Melva Colter and Celeste Sotelo
Melva Colter is a Lemelson Anthropological Honors Program and University Research Fellows Program scholar. She is also a classical musician who has performed as an instrumentalist and vocalist with a number of Los Angeles ensembles, including the UCLA Early Music Ensemble. Her research combines her love of early music with linguistic anthropology, historical musicology, and ethnomusicology. She studies the culture and communication of early music ensembles in California. She is also a 16-year member of a community organization that helps families and friends of addicts navigate the challenges of addiction.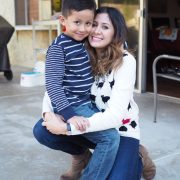 Celeste Sotelo is currently an undergraduate student majoring in Psychology at UCLA. She plans to pursue a Doctorate in Clinical Psychology and eventually open her own private practice. She wants to help struggling children with learning disabilities, particularly in the Latin community. She believes that education is the greatest legacy a mother can leave to leave her children, and the best way to encourage education among them is to set an example they can look up to; and it is with her example that she wants to inspire her seven-year-old son, and demonstrate to him that with dedication and determination, even the most unreachable goals can be accomplished.
Recognition Recipient: Taylor Babaian
Taylor Babaian is an undergraduate student and Lemelson Anthropological Honors scholar. During her twenty year career in the beauty industry, she received multiple accolades as celebrity makeup artist and published author. After raising two children, she returned to school to realize her dream of earning a college degree. At UCLA, she has used her research opportunities to understand the meanings behind aesthetic practices. Her senior thesis, "The Cost of Beauty: The Economics of Plastic Surgery in South Korea", investigates the economic and social structures that support the proliferation of surgically enhanced features in the country and the effects of their reproduction.