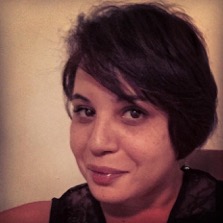 CSW is thrilled to welcome Sarah Haley, Associate Professor of Gender Studies and African American Studies, as our new Associate Director.
Haley has research and teaching investments in black feminism, gender history, carceral studies, labor, and black radicalism. She is the author of No Mercy Here: Gender, Punishment, and the Making of Jim Crow Modernity (UNC Press, 2016), which examines the lives of imprisoned women in the U.S. South from the 1870s to the 1930s and the role of carcerality in shaping cultural logics of race and gender under Jim Crow. She is currently working on a black feminist history of the rise of the contemporary carceral state that interrogates the role of state intrusion and violation of black domestic space. Her research has been supported by the Gilder Lehrman Center for the Study of Slavery, Resistance, and Abolition; the Ford Foundation; and the Woodrow Wilson Foundation. She has also worked as a paralegal for the New York Office of the Federal Public Defender and as a labor organizer with UNITE-HERE.
No Mercy Here was awarded the 2016 Sara A. Whaley Prize by the National Women's Studies Association. The book uncovers the experiences of incarceration of black women in the South during the 19th and early 20th centuries.