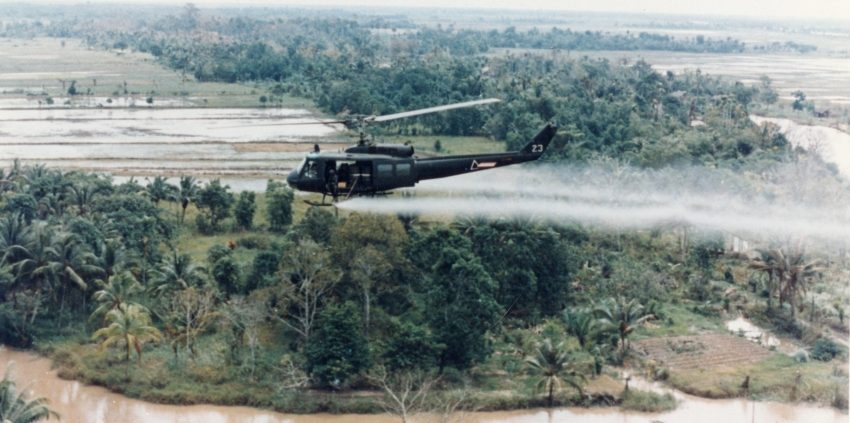 U.S. Huey helicopter spraying Agent Orange over Vietnam
A Huey Helicopter spraying Agent Orange over Vietnam. Source: Wikimedia Commons.
by Jana Gowan
Environmental justice and health movements raise awareness of the insidious nature of everyday chemical exposures and their alarming consequences for the health of our bodies and natural environments. These daily exposures are entangled with the history of militarization and war, from the invention and preliminary use of mustard gas in World War I through Gulf War Syndrome at the end of the 20th century. This is the second in a series of five posts that examine the origin story of chemical warfare, veterans' experiences of chemical exposure, and the gendered dynamics of the increased presence of chemicals in the civilian world. Read Part 1, "An Origin Story," and Part 2, "The Human Experiments."

The Vietnam War was the venue for what are perhaps the most well-known incidences of toxic chemical exposure to occur during warfare. Even people who do not have any personal connection to the war recognize the nickname "Agent Orange," although they might not know exactly what this substance is, and how it still impacts veterans and Vietnamese citizens to this day.
The first American war fought in full view of television audiences, the Vietnam War was an experience endured by all Americans as well as the Vietnamese. In fact, the Vietnam War was officially fought by North and South Vietnam. U.S. involvement on behalf of South Vietnam escalated over a period of twenty years, peaking in 1968 and ending with complete withdrawal of U.S. troops in 1973.
In 1961, the U.S. military launched "Operation Ranch Hand," which involved spraying massive quantities of chemical defoliants to de-leaf the jungles where the Viet Cong, North Vietnamese forces, operated. Dow Chemical Company and Monsanto were assigned the task of designing these herbicides, known as the "Rainbow Herbicides" – Agent Pink, Agent Green, Agent Purple, Agent Blue, Agent White, and of course, Agent Orange.1 While "Operation Ranch Hand" is the most well-known, other military operations involving to the Rainbow Herbicides were Operation Pacer Ivy (in which stocks of herbicides were moved from Vietnam to Johnston Island) and Project Agile (tests of the defoliants in South Vietnam). U.S. ports were also starting points to ship the herbicides to Vietnam, and may have been sites of exposure.2
In total, 20 million gallons of herbicide were sprayed across Vietnam for ten years, and the debate over their long-term effects is arguably one of the most controversial aspects of the Vietnam War. The spraying supposedly ended in 1971 because scientific research studies had proven that dioxin–which may have been present in any number of the Rainbow Herbicides–caused cancers in laboratory rats. Despite this evidence, both the U.S. government and the chemical companies who made dioxin have refused to admit a causal link between dioxin exposure and negative health impacts on humans.
Memos leaked from a meeting held in 1965 with Dow Chemical Company and their competitors reveal an unsettling awareness of the potential harm caused by dioxin. One attendee wrote in a memo "that Dow did not want its findings about dioxin made public because the situation might 'explode' and generate a new wave of government regulation for the chemical industry."3
The New York Times reported that the 2.8 million servicemen and women who were on the ground in Vietnam were exposed to dioxin. Many, some estimates include up to 1 million, eventually experienced cancers; nervous disorders; skin diseases; and had children with congenital birth defects. These veterans are convinced that exposure to dioxin and other herbicides is the cause of their maladies.4 Meanwhile, the Vietnamese Red Cross estimates that Agent Orange has affected 3 million people across 3 generations, including at least 150,000 children born with severe birth defects.5
The story of Agent Orange exposure seems like another version of the same story we hear over and over in relation to chemical exposures, resulting illness and suffering and the very slow speed at which chemical corporations, scientists and government officials acknowledge the possibility of a link. However, the commonly-known stories of Agent Orange exposure are just a small piece of the picture of what those exposed experienced.
For instance, despite the inaction of many US entities, the health impact caused by the Rainbow Herbicides has been openly accepted by many Vietnamese doctors. As a result, a transnational community has developed, connecting U.S. veterans, South and North Vietnamese veterans, and Vietnamese civilians. U.S. Veterans of the Vietnam War traveled to Vietnam to learn from the expertise of Vietnamese clinicians as soon as diplomatic relationships with Vietnam resumed in 1995.6 A handful of Vietnam veterans have returned to live in Vietnam to help the current generations affected by war-related health impacts.7
The story of exposure during the Vietnam war also illustrates why chemical warfare is a reproductive justice issue. Because of reproductive health effects related to dioxin exposure, such as miscarriages and congenital birth defects, women and children carry a different chemical body burden than adult male victims. In 2009, the U.S. Department of Veterans Affairs (VA) launched an intensive four-year research project on the health outcomes of women who served in Vietnam.8 While a full report has not been published yet, existing studies have found that Vietnam veterans had a significantly elevated risk of giving birth to children with "moderate-to-severe" birth defects.9 Studies of Vietnamese families reveal that exposure to Agent Orange and related substances resulted in higher pregnancies and premature births, and that poverty compounded these circumstances, particularly in families where men and women had been exposed and thus lived in poverty due to symptoms that made access to employment and the work of caring for children all the more difficult.10The impacts of chemical warfare are disproportionately meted out to people who are already vulnerable.
A US government-mandated report, Veterans and Agent Orange, was initially published in 1994 and had several updates, with the final update written in 2014 and published last year. Over 40 years after the end of the Vietnam War, with an estimated 75% percent of Vietnam veterans alive as of 2013, the report's 900+ pages does little to suggest that this particular community of exposure will ever receive definitive answers from the government or from science.11 In fact, the early pages of the report include this statement, "The committees responsible for VAO and the updates have concluded that in general it is impossible to quantify the risk posed to veterans by their exposure to herbicides in Vietnam."12 Once again, communities of exposure are left to soldier along on their own.