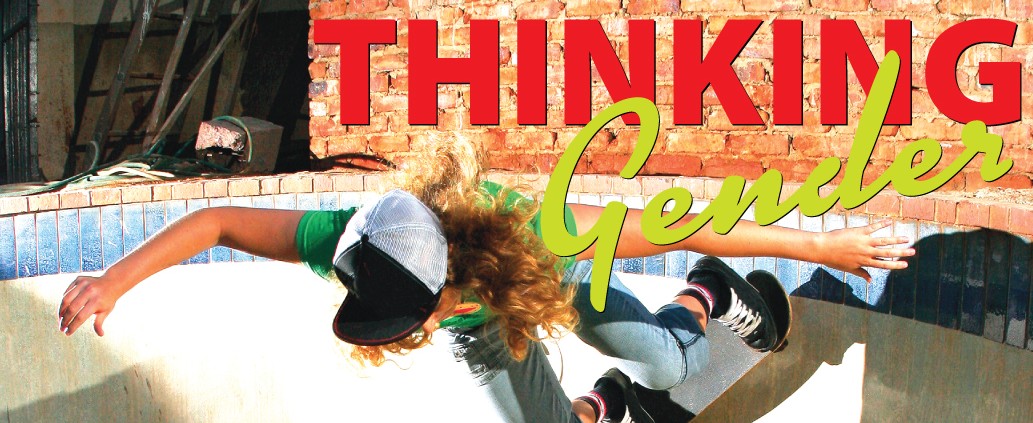 Thinking Gender Program
Thursday, April 7, 2016
11:30 am to 1 pm: Registration
1 to 1:30 pm: Poster Presentations
Rebecca Nevarez, Anthropology, UCLA, Dance For Me: Drag Kings and Performative Sexuality
Magali Campos, Social Science and Comparative Education, UCLA; Feliz Quiñones, Education, UCLA; Yadira Valencia, Social Science and Comparative Education, UCLA; and Christine Vega, Social Science and Comparative Education, UCLA, Hermanitas: A Critical Race Analysis as Praxis in Everyday Femtorship Amongst Women of Color in Academia
Christian Reyes, Social Science and Comparative Education, UCLA, How Online Sexual Harassment Affects Women Offline
Kelli Kennedy, Political Science and Women's Studies, California State U Fresno, Educator's Perceptions of High School Sex Education: It is More Than Just About Compliance
Bo James Hwang, Gender Studies, UCLA, The Construction and Performance of Gender in Binary Restrooms
Tira Okamoto, World Arts and Culture/Dance, UCLA, Ecofeminism Contested: A Case Study on Ecofeminist Manifestations in California 
1:30 to 3 pm: Welcome and Film Screenings

WELCOME by Jessica Cattelino, Associate Director, CSW
SCREENINGS
David de Rozas, Cinema, San Francisco State University, They Want to Give It a Name
Elizabeth Kopacz, Ethnic Studies, UC Riverside, Who Is Park Joo Young?
Tara Pixley, Communication, UC San Diego, Porn Star Quotidian
Amanda Stojanov, Design Media Arts, UCLA, Your Choice
The films and videos will also be available for individual viewing from 3 pm to 7 pm on April 7 and from 8 am to 6 pm on April 8 in the Student Technology Center, located on the 2nd floor of Covel Commons. Computers will be identified by "Center for the Study of Women Research Conference" signs and headphones. For assistance, please visit the Registration Table.
3 to 3:30 pm: POSTER PRESENTATIONS, continued
3:45 to 4:45 pm: Keynote
UNEXPECTED CONSEQUENCES: WOMEN AND POWER IN POSTCONFLICT AFRICA
Aili Mari Tripp, University of Wisconsin-Madison
"Unexpected Consequences: Women and Power in Postconflict Africa" is based on Aili Mari Tripp's recently published book, which looks at a gender-related consequences of the decline of major conflict in 17 countries in Africa over the past 20 years. It explains why postconflict countries in Africa have significantly higher rates of women's political representation compared with countries that have not undergone major conflict. It also looks at why these countries tend to have been more open to passing legislation and making constitutional changes relating to women's rights. It shows how and why the postconflict countries have adopted a distinct trajectory compared with non-postconflict countries, recognizing that from the point of view of activists, this trajectory is still too slow and fraught. The talk is based on comparative research across Africa as well as fieldwork in Uganda, Liberia, and Angola.
Aili Mari Tripp is a professor of Political Science and Gender and Women's Studies at the University of Wisconsin-Madison. She is currently a visiting Fulbright scholar at the Hillary Rodham Clinton Center for Women's Empowerment at Al Akhawayn University in Ifrane, Morocco.
Copies of Professor Tripp's new book, Women and Power in Postconflict Africa, will be available for sale.
Friday, April 8, 2016
8 to 8:45 am: Registration
9 to 10:30 am: Panel Session 1
SEARCHING FOR GENDERED ASIAN AND PACIFIC ISLANDER SUBJECTIVITIES IN CULTURAL PRODUCTION
Moderator: Victor Bascara, Asian American Studies
Kenneth Chan, Asian American Studies, UCLA, "Bad Gal": Negotiations in Hip Hop by a Cambodian Canadian MC
Derek Lu, Asian American Studies, UCLA, Searching for Stephanie: Negotiating Female Subjectivity within Justin Lin's Masculinist Feature Film Better Luck Tomorrow
Sumiko Braun, Asian American Studies, UCLA, Queer(y)ing "Asian America": Colonialism and Indigeneity, Trans* Subjectivities, and the Politics of Representation in the Documentary Film Kumu Hina
MIGRATION AND TRANSNATIONAL ENCOUNTERS
Moderator: Marjorie Faulstich Orellana, Education, UCLA
Chelsie May, Near Eastern Languages and Civilizations, University of Chicago, 'Girls of the Eastern Communities':The Intersectionality of Female Arab Jewish Immigrants, Israel-Palestine 1947-1960
Heloise Thomas-Cambonie, Anglophone Studies, Université Bordeaux Montaigne, France "I'mma double migrant. Ceded from Koryo, ceded from 'Merikka": Border-Crossing Women and the Subversion of Spatial Representation
Elizabeth Clark, Anthropology, University of California, Irvine, Significant Hardship: The Production and Contestation of Ideal Victimhood in U-Visa Adjudication
Sonja Dolinsek, History, Universität Erfurt, "Traffic in Women, Slavery, Sex Work. The Transnational Politics of Sexual Labour in the Era of the World Women's Conferences (1975-1985)
GENEALOGIES, GOEGRAPHIES, AND NOT FITTING IN
Moderator: Jessica Cattelino, Anthropology
Chandra Frank, Media and Communications, Goldsmiths College, University of London, Transnational Archival Encounters: Black Feminist Genealogies and the Politics of Memory
Kimberly Welch, Theatre and Performance Studies, UCLA, Chasing Monsters from Under the Bed: Embodying Black Geographies
Amanda Agpar, Gender Studies, UCLA, Not "Fitting In": How Mothers of Disabled Children use Narrative to Challenge Exclusion
Kiki Ssu-Fang Liu, East Asian Languages and Literatures, University of California, Irvine, Stuck in Love: The Epistemology of Sexuality in Taiwanese Queer Travelogues
10:45 am – 12:15 pm: Panel Session 2

GENDERED REPRESENTATION AND STATE FEMINISM
Moderator: Edith Omwami, Education
Alexandria Wilson, Political Science, University of Florida, The Anti-Trafficking Movement in Post-communist Europe
Shahrzad Shirvani, Architecture, University of California, Berkeley, Public Spaces of 'Freedom': The Emergence of Gendered-Exclusive Parks in Tehran
Domale Keys, Education, UCLA, Indigenous Feminism and Ogoni Women's Activism
Kathleen Bush-Joseph, International and Comparative Law, UCLA, An Accord d'Assistance Mutuelle: Food and Gender Issues in Development and Human Rights
PHYSICAL CULTURE AND THE BODY
Moderator: Anurima Banerji, World Arts and Culture
Laura Chilson, History of Art and Architecture, Brown University, Transitory Transgressions: The Female Body in the Chartreuse de Champmol Elizabeth Boylan, Sociology, University of California, Davis, Lead, Follow, or Switch: Negotiating Consent in Social Dance
Denise Machin, Critical Dance Studies, University of California Riverside, Taking The Lead: Challenging Gender and Sexuality Stereotypes Through Ballroom Dance
Kelly Corcoran, Linguistics, University of California, Davis, 'Mori Girl A to Z': The Creation of Identity and Community by Alternative Fashion Magazines
BICYCLES, BOMBS, AND SELFIES
Moderator: Michelle Erai, Gender Studies
Christine Bachman-Sanders, American Studies, University of Minnesota, Domesticated Conquest: Bicycles, Bodies and Boundaries
Kyle McMillen, Education, University of California, Riverside "Neutrons? They trigger the atom bomb, don't they?": Nationalism and Masculine Spaces within Science, Technology, Engineering and Mathematics
Trey Highton, Literature, University of California, Santa Cruz, Surfing the Third Wave: Women's Professional Surfing and The Ethics of Instagram\
Workshops, 1:30 pm – 2:30 pm
Intersection of Gender, Justice, and the Environment
featuring Martha Dina Argüello, Executive Director, Physicians for Social Responsibility – Los Angeles
At this workshop, participants will learn techniques to reduce their contact with harmful toxins and about issues of reproductive justice and environmental racism.
Mindfulness…Self Care and Beyond
featuring Giselle Jones, MSW, CMF (trained at UCLA Semel Institute for Neuroscience and Human Behavior)
This workshop will explore the applications of mindfulness from stress reduction to increasing sensuality and relational awareness.
2:45 pm – 4:15 pm: Panel Session 3
MODERNITY, DOMESTICITY, AND FEMININTY IN EAST AND SOUTHEAST ASIA (1880-1980)
Moderator: Roanna Cheung, History
Lin Li, History, University of Wisconsin-Madison, Rescuing Leftist Feminism from History: He-Yin Zhen's Anarcho-Communist Feminist Visions through Tianyi (1907-1908)
Catriona Miller, History, University of Wisconsin-Madison, Are Women Becoming Like Men: Gender Discourse in World War II Cambodia
Lu Liu, East Asian Languages and Literatures, University of Wisconsin-Madison, Socialist Home, Cold War domesticity: Reconfiguration of Interior Space and Housewives in the 1950s China
Royce Novak, History, University of Wisconsin-Madison, Intimate Colonization: Indigenous People, Political Prisoners, Sexuality, and "Civilization" on a Prison Island in New Order Indonesia, 1969-79
GENDERED VIOLENCE IN DIGITAL SPACE
Moderator: Sherry Ortner, Anthropology
Dalila Ozier, Anthropology, UCLA, Sexual Violence in the YouTube Community
Hannah Carlan, Anthropology, UCLA, Gender Violence, Neoliberal Institutions, and Digital Activism in India
Tyanna Slobe, Anthropology, UCLA, Stereotyping the White Girl: Voicing Race, Class, and Gender Anxieties in Online Representations of Contemporary US Girlhood
Matt Rafalow, Sociology, University of California, Irvine, Gendered Barriers to Participation in Gaming Cultures
PRODUCTIVE AND REPRODUCTIVE LABORS
Moderator: Michelle Rensel, Institute for Society and Genetics, UCLA
Roe McDermott, Sexuality Studies, San Francisco State University, You Can't Go Home Again: Abortion and Landscapes of Deviancy
Crescent Rainwater, English, UCLA, "I am weary of this sterile rest that is no rest": George Egerton and the Gender of Writing for "The Yellow Book"
Sarah Mellors, History, University of California, Irvine, From Vinegar and Cotton Balls to Diaphragms and Vasectomies: Sex and Birth Control in Urban China, 1949-1961
4:30 pm – 6:00 pm: Panel Session 4

IMPLICIT BIAS AND STEREOTYPE THREAT
Moderator: Juliet Williams, Gender Studies
Kazi Md Mukitul Islam, Development Studies, University of Malaysia, Gender Stereotypes and Education: Content Analysis of Malaysian, Indonesian, Pakistani and Bangladeshi School Textbooks
Keira Stearns, Political Science and International Relations, University of Southern California, Women as Political Subjects? An Analysis of the UN Department of Political Affairs and Perceptions of Women's Agency
Tomee Sojourner, Law, York University, May I Help You? Disrupting Consumer Spaces at the Intersections: The Impact of Consumer Racial Profiling on Black/African Diasporic Women
Skye Allmang, Social Welfare, UCLA, (En)Gendering Differences: Do Youth Job-Training Programs Challenge or Reinforce Occupational Segregation and the Gender Wage Gap?
SEXUAL TOPOGRAPHIES
Moderator: Rachel C. Lee, English
Dana Linda, Comparative Literature, UCLA, Intimate Occupations: Geographies of Prostitution and Empire in "Our Lady of the Night"
Emma Leigh Waldron, Performance Studies, University of California, Davis, "Just Female Porn" The Contested Sexuality of YouTube's ASMRtists
Rebecca DiBennardo, Sociology, UCLA, From Pervert to Predator: Media, Language, and Sexual Deviance in Contemporary Sex Offender Laws
Nicole Viglini, History, San Jose State University, Transients, Loafers, and "High Living Fellow[s]": The Impact of the "Fancy Maid" Slave Trade on Free Black and Enslaved Communities in Antebellum New Orleans and Natchez
SONIC AND VISUAL EFFECTS
Moderator: Jasmine Trice, Theatre and Film Studies
Sonia Lupher, English and Film Studies, University of Pittsburgh, I Can Still Feel Them: The Horror of Awareness in Honeymoon
Vileana De La Rosa, Women's Studies, San Diego State University, "If these walls could talk": Sonic Space, Affect and Black Masculinity in the Music of Kendrick Lamar
Iris Blake, Ethnic Studies, University of California, Riverside, Feeling Like a Q.U.E.E.N. in Late Capitalism
Julian Glover, African American Studies, Northwestern University, "Ain't I a Woman?": The Representation of Black Transgender Women in Media