A review by Savannah J. Kilner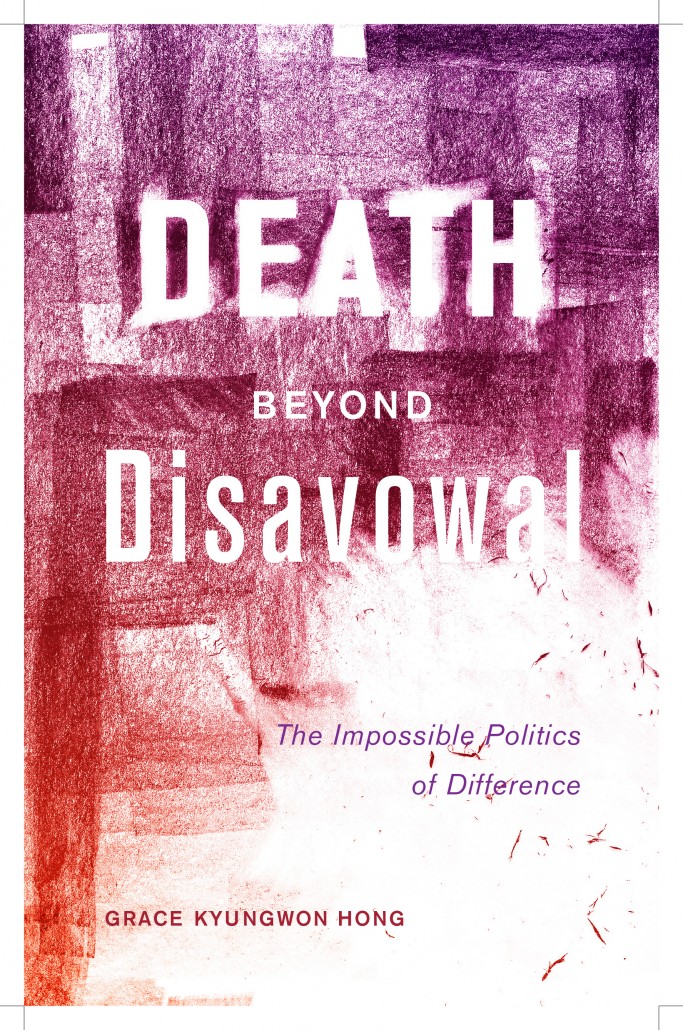 In Death Beyond Disavowal: The Impossible Politics of Difference, Grace Kyungwon Hong, Associate Professor in the departments of Gender Studies and Asian American Studies at UCLA, argues that Black and women of color feminist theorizations of life, death, and difference offer incisive diagnoses of power in the contemporary neoliberal moment. Hong mobilizes difference – as theorized by women of color feminists – to archive cultural and epistemological practices that hold "in suspension (without requiring resolution) contradictory, mutually exclusive, and negating impulses."[1] As political and ethical intervention rather than neoliberal celebration, this mode of difference recons with shifts in neoliberal technologies of power that have affirmed and protected selected racialized, gendered, and sexualized subjects at the expense of others. Moreover, Hong reads Audre Lorde's theorization of Blackness as an analytic, deploying Black feminism as a comparative method that "allows us to see the ways in which power puts us all in unequal relation to each other."[2]
Hong defines neoliberalism as an "epistemological structure of disavowal" that is able to narrate racial and gendered violences as historical by inviting select modes of minoritized life into reproductive respectability, "so as to disavow its exacerbated production of premature death."[3] This epistemological structure of neoliberalism, she argues, arose as the latest phase of racial capitalism in response to redistributive, anti-colonial, post-WWII social movements. Crucially, Hong locates contemporary culture as a site through which to examine inheritances of these struggles' challenges to state-sanctioned death. Cautioning against a politics that would fold those vulnerable to death (the unhoused person, the drug dealer) into protected categories of life, Hong rejects recuperation to ask what kind of "knowledges, modes of being, affects, memories, temporalities, and embodiments"[4] they produce, and questions after the (im)possibility of building a politics around them.
One of the ways Hong contributes to scholarship on neoliberalism is by highlighting the centrality of Black women's sexuality, reading the Moynihan Report as "perhaps the clearest symptomatic distillation of the shifts in technologies of power" in the era known as neoliberalism.[5] Engendering a "change in the distribution of respectability," uneven access to gender and sexual respectability renders some deviant and immoral and yet affirms those whose "value to capital has been secured through a variety of norms."[6] Hong argues that women of color feminism emerged out of this moment to articulate the "violences of biopolitical incorporation," lodging critiques of sexism within minority nationalist formations and racism within white feminism, but also crucially diagnosing a historical process that was "incorporating those elements of nationalist and feminist movements into a new modiality of power." [7] Hong asserts that feminist and queer analyses most powerfully describe the contradictory structure of political modernity because eradication through incorporation is best exemplified through the regulation of racialized reproduction. These contradictions, she argues, continue to structure the contemporary moment as "hauntings." As such, erasures of the connections between past and present violences give neoliberalism its power.
Through readings of numerous texts, including foundational women of color feminist theory, novels So Far From God, by Ana Castillo, and Oscar Zeta Acosta's The Revolt of the Cockroach People, in addition to Black queer films including Looking for Langston and Brother to Brother, Hong builds critiques of neoliberalism while also demonstrating the ways these texts perform nationalist memorialization as they disidentify with nationalism through alternate relationships to death. They challenge the remembering of 1960s movements as simply struggling for claims to rights by politicizing racialized death and acknowledging both the power and limitations of nationalist forms of belonging. Cherríe Moraga and Audre Lorde articulate difference as an "affective, embodied and subjectival practice," which in the neoliberal context of racialized surplus, "holds in suspension various, mutually exclusive structures of value, and in so doing, constitutes new political (im)possibilities." [8] Moraga's engagement with Queer Aztlán, lineage, motherhood, life, and death evokes new ways of being beyond, to quote José Esteban Muñoz, "the quagmire of the present."[9] Existentially surplus, they refuse to participate in an economy of abandonment, "rejecting the protection that comes with ascribing to the norms that underlie any definition of belonging."[10]
Turning to contemporary Black queer feminist cultural production, Hong identifies a temporality of blues/jazz improvisation as the "formalist expression of the queerness of Black reproduction and kinship."[11] Alternative temporalities emerge, she argues, out of the conditions of both forced and foreclosed reproduction. Death is both absence and possibility while memory – at times improvised – is a refusal of neoliberalism's disavowals. Lastly, Hong turns to the necropolitical site of the university to question the ethics of deploying Black feminism in a context that has rendered Black feminist life precarious. She asks how the improvised, imagined connections practiced in Black queer cultural productions help to guide an ethical reconstitution of knowledge production in academia. Following Barbara Christian and other Black feminists, Hong asserts that epistemological and embodied politics (that is, who is in the room, often seen as reductionist identity politics) are necessarily connected, thus imploring us all, albeit differently situated, to consider the ethics and stakes of knowledge production.
In conversation with recent scholarship in the fields of women of color feminism, queer of color critique, critical ethnic studies, and comparative racialization, including works by Jodi Melamed, Chandan Reddy, Lisa Marie Cacho, and others, Grace Kyungwon Hong delivers a powerfully generative charge to imagine a politics based not on self-protection that can "threaten to render others precarious," but on the impossible politics of difference.[12]
Savannah J. Kilner is a doctoral student in Gender Studies at UCLA. Her dissertation asks how practices and imaginings of queer space interact with multiple, overlapping modes of dispossession in the U.S. colonial present. Her work has been supported by the UCLA Graduate Division, the UC Humanities Research Institute, UC Humanities Network, and the Center for Study of Women.
[1] Grace Kyungwon Hong, Death beyond Disavowal: The Impossible Politics of Difference (Minneapolis: University of Minnesota Press, 2015), 7.
[2] Ibid.
[3] Ibid.
[4] Ibid., 16.
[5] Ibid., 19.
[6] Ibid., 20.
[7] Ibid., 23.
[8] Ibid., 64.
[9] Muñoz, Cruising Utopia: The Then and There of Queer Futurity. (New York: NYU Press, 1).
[10] Hong, Death beyond Disavowal, 74.
[11] Ibid., 96.
[12] Ibid., 6.
NOTE: Prof Hong will be speaking about her book on March 2. Kara Keeling, USC, will be the respondent. For more info, visit https://csw.ucla.edu/event/death-beyond-disavowal/