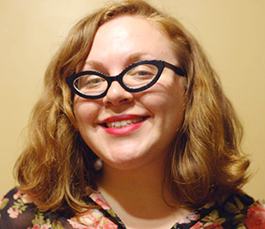 Alexandra Apolloni Joins CSW as Program Rep
Alexandra Apolloni joins the staff of CSW as Program Representative II. Alexandra received her PhD in Musicology from UCLA and Bachelor of Music in Voice and Bachelor of Arts in Women's Studies from Wilfrid Laurier University. Her experience both in and outside of UCLA is rich and varied. She has worked as an Archival Processing Assistant with UCLA Library's Special Collections, Music Correspondent for Hippo Reads, and is a freelance writer/researcher/communication specialist. While pursuing her doctorate at UCLA, she was the Editor-in-Chief for Echo, a music-centered journal, where she oversaw production of their journal and the annual conference, which will contribute greatly to the organization and planning of our Thinking Gender Conference and events.
She will be overseeing all planning and execution of events (workshops, conferences, colloquia/symposia, and so forth) and community outreach for CSW. She will provide assistance to the Director on scheduling and administration as well as support to the Manager regarding main office administration, facilities requests, safety/emergency coordination, and development/fundraising/donor relations.