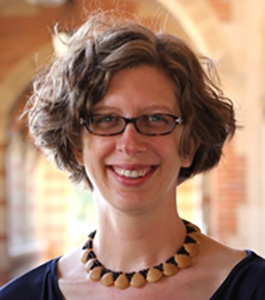 Jessica Cattelino
by Bradley Cardozo
Recently appointed as CSW Associate Director, Jessica R. Cattelino is an associate professor in the departments of Anthropology and Gender Studies and is affiliated with American Indian Studies. She has spent her academic career taking on pertinent and controversial issues in contemporary American society, including North American settler colonialism and Indigenous sovereignty in relation to Florida Seminole tribal casino gaming; race, gentrification, and the privatization of policing in New York City; and early 1990s "coming out" narratives of lesbian and bisexual women at Cornell University. Her first book, High Stakes: Florida Seminole Gaming and Sovereignty, was published in 2008 and awarded the Delmos Jones and Jagna Sharff Memorial Book Prize from the Society for the Anthropology of North America. Her forthcoming second book, tentatively titled "Unsettling Nature: An Everglades Ethnography," explores the cultural value of water and the co-production of nature and indigeneity in relation to the ecological restoration of the Florida Everglades ecosystem.
Cattelino had her scholarly and theoretical interests and her personal worldview profoundly shaped by feminism and gender studies. Born and raised in rural northern Wisconsin in a working-class agricultural family, Cattelino noticed societal gender inequities from a very young age. As a kid, she says she resisted being told that she couldn't do the same things that her brothers – or boys in general – could do. Growing up in a Catholic family and community, she also found it "crazy" that women weren't allowed to be priests; it "seemed obvious" to her childhood self that women should not be held back from the same positions as men in the Roman Catholic Church (or any other institution or social setting). Another formative experience for Cattelino was learning of how her "smart, strong-willed" mother, who had a bachelor's degree in home economics, got fired from her position as a county extension agent upon getting married to Cattelino's father because of the county's practice–informed by coverture laws from the nineteenth century–of denying employment to married women.
Cattelino "had a yearning for a bigger world" and constantly read books from the local bookmobile, as there was no stationary library in her town. This thirst for knowledge ultimately led her to Cornell University in 1992 where she received a scholarship covering her full room and board at the university's intellectually stimulating and democratically governed, student-run Telluride House. She graduated summa cum laude in 1996 and obtained a bachelor's degree of her own creation, the "Anthropology of Narrative, Community, and Identity," with a concentration in women's studies
Feminist theory particularly influenced her throughout her time at Cornell and in her graduate studies in NYU's Department of Anthropology. With the study of poststructuralism, gender studies, ethnic studies, and critical race studies on the rise in US universities in the 1990s, Cattelino recalls the "lively" intellectual atmosphere that she experienced in Cornell's English and Anthropology departments as well as its Feminist, Gender, & Sexualities Studies program. Cattelino became attracted to anthropology because of, among other things, the field's prioritizing of everyday life and events in the theories that it generated. "How we all live our lives on a daily basis is incredibly complicated," Cattelino states, but it is vital to understand this because "theory is built out of what people say and do." Cattelino's rural working-class background from the Midwest, moreover, influenced her to critically analyze the situation and surroundings she encountered in her Ivy League alma mater. Effectively navigating and "moving among different kinds of communities became a skill I valued in myself, but also a process that I became curious to understand," and anthropology was "offering answers" to many of the issues and problems that she encountered and thought about because of its attention to "the little things." Cattelino's combined studies of anthropology, English literature, and gender and sexuality led her to write her undergraduate honor's thesis on "coming out" narratives of lesbian and bisexual women at Cornell. Her thesis, titled "What's in a Story? Community, Identity, and Coming Out Narratives" (1996), was inspired by her interest in the power of narratives to "create community or bring people into a community." Through her thesis project, she came to realize the "very American way that 'coming out' stories relied on the individualized self that was [presumed to be] the same over time."
Cattelino was attracted to New York University's anthropology graduate program due to the department's strengths in both the anthropology of the United States and in feminist anthropology, with professors like Annette Weiner, Faye Ginsburg, and Lila Abu-Lughod in the department at the time. Cattelino wrote her Master's thesis, "Citizenship, Spatiality, and Civilian Crime Prevention in Manhattan's 9th Precinct," on the growth of civilian auxiliary policing in New York City in the 1990s in the context of the intensifying neoliberalization of US society and concomitant welfare-state retrenchment, privatization of state services, and rising ideologies of volunteerism and civic duty in relation to crime prevention. Ultimately, Cattelino questions neoliberal ideologies of volunteerism and calls to active civic responsibility for one's own community's security rather than relying on the state, particularly in the context of racial and class-based inequality in accessing the services and resources of the state, including the police.
For her dissertation, Cattelino conducted an ethnographic project on the enactment of Indigenous sovereignty and the revaluation of casino money for the purposes of social reproduction among the Seminole Tribe of Florida. She initially came to this project during a course with Karen Blu, who became her dissertation advisor, on the anthropology of Native North America. Finding it problematic that another class—"Producing America," taught by Faye Ginsburg—did not fulfill her requirement to take an "area studies" course, she saw the rejection to consider the United States an "area"—along with other "area studies" regions such as Africa, the Middle East, and Southeast Asia—to be "everything that was wrong with anthropology."
Cattelino ultimately enjoyed Blu's course and wrote a paper on tribal gaming, land, and the reservation form and she went on to conduct her dissertation research among the Seminole indigenous peoples of Florida, where the Indian tribal gaming revolution first began. Her dissertation became the basis of her first book, High Stakes: Florida Seminole Gaming and Sovereignty (2008). The remarkable book, which won the Delmos Jones and Jagna Sharff Memorial Book Prize from the Society for the Anthropology of North America as well as Honorable Mention for the Gregory Bateson Book Prize from the Society for Cultural Anthropology, ethnographically traces how the Seminoles have exercised their political, economic, and cultural sovereignty and how they challenged (and, in many cases, reversed) historical US settler-colonial control over their lives through strategic use of the enormous revenues generated from their gaming enterprises.
Her interest in and analysis of sovereignty "came from a gender studies lineage." She specifically evaluates the practice and enactment of sovereignty from the vantage of the feminist theorization of "interdependency." Though many classical theories of sovereignty assume the notion of absolute autonomy of a political authority (whether a monarch or a republic) over the people, land, and resources in a particular territory, feminist political theorists like Iris Marian Young, Nancy Frasier, and Linda Gordon have critiqued this assumption of absolute autonomy. Too often, sovereignty and autonomy were imagined and asserted as male, with the figure of the "autonomous" male head of household and his "dependent" wife and children as the assumed (even if unconsciously) model or basis for the larger governmental enactment of political sovereignty. On the contrary, feminist political theory has demonstrated how patriarchal models of sovereignty in fact systematically mask the interdependencies that are necessary in the actual enactment of sovereignty, since sovereignty is not only about autonomy but also "about governing and interrelations with others."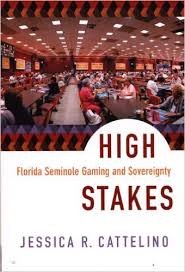 Cattelino, moreover, is interested in the ways that sovereignty is lived and experienced by Seminoles, rather than solely evaluating tribal sovereignty in legal or juridical terms. Thus, while it is important to understand the past treaties between Indigenous nations and the settler US state, legislation and judicial rulings by the settler state in relation to Native Americans, and the legal and juridical actions by Indigenous governments themselves, it is also crucial to consider the everyday relations between Native Americans and the people, businesses, and (federal, state, and local) governments around them. Through tribally permitted ethnographic research, Cattelino demonstrates how Seminoles have enacted their sovereignty and maintained political and cultural distinctiveness by revaluing "casino money in the service of social reproduction" (High Stakes, p. 3). Gaming revenue has allowed the Seminole government to provide its citizens with educational and social services, universal healthcare, and an improved material quality of life. Casino revenues have also strengthened the political and economic position of Seminoles in relation to the local and state Floridian governments, the federal US government, and surrounding businesses and communities.
Family and economy, Cattelino further demonstrates, are central to sovereignty, rather than being merely "private" matters outside of the realm of politics. In a chapter on Seminole housing, Cattelino describes how mid-20th century federal Indian housing programs, carried out through agencies like the Bureau of Indian Affairs, and with the help of local philanthropic organizations like The Friends of the Seminoles, encouraged the shift of Seminole housing from traditional thatched-roofed chickee households to government-built concrete block structure (CBS) houses. While chickees were structured to accommodate extended-family living arrangements based on Seminole matrilineal clans, matrilocal residence patterns, and transfer of property through the female line, the new concrete block houses promoted nuclear single-family living arrangements under the assumption, based on ideologies of "internal colonialism" or "welfare colonialism," that Seminoles and other Indigenous peoples should have both their material standards of living and their kinship and family patterns become "modernized." Though many Seminoles welcomed the relative stability and material comforts offered by the new houses – particularly in light of the history of settler-colonial dispossession, subjugation, and genocide – many also missed living with their maternal relatives and lamented the weakening of the extended family and the matrilineal clans. After the extraordinary rise in Seminole tribal revenues due to the growth in high-stakes casino gaming, however, the Seminole government was able to take control over social service administration, including housing, and reverse settler-state paternalism. Seminole citizens now engage in hybrid dwelling practices, with chickees ubiquitously included in most tribal citizens' home sites and many families now returning to matrilocal and more dispersed residence patterns.
Cattelino's work has been making waves across the discipline of anthropology, Indigenous studies, American studies, and beyond. Her 2010 article, "The Double Bind of American Indian Need-Based Sovereignty," published in Cultural Anthropology and winner of the 2011 Cultural Horizons Prize from the Society for Cultural Anthropology, importantly exposes the unjust "double bind" faced by the Seminoles (and all Indigenous peoples) in which economic wealth is required for them to exercise their governmental authority and sovereignty, but once they attain relative prosperity and utilize their economic resources for the benefit of their citizenry and thus enhance their political standing, their sovereignty, tribal citizenship, and politico-cultural distinctiveness gets undermined and attacked by settler-colonial expectations that Indigenous people remain poor, destitute, non-modern, and exotically/essentially Other. Cattelino's theorization of the "double bind" faced by Native Americans, and her analysis of settler colonialism more broadly, have implications not only for Indigenous peoples but for all of us who live in the settler states of the former British colonial empire, including the United States, Canada, Australia, and New Zealand/Aotearoa. Cattelino describes how she and other scholars came to think seriously and critically about the concept of settler colonialism during workshops and symposiums at the University of Chicago where she held her first assistant professorship in the Department of Anthropology from 2004 to 2008.
Along with Mohawk anthropologist Audra Simpson and others, Cattelino has been one of the foremost anthropologists in bridging the divide between the anthropology of the United States and the anthropology of Native North America–two anthropological traditions that have traditionally been maintained as distinct from each other, with Native Americans often positioned as "outside the time and space of modern American life" and essentially used as "laboratories" for anthropological theory-building on acculturation processes (Cattelino 2010:283). In "Anthropologies of the United States" (2010), an article published in Annual Review of Anthropology, Cattelino argues that inquiries into settler colonialism strengthen the anthropology of the United States. Such inquiries not only promote a better understanding of the situation and struggles of contemporary Indigenous peoples in North America but also help us to account for "the ways that being a settler society structure all American lives" (2010:282). Indeed, all of us who are not indigenous to these lands–whether white or people of color–must contend with the legacies of genocide, ongoing settler-colonial dispossession against the Indigenous peoples of America, and the endurance, survival, and flourishing of American Indian, Native Alaskan, and Native Hawaiian nations in spite of historical and contemporary threats to their sovereignty.
Cattelino is currently finishing her new book, tentatively titled "Unsettling Nature: An Everglades Ethnography." She gave a preview of the material in her book during her talk at the Lewis Henry Morgan Lecture at the University of Rochester in October 2015. The annual Morgan Lecture Series is considered one of the most prestigious lecture series in the discipline of anthropology, and Cattelino was selected to give the 2015 lecture. Her remarkable lecture, "The Cultural Politics of Water in the Everglades and Beyond," analyzed the contemporary efforts to restore the Florida Everglades ecosystem in order to save the endangered water supply of Florida residents, promote ecological resilience more generally, and aid in mitigating the impacts of climate change in Florida. The ecological restoration project involves and impacts the Seminole Tribe of Florida, the US Army Corps of Engineers, environmentalist groups, primarily White farmers and residents in the agricultural town of Clewiston, and African American and Latin@ residents and migrant laborers in towns like Immokalee. She explained how nature and indigeneity are co-produced in settler societies like the United States in specific ways that render ecosystems like the Everglades as "wildernesses" even though the tropical wetlands had been an anthropogenic landscape for millennia, with archaeological evidence of Indigenous canal-building and other anthropogenic alterations. Her talk demonstrated the relevance of settler-colonial ideologies of nature, Indigenous sovereignty, Big Sugar, legacies of Jim Crow racism and civil rights, ongoing Latin@ labor migration, and differing cultural valuations of water to the environmentalist project of saving the Everglades. In doing so, Cattelino's current project helps to illuminate the ways that a serious consideration of settler colonialism and Indigenous sovereignty can productively influence (and unsettle) all scholarship on the United States, from studies of US migration to American environmentalism.
Because of her ongoing strong interest in gender and sexuality studies, Cattelino considers her associate directorship as "a wonderful way to put myself back in the conversation" and to "challenge myself to go back into gender studies scholarship more directly." She also sees herself as "serving a great institution…that takes seriously gender issues across campus." She is writing grants, conducting research projects, chairing the faculty advisory committee, and assisting CSW Director Rachel Lee.
Cattelino traveled far from and yet remained anchored in her origins in rural northern Wisconsin where she worked on her family's farm and even helped to spearhead her family's vegetable-growing business when her father became ill and was unable to maintain their dairying enterprise. She remembers her childhood farm with both nostalgia for the life that her Anglo mother and Italian American father provided for her and her siblings and a realist memory of the hardships of agricultural work in a working-class family and community. She recalls, "I always dreamed of moving to a big city–taking the world by storm."
Bradley Cardozo is a doctoral student in sociocultural anthropology in the Department of Anthropology at UCLA. His dissertation research is on the climate justice movement and ecological sustainability initiatives in the Philippines. He received a B.A. in Anthropology & Asian Studies from Cornell University in 2007 and an M.A. in Anthropology from UCLA in 2014.