Thinking Gender 2020 Parking and Accommodations
THINKING GENDER, SEXUAL VIOLENCE AS STRUCTURAL VIOLENCE: FEMINIST VISIONS OF TRANSFORMATIVE JUSTICE
30TH ANNUAL GRADUATE STUDENT RESEARCH CONFERENCE
Friday, March 6, 2020
UCLA Carnesale Commons
PRE-REGISTRATION IS CLOSED
In-person registration will be available on the day of. First come, first serve. Please visit the registration table in the Palisades Lobby on the 3rd floor.
Carnesale Commons Parking: Sunset Village Parking Structure (PSV)
Self-parking and Electric Vehicle Charging Stations are available in the Sunset Village Parking Structure (PSV), near Carnesale Commons. Parking rates range from $1 (for 20 minutes) to $13 (all day). Guests can self-park in designated Visitor Parking areas and purchase permits at the Self-Parking Pay Stations. The machines will ask you to input your license plate number or vehicle ID number.
Parking Structure 4 and 7
For additional parking, underground Parking Structure 4 at Wilson Plaza and underground Parking Structure 7 under the Intramural Playing Fields are available. Both contain Self-Parking Pay Stations with rates similar to Structure PSV. Parking at Structure 4 can also be purchased from the Parking/Information Kiosk during the hours of 7:00 AM – 12:00 PM.
For more parking information, please visit the UCLA Transportation website.
Walking from PSV to Carnesale Commons
Take the elevator or the stairs (located in the southwest corner of the parking garage) to the Lobby Level (L). Upon exiting the elevator, proceed straight ahead (about 10 feet), turn RIGHT and walk along the perimeter of the Covel Commons building, turn LEFT at the corner, and pass the Covel Commons Lobby doors.
Turn LEFT and take the staircase DOWN to Charles E. Young Drive. Turn RIGHT at the base of the steps and Carnesale Commons will be on your right. Registration will be located on the 3rd floor. We ask all presenters and guests to check in at Registration prior to attending a session.
We will provide guests with light refreshments in the morning and at the Reception. Additional hot food, snacks, and coffee can be purchased at nearby campus locations: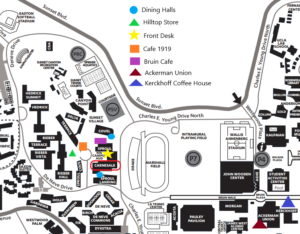 Residential Dining, located around the residential hill offers several grab-and-go locations that accept cash/card payment. These are Café 1919 (card only with photo ID) and Bruin Café. Dining halls offer buffet dining and meal tickets that can be purchased at residential hall front desks. The nearest dining halls and front desks are indicated on the map.
UCLA Hilltop Store, located across from Café 1919, offers a variety of snack and beverage items available for purchase via cash/card.
Avenue A, located on the A-Level in Ackerman Student Union, offers select restaurants including Taco Bell, Carl's Jr., Jamba Juice, and more.
Terrace Food Court, located on Level 1 in Ackerman Student Union, offers restaurants such as Veggie Grill, Rubio's Fresh Mexican Grill, Panda Express, Wolfgang Puck, and more.
Kerckhoff Coffeehouse, located in Kerckhoff Hall near Ackerman Student Union, offers coffee, tea, other beverages, and some select grab-and-go style food options.
Lodging is available both nearby and farther away from UCLA. When making your hotel arrangements, please consider the availability of bus and train lines to the UCLA campus.
The following hotels are within walking distance of UCLA and are located in Westwood Village:
**Please keep in mind that the listed prices are subject to change daily and/or seasonally**
Below is a list of lodging options farther from UCLA:
Hotel Angeleno: Offers deluxe king or deluxe double bedrooms for a discounted rate of $189, plus 15.695% tax for March 5-7, 2020. They are located at 170 N Church Lane, approximately 1.5 miles away from the conference venue. The hotel offers complimentary transportation within a 3-mile radius, including to UCLA. They also feature a nightly complimentary wine hour (5:30-6:30 PM) and one free valet parking. For reservations at the discounted rate, call (310) 476-6411 and reference "Thinking Gender Conference 2020," part of the UCLA Center for the Study of Women. Or you can reserve online (link works best with Firefox or Google Chrome, and on a computer or tablet). The cutoff to book with this rate is February 21, 2020. Availability is limited – book early!
Comfort Inn Santa Monica: They are located at 2815 Santa Monica Boulevard and are approximately 4 miles away from the conference venue. The hotel is located close to a bus line that takes you directly to UCLA. They also offer complimentary Wi-Fi, breakfast, and parking. For reservations, call (310) 828-5517 and reference the "Thinking Gender Conference CODE #2510" for the discounted rates. The cutoff to book with these rates is February 4, 2020. Availability is limited – book early! Offers the following discounted room rates plus 14% tax and $1.70 fee per night for March 4 -8, 2020:

1 queen bed – $169.15
2 queen beds – $177.65
1 king bed – $186.15
1 king + 1 queen beds – $203.15
2 queen beds + 1 sofa – $203.15
If you require accessibility-related accommodations, please visit our Event Accessibility page.
GENDER-INCLUSIVE RESTROOMS
In accordance with the University's nondiscrimination policies, All-Gender Restrooms at UCLA are single stall facilities that seek to create an inclusive campus environment and enhance climate for transgender and gender variant people and many other populations. The standardized signage meets California building code while challenging traditional binary notions of gender.
NOTICE OF PHOTOGRAPHIC AND MEDIA RECORDING
Photography, audio, and video recording may occur at this event. By entering the event premises, you consent to interviews, photography, audio recording, video recording, and their release, publication, exhibition, or reproduction to be used for news, webcasts, promotional purposes, telecasts, advertising, inclusion on websites, or any other purpose by the UCLA Center for the Study of Women.