Addressing Sexual Violence, Reshaping Institutions, Achieving Justice: Shelter, Intersectionality, and Sexual Harassment Policy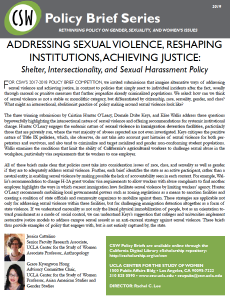 Download the 2018-2019 CSW Policy Briefs
Two briefs were honored with the CSW Policy Brief Prize, and one received an honorable mention:
Addressing the Epidemic of Sexual Assault in California's Immigrant Detention Centers by Cristina Hunter O'Leary
Immigrant Farmworkers in California Need Greater Protections Against Sexual Harassment by Elise Wallis
Restorative Justice for Curbing Campus Sexual Violence by Domale Dube Keys (Honorable Mention)
Editor: Alexandra Apolloni, Program and Research Developer, CSW
When the institutions tasked with providing shelter instead become sites of sexual violence and harassment, how should feminist policy-makers respond? How can we think of sexual violence as not a stable or monolithic category, but differentiated by citizenship, race, sexuality, gender, and class? What might an intersectional, abolitionist practice of policy making around sexual violence look like? The #MeToo movement has brought renewed visibility to issues related to sexual assault, harassment, and abuse of power, illuminating how even those women with significant amounts of social, political, and economic power experience gender-based harassment that, until now, has gone unreported for fear of social and professional repercussions. This celebrity advocacy builds on the work of both feminist legal scholars who, in the 1980s and 1990s, drew attention to how sexual harassment contributed to gender inequality in workplaces. At the same time, there has long been a different tradition of analysis from Indigenous and women of color feminists who have noted that sexual violence is constitutive of white supremacist and settler colonial societies. This tradition is the context for black feminist activists, such as Tarana Burke, who coined "me too" as an expression of solidarity and support for women of color whose experiences of sexual abuse may have otherwise been elided. As the chorus of the #MeToo movement has grown louder, scholars and activists have begun calling for an expanded focus. Sexual harassment and abuse are endemic, but if the origins and effects of sexual violence are so differentiated by historical and material structures of race, gender, sexuality, citizenship, and class, is there utility in subsuming all manifestations of sexual violence under one conceptual category? If not, what alternative frameworks might be more helpful?
CSW's 2017-2018 Policy Briefs propose policy interventions that assist vulnerable women and gender-nonconforming individuals by fundamentally reshaping institutions that perpetuate sexual harassment and assault. In contrast to policies that simply react to individual incidents of sexual violence after the fact, usually through carceral or punitive measures that further jeopardize already criminalized populations, we invited solutions that imagine alternative ways of addressing violence and achieving justice. Thinking about sexual harassment and assault through the concept of "shelter" enables a new focus on vulnerable populations. Institutions that are described as caring for and sheltering individuals—from detention centers and prisons, to foster homes, schools, and universities—in actuality are designed to perpetuate and enable abuse and harassment. Migrants, disabled individuals, economically disadvantaged individuals, and others whom these institutions purportedly shelter are rendered vulnerable through their very position within institutional walls. In addition, industries such as house cleaning, care work, and agriculture are composed of workforces that are disproportionately women of color. Because these workers are tasked with enhancing the home lives of those with more economic power, these industries are structured by a permeability between public and private, which enables the denial of legal protections. Workers in these industries are thus left particularly vulnerable to sexual harassment and assault.