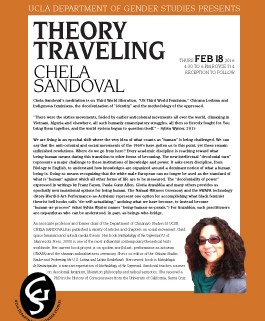 Chela Sandoval's meditation is on Third World liberation, "US Third World Feminism," Chicana Lesbian and Indigenous feminisms, the decolonization of "identity," and the methodology of the oppressed.
"There were the sixties movements, fueled by earlier anticolonial movements all over the world, climaxing in Vietnam, Algeria and elsewhere, all such humanly emancipatory struggles, all then so fiercely fought for. You bring them together, and the world system began to question itself." – Sylvia Wynter, 2015 
We are living in an epochal shift where the very idea of what counts as "human" is being challenged. We can say that the anti-colonial and social movements of the 1960's have gotten us to this point, yet these remain unfinished revolutions. Where do we go from here? Every academic discipline is reaching toward what being-human means during this transition to other forms of becoming. The new intellectual "decolonial turn" represents a major challenge to these institutions of knowledge and power. It asks every discipline, from Biology to English, to understand how knowledges are organized around a dominant notion of what a human being is. Doing so means recognizing that the white male European can no longer be used as the standard of what is "human" against which all other forms of life are to be measured. The "decoloniality of power" expressed in writings by Franz Fanon, Paula Gunn Allen, Gloria Anzaldúa and many others provides us epochally new mutational options for being human.
The Nahual-Witness Ceremony and the SWAPA technology (Story-Wor(l)d-Art-Performance-as-Activism) represent one option for accomplishing what black feminist theorist bell hooks calls "de-self-actualizing," undoing what we have become, to instead become "human-as-process" (what Sylvia Wynter names "being-human-as-praxis.") For Anzaldúa, such practitioners are nepantleras who can be understood, in part, as beings-who-bridge.
Chela Sandoval is Associate Professor and former chair of the Department of Chicana/o Studies at the University of California, Santa Barbara. Her book Methodology of the Oppressed (University of Minnesota Press, 2000) is one of the most influential contemporary theoretical texts worldwide. She has published a variety of articles and chapters on social movement, third space feminism and critical media theory. Her current book project is on spoken-wor(l)d-art- performance-as-activism (SWAPA) and the shaman-nahual/witness ceremony. She is co-editor of the Chicano Studies Reader and Performing the U.S. Latina and Latino Borderlands. Her most recent book, published by UNAM last month, is Metodologia de Emancipación, a trans-interpretation of Methodology of the Oppressed. Sandoval teaches courses on decolonial feminism, liberation philosophy and radical semiotics. She received a PhD in the History of Consciousness from the University of California, Santa Cruz.