Sewing Intimacies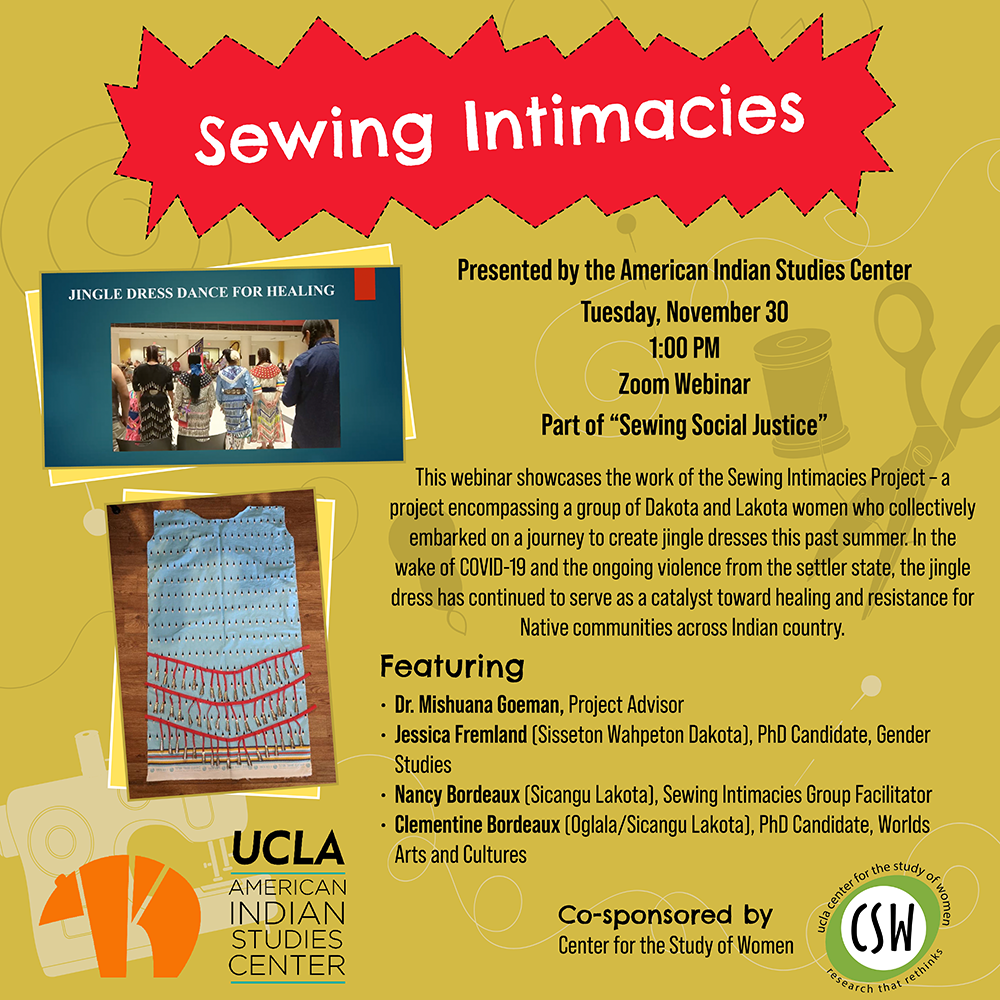 Organized by the American Indian Studies Center
DATE: Tuesday, November 30, 2021
TIME: 1 PM
LOCATION: Virtual/Zoom (REGISTRATION REQUIRED)
This webinar showcases the work of the Sewing Intimacies Project – a project encompassing a group of Dakota and Lakota women who collectively embarked on a journey to create jingle dresses this past summer. In the wake of COVID-19 and the ongoing violence from the settler state, the jingle dress has continued to serve as a catalyst toward healing and resistance for Native communities across Indian country. Though the dress originates with the Ojibwe people, the power it garners to bring communities together to overcome trauma is palpable. In this webinar, members of the Sewing Intimacies group will come together to discuss their experiences making the dress and the elements of healing and community-building that are facilitated in the process of crafting. Using a native-feminist framework grounded in theories of Oceti Šakowin relationality, this project asks how crafting serves as a conduit to cultivating community-based resistance in spite of the violences enacted by settler colonialism. As a virtual participation-observation project this event will also discuss the methodological implications of the project as it takes place under the conditions of pandemic.
Participants:
Dr. Mishuana Goeman, Project Advisor
Jessica Fremland (Sisseton Wahpeton Dakota), PhD Student – Gender Studies
Nancy Bordeaux (Sicangu Lakota), Sewing Intimacies Group Facilitator
Clementine Bordeaux (Oglala/Sicangu Lakota), PhD Candidate – Worlds Arts and Cultures
---
The Auntie Sewing Squad
Organized by the Asian American Studies Department
DATE: POSTPONED TO WINTER 2022 (DATE TBD)
TIME: 3:30 PM
LOCATION: Virtual/Zoom
Join us for this event celebrating the Auntie Sewing Squad, a massive mutual-aid network of volunteers who have been providing free masks in the wake of US government failures during the COVID-19 pandemic.
Featuring:
Asian American Studies MA and Gender Studies PhD alum Preeti Sharma and co-editors Mai-Linh Hong and Chrissy Yau, discussing their recently released book The Auntie Sewing Squad Guide to Mask-Making, Radical Care, and Racial Justice (UC Press).
Screening of "Auntie Kristina," a short film about the Auntie Sewing Squad and a discussion with the filmmaker, Asian American Studies MA alum Hannah Joo.