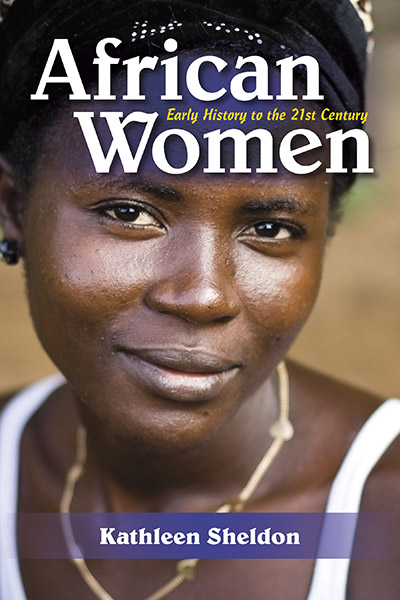 Kathleen Sheldon will discuss her recently published book, African Women: Early History to the 21st Century, a comprehensive study of this expansive story from before the time of records to the present day.  Her book provides a rich background on descent systems and the roles of women in matrilineal and patrilineal systems.  She profiles elite women, as well as those in leadership roles, traders and market women, religious women, slave women, women in resistance movements, and women in politics and development.  The rich case studies and biographies in this thorough survey establish a grand narrative about women's roles in the history of Africa.
Kathleen Sheldon is an independent historian who is a Research Affiliate with the UCLA Center for the Study of Women.  Dr. Sheldon received her Ph.D. in history from UCLA in 1988 and her M.A. in African Area Studies in 1977.  She is a historian who has primarily written about African women and Mozambique.  Her most recent book is African Women: Early History to the 21st Century.  She also wrote Pounders of Grain: A History of Women, Work, and Politics in Mozambique and edited Courtyards, Markets, City Streets: Urban Women in Africa.
Other publications include the second revised edition of the Historical Dictionary of Women in Sub-Saharan Africa (2016; first edition, 2005) and a special two-part forum on Women and Gender in Africa for the African Studies Review, co-edited with Judith Van Allen, that appeared in December 2015 and April 2016. Dr. Sheldon was the editor for women's entries for the Dictionary of African Biography (2011).  She wrote the articles on Women and African History and Women and Colonialism for Oxford Bibliographies in African Studies, and is also a senior editor for the online resource, Oxford Research Encyclopedia in African History. Other publications include "From Frenzied Mobs to Savvy Businesswomen: Researching the History of Market Women in Africa," in Changing Horizons of African History (2017); and "Creating an Archive of Working Women's Oral Histories in Beira, Mozambique" in Contesting Archives: Finding Women in the Sources (2010). She is an editor on the H-Luso-Africa network, https://networks.h-net.org/h-luso-africa, which focuses on the Portuguese-speaking countries of Africa. In addition to her work on African women she published "'No more cookies or cake now, "C'est la guerre"': An American Nurse in Turkey, 1919 to 1920,"Social Sciences and Missions 23, 1 (2010), based on a diary kept by her great-aunt, Sylvia Thankful Eddy.
Co-sponsored by:
UCLA African Studies Center
UCLA Department of History
UCLA Center for the Study of Women
UCLA Department of Gender Studies