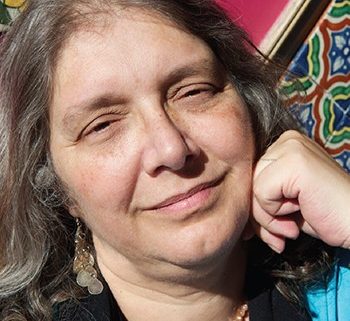 Aurora Levins Morales describes herself as "a writer, an artist, a historian, a teacher and a mentor. I'm also an activist, a healer, a revolutionary.  I tell stories with medicinal powers. Herbalists who collect wild  plants to make medicine call it wildcrafting.   I wildcraft the details of the world, of history, of people's lives, and concentrate them through art in order to shift consciousness, to change how we think about ourselves, each other and the world. "
She is the author of numerous books and essays, including a chapter in the foundational volume This Bridge Called My Back: Writings by Radical Women of Color, and, most recently Kindling: New Writings on the Body and Cosecha and Other Stories  (co-authored with her mother, Rosario Morales).
In response to chronic illness and disability, Morales designed the Vehicle for Change, an ecological, sustainable, non-toxic home, built inside a 32 foot aluminum gooseneck trailer.  She says: "My traveling studio home is more than transportation and shelter.  It also embodies possibility and innovation.  It's a manifestation of hope, a solid, three-dimensional expression of what I write about.  As I move around the country and beyond, the fact of this vehicle, and the need for it, will underline and expand my words, to help me talk about what we're facing as a planet, and how to face it."
Join us for a talk by Aurora Levins Morales, with discussion led by Robin Kelley.
This talk is part of "In the Interests of Justice: Bringing Theory into Practice." Each of the six speakers in this series is engaged in producing vital knowledge about the relationships between health, social inequity, race, gender, and power. Featured scholars will share their recent or ongoing work, and comment on the implications for changing and improving practice, in the fields of law, healthcare, or social services, in order to meet the needs of populations facing complex social, health, or disabling challenges. This series is a collaboration between Rapair, a Los-Angeles based health and disability justice organization, The UCLA American Indian Studies Center, the UCLA Program in Disability Studies, and the UCLA Department of Gender Studies. Funding and support are provided by NetCE.