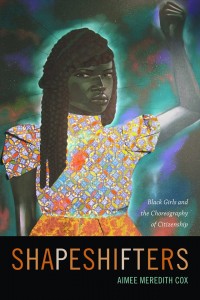 In this structured conversation, Cox will draw from her first ethnography, Shapeshifters: Black Girls and the Choreography of Citizenship, as well as on work with young Black women in the urban and suburban U.S., to consider how their experiences in and through various publics offers a reframing of the concepts of protection, social accountability, care, legibility, and value.
Aimee Meredith Cox is jointly appointed as an Associate Professor in the departments of African American Studies and Anthropology at Yale University. Cox earned her M.A. and PhD in Cultural Anthropology from the University of Michigan, Ann Arbor and B.A. with honors in Anthropology from Vassar College. Her research and teaching interests lie at the intersection of Anthropology, Black Studies, and Performance Studies. Cox's first monograph, Shapeshifters: Black Girls and the Choreography of Citizenship (Duke 2015), won a 2016 Victor Turner Book Prize in Ethnographic Writing, and Honorable Mention from the 2016 Gloria E. Anzaldúa Book Prize, given by the National Women's Studies Association. She is the editor of the forthcoming volume, Gender: Space (MacMillan) and co-editor of a special issue of Public: A Journal of Imagining America on art and knowledge production in the academy. Cox is also a former professional dancer. She danced on scholarship with the Dance Theatre of Harlem and toured extensively with Ailey II. Her next ethnographic project, Living Past Slow Death, explores the creative protest strategies individuals and communities enact to reclaim Black life in the urban United States.
Organized by the Department of Anthropology Culture Power and Social Change Colloquium.
DATE: March 15, 2018
TIME: 12:15 PM
LOCATION: 352 Haines Hall