Women's Social Movement Activities in Los Angeles

A History of Women's Social Movement Activities in Los Angeles, 1960-1999
This major research project examined the history of women's social movement activities in mid to late twentieth-century Los Angeles. The outcome of this research is a history of women's social activism in Los Angeles during this period based not on an a priori definition of the Women's Movement but on the history of activities by which women organized demands against discrimination and for access, equal opportunity, and equal representation. The focus of the project was on conducting archival research and oral history interviews and developing publicly accessible data resources, including:
Interactive Timeline displays key events in women's social movement activities in Los Angeles in the areas of women's health, women in higher education, the feminist arts movement, and women's labor.
Working Papers, located on CSW's eScholarship at the California Digital Library, provide documentation for the research completed in this project.
Oral Histories, which are available at UCLA Library's Center for Oral History Research, were conducted with these women:
Helen Astin (left) passed away in October of 2015. She was a Professor Emeritus in the Graduate School of Education and a Senior Scholar at HERI. She received her Ph.D. in Psychology (Counseling and Social) from the University of Maryland. Her research interests include education and career development of women, faculty performance and rewards, and leadership. Interviewer: Kimberlee Granholm
Nancy Angelo is a performance and video artist who contributed to the development of the women's art movement in Los Angeles and worked in the Women's Building, a center for feminist art. Currently residing in San Francisco, Angelo works as an organizational psychologist and consultant. Interviewer: Andrey Gordienko.
Sondra Hale is Professor Emeritus in the Departments of Anthropology and Gender Studies at UCLA; former co-editor of The Journal of Middle East Women's Studies (2006 to 2010), and former co-chair of Islamic Studies, as well as a lifelong activist in social justice issues. Early in her career, Hale played a key role in what became a national controversy surrounding the nature and purpose of the field of Women's Studies in the public university at California State University, Long Beach. Interviewer: Susan McKibben
Jane Bayes is a Professor of Political Science and Director of the Institute of Gender, Globalization, and Democracy at California State University, Northridge. She also is the Director of the International Social Science Council's Research Program on Gender, Globalization and Democratization (ISSC-GGD). Her teaching and research interests are in the areas of women and politics, political economy, and globalization and gender. Bayes received her BA in Government from Smith College in 1960, and from UCLA her PhD in Political Science in 1967. In 1968, CSUN—considered then as a hotbed for student activism— hired Bayes as Assistant Professor of Political Science; she created the school's first courses on minority politics, and successfully integrated women's issues into these courses. In the 1980's, Dr. Bayes was elected into the university's academic faculty senate, and served as Faculty President from 1984-1986, where she advocated for increased hiring of women and minority applicants. Dr. Bayes, now 74, continues her career as a professor at CSUN, teaching courses focused on gender politics in the global economy. She received the "Phenomenal Woman Award" from the Gender and Women's Studies Department at California State University, Northridge in October 2008. Interviewer: Kimberlee Granholm
Karen Brodkin is Professor Emerita of the Anthropology and Women's Studies at University of California, Los Angeles. She is considered to be one of the founders of feminist anthropology. After receiving a degree in anthropology in 1963, Brodkin pursued graduate schooling at Harvard University, but later transferred to University of Michigan to complete her PhD, graduating in 1971. At U-M, her studies engaged anthropology with issues of sexism and equality. She was recruited by Oakland University in 1968, where she taught until 1976. Thereafter, Brodkin continued feminist anthropological research and teaching at Fordham, Clark, Duke, American and Oberlin universities. Brodkin was hired in 1987 by UCLA as the Director of the Women's Studies program and as a Professor of Anthropology. In California, her activism efforts involved: labor unionization (i.e. HERE, SEIU, and SAGE), the Lincoln Place tenants, and Common Threads; on campus, Brodkin vocally opposed Proposition 209 and SP-1/SP-2 initiatives and U.S. military involvement in Iraq as well as rallied for LGBT equality and for the establishment of a Department of Chicana/o studies. She retired in 2008, two years after receiving the Society for the Anthropology of North America's Prize for Distinguished Achievement in the Critical Study of North America. Interviewer: Kimberlee Granholm
Sherna Berger Gluck is a pioneer of women's oral history, as well as a long-time anti-war and anti-Zionist activist. She was a member of the Women's Liberation Movement, volunteered at the Crenshaw Women's Center, and co-founded the Westside Women;s Center in 1972. Guck co-founded the Feminist Oral History Project; taught oral history at UCLA and California State University, Long Beach (CSULB); and directed the CSULB Oral History Program until 2005. She is the author of numerous articles on oral history, as well as the books From Parlor to Prison (1976) Rosie the Riveter Revisited: Women, the War and Social Change (1987), Women's Words: The Feminist Practice of Oral History (1991) (co-edited with Daphne Patai), and An American Feminist in Palestine: The Intifada Years. Oral Histories. Interviewer: Susan McKibben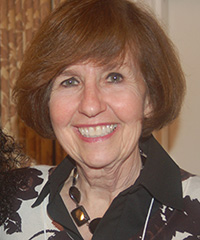 Myrna Hant (left) received her Ph.D. in Higher Education from UCLA. She was a college administrator as well as an instructor in Women's Studies at Chapman University. Presently she teaches teaching women in history for the Osher Institute at UCLA Extension. In 2006, Dr. Hant donated funds for an annual CSW award, called The Renaissance Award, that rewards the rebirth of academic aspirations among women whose college careers were interrupted or delayed by family and/or career obligations and encourages achievement in the pursuit of a bachelor's degree at UCLA. Interviewer: Kimberlee Granholm
Betty Brooks is a life-long feminist activist in anti-rape work, women's sexuality, and feminist theology. She pioneered women's self-defense classes in the Los Angeles area and co-founded the Rape Crisis Hotline and the Los Angeles based organization Women Against Sexual Abuse. She was a co-founder of the Califia Community and taught in the Women's Studies program at California State University, Long Beach in the 1970s and 1980s. Brooks was also involved in feminist work in the United Church of Christ. In the 1970s she joined a task force on women, through which she advocated for women's leadership as ministers, gender-inclusive liturgical changes, and the ordination of gay clergy. She was also a contributor to the Feminist Magazine radio program on KPFK Pacifica Radio. Interviewer: Susan McKibben
Sandra Serrano Sewell is executive director of Centro de Niños, a bicultural, bilingual children's center in Los Angeles, California. She is a lifelong activist for labor, children, and women's rights. Interviewer: Jackie HuntFor a link to the interview, click here.B WalkerBernita Ruth Walker is a leader and community activist in domestic violence prevention. Born and raised in Los Angeles, she has given over thirty years of service to the Los Angeles community through the establishment of the Jenesse Center, Project Peacemakers Inc. and the Oluremi Longhouse sober living facility in addition to numerous state, county and city board appointments. Interviewer: Dayo T. Spencer-Walters
Nayereh Tohidi is Professor and former Chair at the Department of Gender & Women Studies, California State University, Northridge. She is also a Research Associate at the Center for Near Eastern Studies of UCLA where she has been coordinating the Bilingual Lecture Series on Iran since 2003. She was the Director and Founding Member of the International Committee for Women's Rights in Iran in the early 1980s and taught at many colleges and universities in the Los Angeles area. She has served as a board member for International Society for Azerbaijani Studies; Institute of Gender, Globalization and Democracy at CSUN; Nairobi's Forward-Looking Strategies at California State Polytechnic University. She presently serves as the Director of the Middle Eastern and Islamic Studies initiative at CSUN and is working toward the establishment of a new minor in MEIS. Tohidi's publications include editorship or authorship of Globalization, Gender and Religion: The Politics of Women's Rights in Catholic and Muslim Contexts; Women in Muslim Societies: Diversity within Unity; and Feminism, Democracy and Islamism in Iran. Interviewer: Susan McKibben
Principal Investigator: Kathleen McHugh

Graduate Student Researchers: Andrey Gordienko, Jackie Hunt, Susan McKibben, Dayo Spencer-Walters, Kimberlee Granholm, Lai Wa Wu, and Lindsey McLean