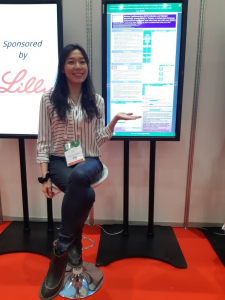 By I-Chun Jennifer Lin
As a dermatologist and young scholar, it was a great honor to attend World Congress of Dermatology (WCD), which is the world's oldest and continuous international dermatology meeting. The meeting is held every four years, and is like the Olympics of the dermatology field. With 16,477 participants, this year's congress in Milan set a historical record for attendance. Participant included dermatologists, researchers and scientists from all around the world. The meeting was a great success, with over 200 scientific sessions, 18 major sponsors, 5,777 abstracts, 1,133 scholarships and 15,000 square meters of exhibition space. It was my honor to be one of the exhibitors, with the support of the Center for Study of Women (CSW).
Most people see dermatology as a low-stress job, focused on simple and non-life-threatening diseases or beauty and cosmetics. In actuality, our caring is more than skin deep. In addition to the treatment of the skin diseases, we are also concerned with pathogenesis: the origins of disorders and treatment and prevention. Research etiology is never an easy task and small progress or a tiny advances might take years of hard work on the part of many scientists.
My study examined the connection between the infection rate of HPV and attitudes toward HPV vaccines, with the hope of raising social awareness. It has been 10 years for the launch of the HPV vaccine. However, the vaccination rate is still low, especially in countries were HIV is a complicating factor. This is a global health issue that needs attention. My presentation focused on HPV infection in Taiwan and the attitude toward HPV vaccines among men in Taiwan. My research shows that explanations for vaccination rates are multi-factoral. The HPV vaccine is associated with stigma, complicated by social expectations, family pressure and personal beliefs.
In addition to presenting my study, I learned about important new research. Thanks to the excellent studies that I saw at the meeting I learned of newly developed biologics for psoriasis, which accounts for a large amount of health care expenses in the US. Owing to the advanced research in biosimilars, medications of similar efficacy but relatively low cost are now available. Although there is still debate around the issue, affordable alternatives now exist. Last but not the least, I attend an inspiring session on using big data in dermatology. The session has made me consider how machine learning and AI can be used by dermatologists by, for example, increasing diagnostic rates in slide reading in pathology or through AI assistance to improve early melanoma detection rates.  I was excited to learn about these topics and I am to present my research using big data analysis at the next meeting, scheduled for 4 years from now in Singapore.
WCD is like a carnival that every dermatologist dreams of attending at least once in their lifetime. The experience could be academic, such as when we discussed efficacy in clinical trials, or it could be fun, as exemplified by sessions on dermatology in cinema. But most importantly, it enables experts from all around the world in person, and was absolutely worth the trip to the Europe. I'm grateful to CSW for funding this trip and encouraging me to keep working on dermatology research.
I-Chun (Jennifer) Lin is an MPH student in Epidemiology and was a dermatologist in Taiwan. She received a CSW Travel Grant in 2019.