We are pleased to announce the recipients of the 2019 CSW Student Awards and Fellowships!
CSW is proud to honor the achievements of UCLA undergraduate and graduate students who do groundbreaking research and activism around issues related to women and gender. The 2018-2019 CSW Student Awards were presented at our Awards and Benefit Reception on May 30, 2019.
Penny Kanner Dissertation Research Fellowship
A CSW Research Affiliate from 1990-2016, Penny Kanner funded this research fellowship to recognize an exceptional dissertation research project pertaining to women or gender that uses historical materials and methods.
Award Recipient: Gracen Brilmyer
Gracen Brilmyer is a PhD student in Information Studies. Their dissertation, lying at the intersection of feminist disability studies and archival studies, examines ways in which disability has played an integral role—although it has often been erased or obscured—within the establishment and contemporary function of natural history museums, primarily by examining The Field Museum of Natural History as a case study. This project seeks to grapple with the erasure of disability in this history and conceptualize new ways to read along and against the archival grain to show the multifaceted connections of natural history to disability. Their work has been published in Archival Science, The Discipline of Organizing, and various other journals. They hold a Master's in Information Management and Systems from UC Berkeley.
---
Elizabeth Blackwell, MD, Graduate and Undergraduate Awards
Also funded by Penny Kanner and named for the first woman to receive a medical degree in the United States, the Elizabeth Blackwell, MD, awards recognizes an outstanding research report, thesis, or article related to women and health or women in health-related endeavors.
Graduate Award Recipient: Shaina Goel
Shaina Goel is a PhD student in Cinema and Media Studies. She received a bachelor's degree from UC Santa Barbara in 2016 and a master's degree from UCLA in 2018. Her research interests include new media studies and feminist science and technology with her most recent project analyzing fetal ultrasounds published on YouTube.com. Beyond academia, she produces documentary shorts, music, and field recordings.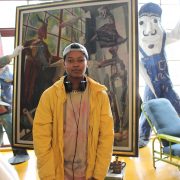 Undergraduate Award Recipient: Nyala Tringali-Carbado
Nyala Tringali-Carbado is a Mellon Mays Fellow majoring in History and African American Studies. At UCLA, they became co-chair of the black queer group (BlaQue) and the Diversity Chair of Phi Alpha Delta, Pre-Law Co-Ed Fraternity. As Diversity Chair, they implemented and facilitated diversity trainings for new members. They also guest lecture twice a year at Marlborough High School, teaching the Gender and Sexual Orientation component of the students' health class. After practicing environmental justice law, they hope to become a professor and researcher.
---
Jean Stone Dissertation Research Fellowship
Jean Stone, born Jean Factor, was involved with and supported UCLA for more than fifty years. She cared deeply about the graduate students whose research embodied the promise of the next generation of feminist scholars. She funded the Jean Stone Research Dissertation Fellowship to provide support for a doctoral student engaged in research focusing on women and/or gender.
Award Recipient: Jananie Kalyanaraman
Jananie Kalyanaraman is a PhD candidate in Anthropology. Her research focuses on transportation and inequality along the lines of gender and caste in Bengaluru, India. Through an examination of challenges that people face with respect to transport access, her research contributes to efforts towards creating more inclusive transport systems. Before beginning her doctoral studies, she received her MPhil degree in Comparative Literature from the University of Hyderabad, India. Her dissertation research has also been supported by the Wenner-Gren Foundation.
---
Paula Stone Legal Research Fellowship
Funded by Jean Stone and named in honor of her daughter, the Paula Stone Legal Research Fellowship supports research that focuses on women and the law with preference given to research on women in the criminal/legal justice system.
Award Recipient: Carla Salazar Gonzalez
Carla Salazar Gonzalez is a PhD candidate in Sociology. Her research areas are immigration, asylum law, race/ethnicity, and inequality. Her dissertation examines how asylum-seeking women and their children from Central America, along with their attorneys and advocates, negotiate the laws and immigration policies surrounding borders and asylum. Her research has been funded by the Fulbright Fellowship and the National Science Foundation Graduate Research Fellowship. She received a BA in Sociology and MA in Social Sciences from UC Irvine. She also received an MA in Sociology from UCLA.
---
Constance Coiner Graduate and Undergraduate Awards
The Constance Coiner Awards honor the lives of Dr. Constance Coiner, 48, and her daughter, Ana Duarte-Coiner, 12, who perished on TWA flight #800 in June of 1996. Made possible through donations of family and friends, these awards support research on feminist and working-class issues and honor excellence in teaching and a commitment to teaching as activism.
Graduate Award Recipient: Diya Bose
Diya Bose is a PhD candidate in Sociology. Her research lies at the intersections of sociology of gender, sexuality, and law. Drawing on ethnographic research among transgender and sex work activists in India, Bose explores the impact of the recently legislated Third Gender category in India. By centering the voices and experiences of poor, working-class transwomen, her dissertation demonstrates how the state reproduces gender and class/caste hierarchies while extending legal recognition and citizenship rights to particular categories of gender/sexual minorities. She also reveals how people resist and destabilize these categories through political organizing and their everyday lives.
Undergraduate Award Recipient: Pam Gwen
Pam Gwen celebrates life, finding unparalleled joy in healing and transforming themselves and their communities. They are a queer Kapampangan Pilipinx-American majoring in Gender Studies and Labor and Workplace Studies. They ground themselves in our collective agency and finds an unwavering determination to dismantle our current dystopia. Gwen channels their intuitive energy and research with healing justice for their work as an anti-imperialist, LGBTQIA+, and labor justice community organizer and artivist, musician, journalist, filmmaker, GRIT peer coach, and UCLA Gender Studies and Labor and Workplace Studies research assistant.
---
Renaissance Award
Created and funded by CSW Research Affiliate Myrna Hant, the Renaissance Award, rewards the rebirth of academic aspirations among women whose college careers were interrupted or delayed by family and/or career obligations and encourages achievement in the pursuit of a bachelor's degree at UCLA.
Award Recipient: Sonya Brooks
Sonya Brooks is an undergraduate Dean's Honors List student in History and Education. She is also a UCLA Research Scholar currently completing her Honors Thesis on eliminating the achievement gap of African American students. Her first research thesis, focused on 18th century Afro-Caribbean women and their forms of resistance from slavery, is currently awaiting publication. Brooks is a returning UCLA student who spent the last 20 years raising her three beautiful children, Chase, Khyler, and Infinity, and working in the healthcare sector. She is the recipient of the Bernard Asher Scholarship. Since returning to UCLA, she has maintained a 4.0 GPA and will be entering the PhD program in Education after graduating in Spring 2019.
Recognition Recipient: Jasmine Harris
Jasmine Harris is an Anthropology and Civic Engagement undergraduate. She serves as a JumpStart AmeriCorps member and is on the executive board for both the Tau Sigma National Honor Society and the Cotsen Archaeology Association at UCLA. Her senior honors thesis examines the effectiveness of corporate social responsibility initiatives and how female corporate leadership is needed for initiative success. She graduates this year with Latin and College Honors, after presenting at UCLA's undergraduate research conference. She hopes to continue research as a Fulbright Fellow next year, and then pursue an interdisciplinary PhD.