CSW Associate Director Sarah Haley wins multiple book awards!
Congratulations to CSW Associate Director Sarah Haley!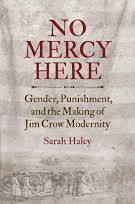 Haley's book No Mercy Here: Gender, Punishment, and the Making of Jim Crow Modernity, which had already been honored with prizes from the Southern Association of Women Historians, National Women's Studies Association, and Association of Black Women Historians has recently been recognized by the American Historical Association and the American Studies Association!
No Mercy Here was awarded the 2017 Joan Kelly Memorial Prize by the American Historical Association and the 2017 Lora Romero First Book Publication Prize by the American Studies Association.
The Lora Romero Prize Committee praised Haley's book:
"Engaging, timely, and beautifully written, No Mercy Here offers a compelling, conceptually rich history of the institutional structures of Jim Crow modernity and its devastating effects on the lives of black women in Georgia. Rooted in black feminist criticism and interdisciplinary methods, Haley mines the archive to offer a two-pronged historical account. First, she historicizes the institutional mechanisms and state apparatuses that led to the systematic punishment, imprisonment, and forced labor of poor and working-class black women. Secondly, she creatively and with a nuanced ear listens to the traces these women left in the archive in order to humanize their lives. Detailing the brutality of racial and sexual violence inflicted upon imprisoned black women as technologies of racial capitalism, Haley also exposes how the women she studies critiqued punishment in the creation of blues songs, and performed other acts of resistance, refusal, and sabotage. The study offers powerful theoretical-historical insights on the intertwining of various discourses: US empire, queer-aberrant genders and sexualities, labor, and nation. An invaluable model of American studies scholarship, No Mercy Here is grounded in archival research in order to offer brilliant theoretical-intersectional insights and crafts a landmark narrative history."
Congratulations, Sarah Haley!
Full list of awards and distinctions honoring No Mercy Here:
2017 Joan Kelly Memorial Prize, American Historical Association
2017 Lora Romero First Book Publication Prize, American Studies Association
2016 Letitia Woods Brown Book Award, Association of Black Women Historians
2016 Sara A. Whaley Prize, National Women's Studies Association
Willie Lee Rose Prize, Southern Association of Women Historians
Julia Cherry Spruill Prize, Southern Association of Women Historians