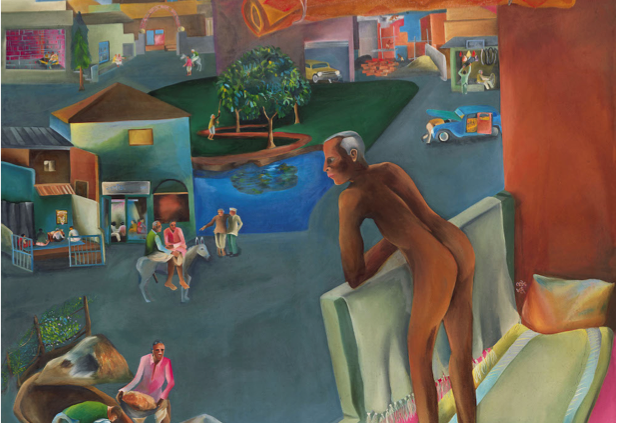 Bhupen Khakhar, "You Can't Please All", 1981, oil and paint on canvas, 175.6 x 175.6 cm. Tate Museum, London.
by Sayantan Mukhopadhyay
Thirteen years have passed since artist Bhupen Khakhar's death, but his admirers are countless and vocal. For his friends and colleagues who have outlived him, he is a warm memory that continues to inspire — to be found in their art, their writings, and their wistful conversations. A contingent of the second wave of modernists to rise to prominence in India, Khakhar's paintings started to garner attention in the 1970s with their commitment to a vision of Indian urbanism that was hitherto occluded by the dominance of the Bombay in the early years after independence. Khakhar painted life in the Indian "beta" city, overshadowed by their large metropolitan counterparts, capturing its grit and glory in equal measure. He is the subject of a major retrospective at London's Tate Modern, where his life's work is welcomed alongside the global greats. This landmark event ushers in a new age in the display of South Asian contemporary, heralding the possibility of institutional support for a truly international interpretation of modernism.
My first encounter with Khakhar's paintings came in the summer of 2013, after having just landed in Bombay. A friend was finishing a painting that would be included in a show titled "Touched by Bhupen": an exhaustive group exhibition that brought together several Indian artists who either claim influence from Khakhar or knew him personally, in commemoration of the tenth anniversary of his death. This to open just weeks after an curated by art critic and Khakhar's dear friend, Geeta Kapur, that paid tribute to the late artist by way of the theme of death. The exhibition was an homage to the artist's late style, which started to show a preoccupation with morbidity and mortality in the late '90s. It was clear that time passed on by, but love for Bhupen remained as ardent as ever.
My friend showed me the only monograph of Khakhar's work produced to date, lovingly compiled by artist Timothy Hyman in 1998. At the time, I was only thoroughly familiar with the first generation of modernists emerging at the wake of the Indian republic — such stalwarts as MF Husain, SH Raza, and FN Souza — whose palettes tended towards the muted and somber. Khakhar's colors, by contrast, rose to the surface of the page with an electric charge. It took a second for my eyes to focus; to realize that the figures that emerged in his narrative paintings were indeed men: men who came together in various salacious acts of sexual union. This is no small part of Khakhar's legacy: his defiant embrace of men loving men, in both allegorical and earthly realms.
By this time, there had been two retrospectives of Khakhar's work, one shortly after his death at the National Gallery of Art in Mumbai, and another mounted at the Reina Sofia in Madrid the previous year. But his most important and comprehensive expose was arguably the current show mounted at the Tate Modern, titled after his seminal painting "You Can't Please All" (1981). In a growing trend that is gaining momentum at institutions across the world, there is a tacit acknowledgement that nations from the former colonial periphery have produced artists worthy of large-scale solo retrospectives, replacing the popular multi-artist survey. Bhupen Khakhar, and the possibilities he represents for a new Indian republic, helps mark a welcome shift in the presence of South Asia at monolithic art museums in which research begins with the artist and only then extrapolates towards the nation, and not the reverse.
THE MAN
Bhupen Khakhar was born in 1934 to a Gujarati family in Bombay. He moved to Baroda in 1958 to follow a longstanding passion and curiosity for art, enrolling in a graduate program in Art Criticism at the then-new Faculty of Arts at Maharaja Sayajirao University.[1] Baroda would become Khakhar's permanent home — a respite from the intense urbanity of Bombay, and shelter from the prying eyes of the community he lived in.
Khakhar was an autodidact and worked diligently throughout his life despite an absence of any formal training. The milieu he had built for himself in Baroda was a nurturing one: he was surrounded by a group of like-minded artists who were the beginnings of a counterculture that developed in response to the dominant school of painting emerging at the wake of a new nation. Nilima Sheikh, Vivan Sundaram, Mrinalini Mukherjee, GM Sheikh, and other artists had banded together to establish a new outlook on art as India marched farther and farther away from the date of its liberation from the British empire.
Khakhar started showing his work as early as 1965, and while it took him some time to lead the cosmopolitan life of his peers, he was traveling internationally by 1976. His first foray abroad took him to the USSR, Yugoslavia, Italy, and most importantly, England, a country with which Khakhar started to develop an interesting relationship. It was after his stint in London that Khakhar started speaking openly about his sexuality, reflecting on how sexually liberated people seemed to be in the old metropole.[2] From then onwards, male sexuality became a focal trope in his work. His mother's death in 1980 also allowed him greater openness about his preferences, as he became less concerned with reactions from his family.
Those close to him have commented on the intense relationships he developed with men in Baroda: invariably older than Khakhar and of lower social status.[3] This was the everyman that appeared and reappeared in his paintings: the tea shop owner, the zoo keeper, the average city dweller. He would care for these frail men intensely, looking after their wellbeing and often their medical expenses.[4] These relationships featured heavily in his work.
THE ART
Scholars have tended to categorize Khakhar's art with three periodized divisions of his biography, beginning with the earliest period after his relocation to Baroda. During this time, he began experimenting in material and showed a particular interest in the art of the street. The textures of daily life in India — particularly the cheap reproductions of Hindu idols, seen pasted on walls of roadside temples — made appearances in pastiche collages. Even at the outset, Khakhar's sensibilities were oriented (somewhat presciently) towards the aesthetics of the global Pop, and its defiant breakdown painterly conventions that maintained the sanctity and purity of medium.[5] Khakhar's lexicon has often been identified with the work of British artists David Hockney and R. B. Kitaj.[6]
This is also the time when Khakhar worked on a series of "trade paintings": portraits of men diligently at work in their local shops, allowing for a certain view into a world ordered by their particular line of business. These works took their queue from colonial era "Company Painting," a style that arose in the nineteenth century during the expansion of the British East India Company.[7] European travelers to the subcontinent would hire artists to portray daily life, with the intention of bringing these images back to England to show fellow countrymen. Subjects were varied, but one prominent use for the Company style was to document uniforms of different groups of tradespeople.[8] Khakhar's paintings took this imperial motive and redeployed it for his own inquiries into the lives of his fellow countrymen — the everyday people who would become his muses in both life and art until the end.
Towards the end of this "early period", Khakhar also painted comical scenes from his own time in England, drawing on his travels — an ironic postcolonial reversal, in a sense, of the colonial documentation embodied by Company Painting. The sardonic tone in these images stems from his general displeasure at London's supposed glumness, reflected in paintings such as "Man in Pub" (1979). Three small panels on the left of the image follow a British man's empty day, leading to the large panel on the right, showing the same sad face cradling a pint alone in a garishly decorated pub. He holds a pair of driving gloves near his crotch: the fingers bunching into a bouquet of phalluses. This subtle nod to queer intention becomes thoroughly explicit in the next age of his career — the legacy of which has in many ways defined his contributions to modernism.
This second 'stage' in his practice is consistently pivoted around a turn symbolized by his painting, "You Can't Please All" (1981). Several times over, it has been cited as a 'coming out'[9] — a declarative announcement of a gay identity that Khakhar claimed and opened up for discussion by way of this image. The painting is composed of a continuous narrative in the background, telling the Aesop's fable of a man, his son, and their donkey. This muralistic style of composition reveals Khakhar's study of the Sienese painting tradition,[10] which he shared with his colleagues in the Baroda and would see reproduced in books during his time studying at the Faculty of Arts.
The story recounts the tale of the pair leading a donkey to the market in order to sell it, while receiving innumerable pieces of advice from passers-by along the way, each suggesting a different configuration for easy and efficacious travel. Ultimately, they choose to carry the donkey, so as not to tire it out before it was put up for sale, but the donkey falls after a misstep and dies from the injury. The moral of the story is that despite how much one may try, it is impossible to please everyone.
In the foreground of the same scene, we see a man — a characteristic self-portrait of Khakhar himself — in the nude looking out over the developments in this tale from his perch on a balcony. Khakhar, speaking about the painting, has said that if indeed one cannot please all, one should please themselves.[11] The nudity suggests a kind of voyeurism he looks to the men of the fable, as if getting pleasure from watching them go about their day.
When Khakhar was asked why the donkey was sporting an erection, he responded, "Because he is carrying two men."[12] The man in the painting, with his back towards us, may very well be enjoying the view just as much.
The preoccupation with same-sex union becomes a focal element of Khakhar's paintings in the 80s and 90s, oftentimes married with iconography from Hindu mythology and folkloric practice. In these decades, any timidness around the male body and eroticism disappears, allowing for graphic images that explore love and lust between Indian men. These works are a willful affront to the famously conservative values of the middle class, but mine a long tradition of homosociality in Indian history to locate a local vision of queer identity. The subjects are oftentimes Khakhar's own lovers, who tended to emerge from lower socioeconomic classes. They are painted lovingly, with unidealized bodies and an unglamorous presence.
In "Gallery of Rogues" (1993), independently framed panels are arranged together in constellation of plebeian faces: lovers from all corners of Baroda who have been the object of Khakhar's doting admiration. It is a journalistic documentation of the people who populated the artist's life and an assertion of a borderless pursuit of love — an aspect of Khakhar's unwavering anti-elitism in both the method in his art and its subject matter.
Towards the latter end of his life, Khakhar's interest in the male body took a turn for the grotesque. As his own relationship to corporality shifted in response to his battle with cancer, so did his approach to it in its painted form. His 'late style' is informed by the way sickness ravages and limits the body, most notably seen in "Bullet Shot in the Stomach" (2001), a somber painting in which entrails spill from a man's midriff after being assailed by a gun. The texture and sheen of oil paint is disturbingly evocative of fetid flesh and reveals an inner struggle that Khakhar was tormented with in his last years.[13] The body is no longer a site of sex and love, and more so a place of decay. As a coda to an oeuvre that celebrated the ecstasies of desire, it is a sad capitulation in terms of content, but resplendent as ever in style.
THE EXHIBITION
There is a new age underway in which European and American museums are beginning to see Indian modern art not in terms of national or cultural parameters, but as another strain in the very plural experience of modernism in the global context. As a result, single artists are getting loving attention from curators in landmark retrospectives, certifying them as worthy of a place in an expanded canon. This turn was marked most notably in the impressive V. S. Gaitonde retrospective at the Guggenheim New York in 2016, alongside this year's dedications to Nasreen Mohammedi at the new Met Breuer and to Bhupen Khakhar at the Tate. While Gaitonde and Mohammedi might be relatable to global audiences by virtue of their links to abstraction and minimalism respectively, Khakhar presents a much more intrepid option. In many ways, Khakhar's life's work represents vanguard radicality that responded to an artistic climate that was aggressively androcentric and heteronormative. The Tate's decision to celebrate his abbreviated life reveals not simply a desire to shine light on alternative modernisms that flourished internationally in the 20th century, but ones that also worked against the grain of prevailing conservative values within a given region.
The exhibition, "You Can't Please All", opened earlier this year. The works presented by curator Nada Raza offered poetic snapshots of different artistic investments over the course of Khakhar's life. This includes rarely seen ceramic works, the exhibition catalog he produced for his show at Chemould Gallery in 1978, and a video documentary made by Judy Marle. The show, in its multi-pronged approach, manages to resurrect a resplendent image of such a beloved figure, doing justice to the deep affective ties he still holds among so many members of the Indian art community today.
Of particular note is the way in which the exhibition succeeds in mining the relationship Khakhar had with England: a fraught set of connections in the postcolonial era. Wanting desperately to travel, Khakhar left India for the first time only in 1976. He journeyed to the USSR, Yugoslavia, England and Italy. He would make two subsequent trips to England and in turn host his British friends in India. It was after his time in London that the artist decided to be more forthright in his sexual identifications, and this was partially linked to the more progressive stance he saw the English taking towards sexuality. But he found life in London glum and "grumpy"[14], communicating as much through the paintings he executed there, two of which are on show in the the exhibition's second room. In a vitrine in the largest gallery is a set of hand-written notes about life in England, compared with India in what Khakhar himself calls "tabular form". The commentary is witty and whimsical, in Khakhar's characteristic sardonic tone.
The curators do not shy away from teasing out the complex relationship between the former colonial metropole and the artists who boldly produced art for a new India in the years after 1947. In a quote from the artist placed underneath wall text in the exhibition's last room, Khakhar speaks of India's repressive sexual mores as a Victorian hand-me-down. Thus, the irony of London as the home to the most important retrospective of Khakhar's work is subtly addressed with great humor and poise. His sexuality, which has been such a critical topic of conversation, is not simply presented for consumption but reflexively considered as a polemical anti-colonial gesture.
"You Can't Please All" is an ode to a much-loved man, whose art signals an incredible world of possibilities for visual culture in a young republic. The Tate's capacious approach allows a public still largely unfamiliar with the many artistic revolutions that have taken place outside of the narrow scope of the Euro-American tradition a window into one such visionary oeuvre. The Tate's intervention has canonized Khakhar as an essential figure in the story of South Asian modernism, while also asserting the entire movement as a viable category for deep curatorial research in leading contemporary art museums worldwide.
Khakhar graces the walls of the Tate with his characteristic irreverence and quirkiness: his colors are brilliant; his men playful. He is a reminder of the immense possibilities of difference: as a "Pop" artist outside the centers of Pop, as a gay artist in a conservative Indian city, and later as someone suffering while in the company of healthy friends. The productive capacity that this deviation has is evidenced everywhere in the retrospective.
We can only hope that the particular subjectivities of a whole host of other artists from across the globe will continue to be celebrated and that their work will fill the halls of the same institutions that have denied their parity with colleagues out West.
Sayantan Mukhopadhyay is a graduate student in Art History at UCLA. His current research interests include histories of display and queer identities in modern South Asia. Prior to his arrival in Los Angeles, Sayantan worked in commercial galleries in New York and New Delhi and in the education sector in Shanghai. He holds a BA from Williams College in Comparative Literature and Art History. He was awarded a CSW Travel Grant in 2017.

Footnotes
[1] Kapur, Geeta, "The View from a Teashop," Contemporary Indian Artists, New Delhi: Vikas, 1978. 153.
[2] Nada Raza, "A Man Labelled Bhupen Khakhar Branded as Painter." Dercon, Chris, and Nada Raza, eds. Bhupen Khakhar: You Can't Please All. London: Tate Publications, 2016. 13-25. 18
[3] Ibid. 22.
[4] Ibid.
[5] Citron, Beth. "Bhupen Khakhar's "Pop" in India, 1970-72." The Art Journal 71.2 (2012): 44-61.
[6] Hyman. 12.
[7] Khullar, Sonal. "Paan Shop for People: Bhupen Khakhar (1934-2003)." Worldly Affiliations: Artistic Practice, National Identity, and Modernism in India, 1930-1990. Oakland: U of California, 2015. 168-213. 181.
[8] Ibid.
[9] Raza. 19.
[10] Ibid. 17.
[11] Hyman. 3.
[12] Ibid.
[13] Geeta Kapur, "Mortality Morbidity Masquerade," Dercon, Chris, and Nada Raza, eds. Bhupen Khakhar: You Can't Please All. London: Tate Publications, 2016. 158-165. 162.
[14] Raza, 18.
Works Consulted
Citron, Beth. "Bhupen Khakhar's "Pop" in India, 1970-72." The Art Journal 71.2 (2012): 44-61. Web.
Dercon, Chris, and Nada Raza, eds. Bhupen Khakhar: You Can't Please All. London: Tate  Publications, 2016. Print.
Hyman, Timothy, and Bhupen Khakhar. Bhupen Khakhar. Mumbai: Mapin Pub., 1998. Print.
Kapur, Geeta. "Saint Bhupen." Bhupen among Friends : A Tribute to Bhupen Khakhar by Friends. Mumbai: Gallery Chemould, 2005. N. pag. Print.
Kapur, Geeta. Six Indian Painters: Rabindranath Tagore, Jamini Roy, Amrita Sher-Gil, M.F. Husain, K.G.  Subramanyan, Bhupen Khakhar. London: Tate Gallery, 1982. Print.
Kapur, Geeta. "The Uncommon Universe of Bhupen Khakhar." Pop Art and Vernacular Cultures.
Ed. Kobena Mercer. Cambridge, MA: MIT, 2007. 110-35. Print.
Kapur, Geeta. "The View from a Teashop." Contemporary Indian Artists. New Delhi: Vikas, 1978.  149-77. Print.
Khullar, Sonal. "Paan Shop for People: Bhupen Khakhar (1934-2003)." Worldly Affiliations: Artistic Practice, National Identity, and Modernism in India, 1930-1990. Oakland: U of California,  2015. 168-213. Print.
Zitzewitz, Karin. "An Artist's Claim to Truth: Bhupen Khakar." The Art of Secularism: The Cultural  Politics of Modernist Art in Contemporary India. Oxford: Oxford UP, 2014. 123-48. Print.