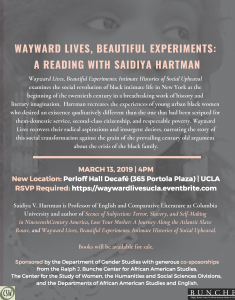 Hosted by the UCLA Department of Gender Studies
Saidiya Hartman will discuss her book, Wayward Lives, Beautiful Experiments, which explores the ways young black women created forms of intimacy and kinship indifferent to the dictates of respectability, and outside the bounds of law. They refused to labor like slaves or to accept degrading conditions of work. Hartman narrates the story of this radical transformation of black intimate and social life, crediting young black women with shaping a cultural movement that transformed the urban landscape. Combining historical analysis and literary imagination, Hartman recovers radical aspirations and resurgent desires. She will read from the book and will also be in conversation with UCLA faculty, to be followed by an open discussion.
About the Speaker
Saidiya Hartman – Professor of English and Comparative Literature, Columbia University. Saidiya Hartman is a professor at Columbia University specializing in African-American literature and history. She grew up in Brooklyn and received her B.A. from Wesleyan University and Ph.D. from Yale University.
Date: Wednesday, March 13, 2019
Time: 4:00 pm – 6:00 pm
Location: Perloff Hall DeCafe
RSVP Required: https://waywardlivesucla.eventbrite.com/
Co-sponsored by:
UCLA Bunche Center
UCLA Department of African American Studies
UCLA Department of English
UCLA Social Sciences Division