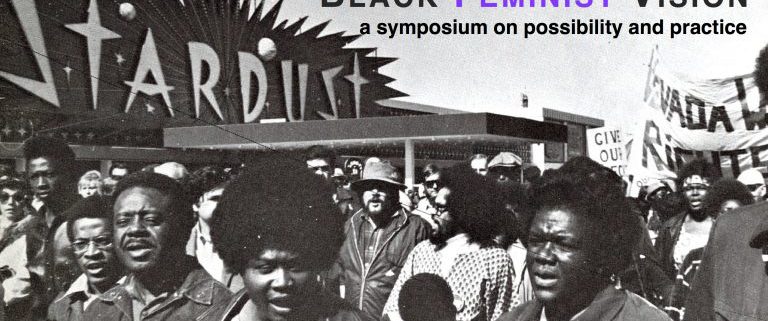 A two-day symposium on Thursday, October 20 and Friday, October 21 presented by the UC Consortium for Black Studies in California. Featuring some of the most important established and rising stars working in the field of Black feminism, this symposium is centrally organized around questions of feminism and race.
Please register HERE for each day you plan to attend. 
Day 1:

 Thursday, 

October 20, 2016, 4pm

         
Opening Keynote:

Bar

bara Ransby
Barbara Ransby, Professor of African American Studies, Gender & Women's Studies, and History at the University of Illinois at Chicago. She is author of Ella Baker and the Black Freedom Struggle: A Radical Democratic Vision and Eslanda: The Large and Unconventional Life of Mrs. Paul Robeson. Keynote Introduction by Dayo F. Gore, Associate Professor of Critical Gender Studies & Ethnic Studies, UC San Diego.
Day 2:

 Friday, October 21, 2016, 10am-4pm    
Conversations on

Black Feminist Vision
Kimberly Juanita Brown, English, Mount Holyoke College
Simone Browne, Sociology/African and African Diaspora Studies, University of Texas-Austin
Marcia Chatelain, History, Georgetown University
Erica Edwards, English, UC Riverside
Tanisha Ford, Black American Studies and History, University of Delaware
Kara Keeling, Cinematic Studies/American Studies & Ethnicity, University of Southern California 
C. Riley Snorton, Africana Studies, Cornell University
Ula Taylor, African American Studies, UC Berkeley
Lisa Ze Winters, English/African American Studies, Wayne State University
Day 2: Friday, October 21, 2016, 4pm                
Closing Keynote:

Katherine McKittrick
Katherine McKittrick is Associate Professor in Gender Studies and the Graduate Program in Cultural Studies at Queens University and author of Demonic Grounds: Black Women and Cartographies of Struggle.  She is editor of Sylvia Wynter: On Being Human as Praxis and co-editor (with Clyde Woods) of Black Geographies and the Politics of Place.  Keynote Introduction by Arlene Keizer, Associate Professor of Comparative Literature, English, and African American Studies, UC Irvine.