Kristine Gunnell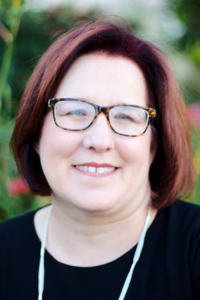 Kristine Ashton Gunnell completed her PhD at Claremont Graduate University in 2010. With a decade of teaching experience in colleges and universities, she specializes in the history of women and gender in the American West, especially the role of religious women in public and private life. Gunnell is the author of Daughters of Charity: Women, Religious Mission, and Hospital Care in Los Angeles, 1856-1927 (DePaul Vincentian Studies Institute, 2013), and won the 2014 Arrington-Prucha Prize from the Western History Association for her article "Daughters of Charity as Cultural Intermediaries: Women, Religion, and Race in Early Twentieth-Century Los Angeles."
In the twentieth and twenty-first centuries, the Daughters' services have taken various forms: education, senior housing, and healthcare services, among others. But for the Daughters and members of other organizations in the Vincentian family, meeting immediate needs is not enough. They seek to provide men, women, and children with the necessary skills to maneuver around barriers to economic betterment. As more people learn and share these skills, poverty becomes less powerful, and the hope is that the system itself will eventually change.
Since 1984, the Daughters of Charity Foundation has played a pivotal role in sustaining the sisters' efforts to promote systemic change in the western United States and elsewhere across the globe. Established by Sister Teresa Piro, the foundation is a supporting organization for the Daughters of Charity Province of the West, the administrative unit which oversees the sisters' ministries in the western United States. Through a series of historical essays, Gunnell explores the foundation's leadership, strategies, and programs that bolster the ministries' efforts to serve those struggling in poverty, meeting short-term needs as appropriate, and pursuing long-term interventions that will prevent more people from slipping into its grip. Tentatively titled The Daughters of Charity Foundation and Systemic Change, 1984-2015, the book contributes to the history of women religious and demonstrates their contemporary leadership in the fight against poverty.


Publications
"Bridges to Health: US Daughters of Charity, Seton Institute, and Funding Primary Health Care Activities in Latin America, 1985-2010." 2020. US Catholic Historian 38, no. 4 (Fall): 71–94. https://muse-jhuedu.ccl.idm.oclc.org/article/772043.
Daughters of Charity: Women, Religious Mission, and Hospital Care in Los Angeles, 1856-1927. 2013. Chicago: Vincentian Studies Institute Press at DePaul University.
"The Daughters of Charity as Cultural Intermediaries: Women, Religion, and Race in Early Twentieth-Century Los Angeles." 2013. US Catholic Historian 31(2): 51–74.
"Women's Work: The Daughters of Charity Orphans' Fairs and the Formation of the Los Angeles Community, 1858-1880." 2012. Southern California Quarterly (January): 373–406.
"Sisters and Smallpox: The Daughters of Charity as Advocates for the Sick Poor in Nineteenth-century Los Angeles." 2011. Vincentian Heritage Journal 30(2): 9–26.