Becky Nicolaides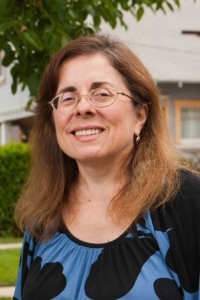 Becky Nicolaides received her PhD in History from Columbia University in 1993, and went on to serve on the faculties of Arizona State University West and University of California San Diego. She left her tenured post at UCSD in 2006 to become a historical scholar, writer, and consultant. She serves as co-editor for the "Historical Studies of Urban America" series published by University of Chicago Press and is the co-coordinator of the L.A History and Metro Studies group at the Huntington Library. Becky has consulted extensively on the Survey LA project for the City of Los Angeles, and currently serves on the LA Civic Memory Working Group, run out of Mayor Eric Garcetti's office, where she co-chairs the subcommittee on "Sites and Themes of Consideration." She recently completed a three-year term on the governing board of the American Historical Association. Nicolaides is at work on her third book, with the working title The New Suburbia: Stability, Upheaval, and Everyday Life in LA's Suburbs since 1945, with funding from the Haynes Foundation, the National Endowment for the Humanities, the American Council of Learned Societies, the Huntington Library, and the Center for the Study of Women.
Drawing upon everyday experiences and local histories of life on the ground, The New Suburbia explores how suburban life has evolved since 1945, using Los Angeles County as a site of study. This book brings a historical perspective to questions of how the texture of suburban social and civic life changed over time, the reasons for those transformations, and their implications. It provides the first comprehensive social history of suburban life from 1945 to the present, taking into account the many ways that social diversification has revised the experiences and meanings of suburban life in America. Suburbia is no longer a space of bland homogeneity. It has become a setting as rich, diverse, and complex as America itself.
Publications
"Migrations." In A Los Angeles County Almanac, edited by William Deverell and Wade Graham. Forthcoming.
"The Real Suburbs: Unpacking Distortions and Truths about America's Suburbs," UCLA Center for the Study of Women Blog, September 2020.
"From Resourceful to Illegal: The Racialized History of Garage Housing in Los Angeles," Boom California, January 31, 2019, https://boomcalifornia.com/2019/01/31/from-resourceful-to-illegal/.
Becky Nicolaides and Andrew Wiese, "Suburbanization Since 1945," Oxford Research Encyclopedia of American History, April 2017.
"Suburban Metamorphosis," UCLA Center for the Study of Women Blog and HippoReads, December 2016.
Becky M. Nicolaides and Andrew Wiese, eds., The Suburb Reader, 1st and 2nd Editions (New York: Routledge, 2006/2016).
Becky Nicolaides, with maps by Jennifer Mapes, "Map Room: Stay-at-Home Moms in Los Angeles County, 1950-2000," Map Room feature, California History 93, no. 3 (Fall 2016), 2-8.
Becky Nicolaides and James Zarsadiaz, "Design Assimilation in Suburbia: Asian Americans, Built Landscapes, and Suburban Advantage in the San Gabriel Valley since 1970," Journal of Urban History, 43, no. 2 (2017), published OnlineFirst November 5, 2015.
* 2015 Arnold Hirsch Award, Urban History Association
* 2018 Catherine W. Bishir Prize, Vernacular Architecture Forum
"Introduction: Asian American Suburban History" in "Asians in the Suburbs," ed. Becky Nicolaides, special issue, Journal of American Ethnic History 34, no. 2 (Winter 2015). With articles by Willow Lung Amam, Jennifer Fang, and Mark Padoongpatt.
"The Social Fallout of Racial Politics: Civic Engagement in Suburban Pasadena, 1950-2000," in Making Suburbia, ed. John Archer, Paul Sandul, and Katherine Solomonson (Minneapolis: University of Minnesota Press, 2015).
Becky Nicolaides and Andrew Wiese, "Suburban Disequilibrium," New York Times, Sunday Review section, April 7, 2013. Also on the Opinionator blog: http://opinionator.blogs.nytimes.com/2013/04/06/suburban-disequilibrium/.
"Suburban Landscapes of Los Angeles," in Overdrive: Los Angeles Constructs the Future, 1940-1990, ed. Wim de Wit and Christopher James Alexander (Los Angeles: Getty Research Institute, 2013).
"How Hell Moved from the City to the Suburbs: Urban Scholars and Changing Perceptions of Authentic Community," in The New Suburban History, ed. Kevin M. Kruse and Thomas J. Sugrue (Chicago: University of Chicago Press, 2006).
My Blue Heaven: Life and Politics in the Working-Class Suburbs of Los Angeles, 1920-1965 (Chicago: University of Chicago Press, 2002).
* 2004 Pacific Coast Branch Book Award, American Historical Association Pacific Coast Branch
* 2004 Donald H. Pfleuger Local History Award, Historical Society of Southern California
Advocacy Work
"Statement on Research Access." Co-written with James Grossman [executive director of the AHA]. American Historical Association. 2020. https://www.historians.org/jobs-and-professional-development/statements-standards-and-guidelines-of-the-discipline/statement-on-research-access.
"Research Access and Scholarly Equity." In Perspectives on History, co-written with James Grossman. American Historical Association. January 10, 2020. https://www.historians.org/publications-and-directories/perspectives-on-history/january-2020/research-access-and-scholarly-equity.
"My Journey through the Research Access Crisis." UCLA Center for the Study of Women. March 5, 2019. https://csw.ucla.edu/2019/03/05/my-journey-through-the-research-access-crisis/.
"Locked Out: Research Access as a Challenge for the Discipline," Perspectives on History. American Historical Association. August 6, 2018. https://www.historians.org/publications-and-directories/perspectives-on-history/september-2018/locked-out-research-access-as-a-challenge-for-the-discipline.
Contact
Becky requests that no mail be sent to her at CSW.
Email: becky.nicolaides@outlook.com
Blog: SuburbanMe.com
Twitter:  @BeckyNic7