CSW Awards 2017
We are pleased to announce the recipients of the 2017 CSW awards!
We also thank those who served on the awards committees: Virginia Coiner Classick, Dr. Constance Coiner's sister; Susan Ettner, Professor of Medicine and Health Policy and Management; Aisha Finch, Associate Professor of Gender Studies and African American Studies; Jessica Gipson, Associate Professor of Community Health Sciences; Kristy Guevara-Flanagan, Assistant Professor in the School of Theater, Film, and Television; Myrna Hant, CSW Research Affiliate; Grace Hong, Professor of Gender Studies and Asian American Studies; Katherine King, Professor of Comparative Literature and Classics; Hannah Landecker, Director of the Institute for Society and Genetics and Associate Professor of Sociology; Kristina Magpayo Nyden, CSW Management Services Officer; Karen Rowe, Professor of English and founding director of CSW; and Margaret Shih, Professor in the Anderson School of Management.
Penny Kanner Dissertation Research Fellowship
A CSW Research Affiliate from 1990-2016, Penny Kanner (left) received a Ph.D. in the Department of History at UCLA. Unwavering in her support of graduate students and junior faculty at UCLA, Kanner recalled in her essay, "Growing into History," in Voices of Women Historians, that she provided CSW with funding for student awards after "seeing that professional encouragement for women graduate students was pitifully inadequate in all disciplines." The Penny Kanner Dissertation Research Fellowship helps fund an exceptional dissertation research project pertaining to women or gender that uses historical materials and methods.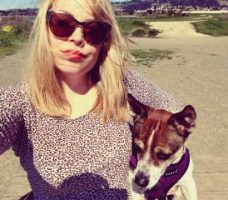 This year's recipient is Savannah Kilner (left),  a doctoral candidate in Gender Studies. Her scholarly work examines the politics of queer space in the context of ongoing settler colonialism and the carceral state. Savannah received her BA in Ethnic Studies from Mills College, and is active in and inspired by movements for housing justice, Indigenous sovereignty, and prison abolition. Her work has been supported by the Social Science Research Council, Institute for American Cultures, Bancroft Library, and UC Humanities Research Institute..
Elizabeth Blackwell, MD, Graduate Award
Also funded by Penny Kanner, and named for the first woman to receive a medical degree in the United States, the Elizabeth Blackwell, MD, award recognizes an outstanding research report, thesis, or article related to women and health or women in health-related endeavors.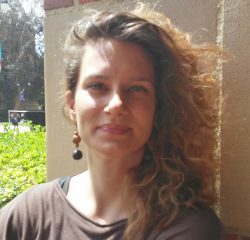 This year's recipient is Eleni Skaperdas (left),  a doctoral student in the Department of Sociology. Her research investigates how new prenatal genetic testing technologies are reshaping the experience of pregnancy. From just a pinprick of blood, we can now run genetic sequencing on fragments of fetal DNA circulating in the mother's blood stream. This science is technically wondrous, but the reality of this and other genetic tools entering into the lives of pregnant women is messy. Eleni's work situates women's prenatal testing experiences historically and theoretically, within a rich body of feminist scholarship examining the intersection of knowledge, science, and politics within women's reproduction.
Jean Stone Research Dissertation Fellowship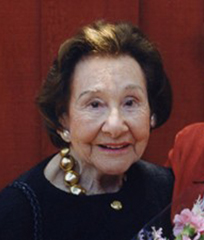 Jean Stone (left), born Jean Factor, was involved with and supported UCLA for more than fifty years. Because she cared deeply about the graduate students whose research embodied the promise of the next generation of feminist scholars, she provided funds for two CSW awards. The Jean Stone Research Dissertation Fellowship provides support for a doctoral student engaged in research focusing on women and/or gender. The Paula Stone Legal Research Fellowship, which Stone created to honor her daughter, supports research that focuses on women and the law with preference given to research on women in the criminal/legal justice system.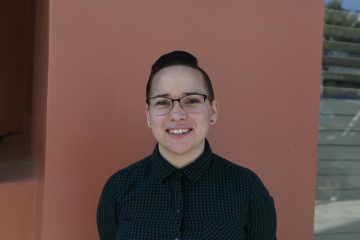 This year's recipient is Jackie Caraves (left). Jackie is a gender non-conforming queer Latinx activist scholar who was born and raised in East Hollywood in Los Angeles. Jackie received her B.A. in Latin American & Latino Studies and Politics from the UCSC in 2010 and her M.A. Chicana/o Studies from UCLA in 2014. Currently, Jackie is a PhD Candidate in Chicana/o Studies. Since 2015, she has been working closely with the TransLatin@ Coalition. In 2016, together with the president of TransLatin@ Coalition, Bamby Salcedo, Jackie released the report "The State of Trans Health: Trans Latin@s and their Healthcare Needs." Jackie's dissertation work centers the experiences of Trans and gender non-conforming Latinxs and the role of family and spirituality in serving as spaces of empowerment and resistance.
Paula Stone Legal Research Fellowship
Created by Jean Stone to honor her daughter, this fellowship supports research that focuses on women and the law with preference given to research on women in the criminal/legal justice system.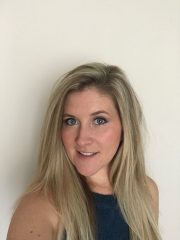 This year's recipient is Elle Harvell (left), a PhD candidate in the Department of History. She holds an M.A. in History from the University of Texas at Tyler. Her dissertation, titled "'Between fires': Civilians in 'Little Dixie,' Missouri during the American Civil War," explores the daily interactions and struggles between civilians and combatants in a region torn apart by guerrilla warfare. Women, many of whom resisted and strongly vocalized their opinions, feature prominently in her work as participants in the war on the home front. Her research explores the ways in which women played an active role in redefining their own political and legal status in society, primarily by resisting prosecution for treason, which was being pursued more extensively during the war than any other period in American history. Broadly, her dissertation will challenge the region's overwhelmingly Confederate reputation—as indicated by the epithet "Little Dixie"—and expand our understanding of Civil War political ideologies by unraveling the complexity and diversity of civilian motivations for resistance.
Read Elle's blog post about female traitors during the Civil War!
Constance Coiner Awards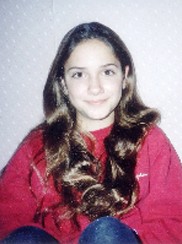 The Constance Coiner Awards honor the lives of Dr. Constance Coiner, 48, and her daughter, Ana Duarte-Coiner, 12, who perished on TWA flight #800 in June of 1996. Made possible through donations of family and friends, these awards support research on feminist and working-class issues and honor excellence in teaching and a commitment to teaching as activism.
Dr. Constance Coiner designed her own individual Ph.D. program in American Studies at UCLA, bringing together her interests in working-class literature and history. Her dissertation was completed in 1987. Coiner received numerous awards, including the very first CSW dissertation award. She joined the faculty at the State University of New York, Binghamton, in 1988. Her book, Better Red: The Writing and Resistance of Tillie Olsen and Meridel Le Sueur, published in 1995 by Oxford University Press, brilliantly illuminated the feminism of these early working-class writers and their ties to the Communist Party. A pioneering voice for feminist scholarship on women of the working class, Dr. Coiner became— at SUNY Binghamton and within the Modern Language Association—a well-respected and beloved mentor to women students who also sought forge links between women's lives and work, between American feminism and the political left, and between oral history and literary theory.
Born while Constance was completing her doctorate, Ana Duarte-Coiner helped lead her team to a city softball championship in 1995, excelled as a student, was a reporter on a children's television program, and was also an accomplished pianist and member of her school's varsity tennis team.
Constance Coiner Graduate Award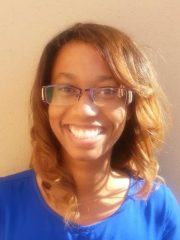 Kimberly Welch (left) is is a doctoral candidate in Theater and Performance Studies. Broadly speaking, her research explores the intersections of performance, homelessness, and incarceration. With an emphasis on spatial structures and their relationship to constructions of race, gender, and sexuality, Welch's work addresses historic and contemporary forms of spatial dispossession in Los Angeles and New Orleans.
Constance Coiner Undergraduate Awards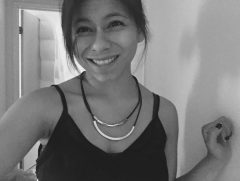 Linda Esquivel (left) is a third-year undergraduate who is majoring in History and Labor & Workplace Studies. She has served on the editorial board for UCLA's Aleph Undergraduate Research Journal. Linda has also presented her research at multiple conferences since arriving at UCLA. Her work highlights how the intersection of social control, union organization, and undocumented workers' experiences is central to the historical construction of crimmigration in California's Central Valley. Her research has been supported by the Mellon Mays Undergraduate Fellowship and the Bradford E. Burns Endowed Scholarship for History Students. After graduation, she plans to pursue a dual title PhD in History and Gender Studies. She will be the first in her family to receive a college degree.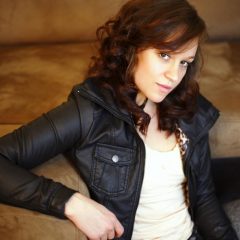 Kelly Gluckman (left) is a third-year transfer student, majoring in World Arts and Cultures. After becoming HIV positive, she became a sexual health educator and HIV/AIDS advocate. She tells her story in order to eradicate stigma and prevent others from contracting the virus. She has been featured in a national ad campaign by the Centers for Disease Control and Prevention, a documentary special on MTV, written for online publications, spoken at colleges and high schools, volunteered for AIDS service organizations, advocated for the rights of people living with HIV on Capitol Hill, and is an ambassador for the Elizabeth Taylor AIDS Foundation. Her senior focus project will be designing a study around her speaking program in order to develop data on the effectiveness of "edu-tainment" style storytelling and sex-positive messaging in sex education. She plans to pursue a Masters degree at the UCLA Fielding School of Public Health.
Renaissance Award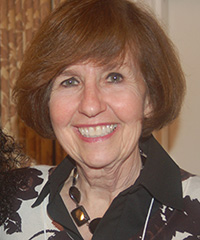 A CSW Research Affiliate since 2001, Myrna Hant (left) received her Ph.D. in Higher Education from UCLA. She was a college administrator as well as an instructor in Women's Studies at Chapman University. Presently she teaches Women's Studies courses and courses focusing on later life issues at Chapman and at UCLA. Her research project on "Television's Female Pioneers: New Narratives of Aging" concerns the politics of representation of again, particularly on television and specifically Six Feet Under, Brothers and Sisters, and Damages. Dr. Hant created and funds the Renaissance Award, which is a scholarship that rewards the rebirth of academic aspirations among women whose college careers were interrupted or delayed by family and/or career obligations and encourages achievement in the pursuit of a bachelor's degree at UCLA.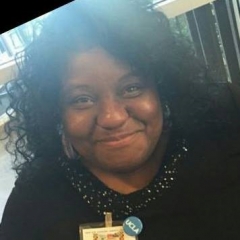 Denise Phelps (left) is a third-year undergraduate transfer student majoring in African American Studies and minoring in Education Studies, Public Policy, and Urban Planning & Regional Studies. She is also a non-traditional parenting student and a mother of seven, who was selected as a scholar from Long Beach City College in 2013 to participate in UCLA's Center for Community College Partnership (CCCP) Summer Transfer Program. Growing up in the community of Watts and residing in North Long Beach, she is very aware of the struggles faced by disadvantaged and unrepresented students who reside in marginalized communities of Los Angeles. Denise works as a peer mentor with UCLA's CCCP program mentoring community college students who are experiencing these same struggles. She also interns at Café 580 and represents parenting students on the UC Food Security Committee. After graduation, she plans to continue mentoring students with CCCP, while in pursuit of a master's degree in Education and Ethnic Studies. Her career goals are to teach Ethnic Studies in secondary education, open a Women & Children's Educational Center in her community, and pursue a PhD in Education.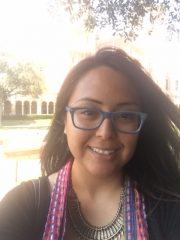 Paula Rodriguez-Diaz (left) is a first-year transfer student majoring in Sociology with a concentration in international migration studies. She is a UC Regents scholar, UCLA Law Fellow, and honors student. As a member of the internal collective of MECHA, she coordinated a speaker series titled "State Sanctioned Violence and Indigenous Resistance," where parents of the 43 missing students of the Ayotzinapa Rural teachers college were able to advocate for their missing sons. In 2016, she was selected to present her ethnography "Life by the Freeways" at the Tedex GIS day student symposium. The ethnography focused on how the freeway impacts the daily lives and use of space of surrounding neighborhoods of color in East Los Angeles, California. Ms. Rodriguez-Diaz aims to pursue a master's degree in Latin American studies consecutively with her bachelor degree. Her ultimate goal is to attend UCLA Law School. She hopes to one day provide adequate legal representation to her community in East Los Angeles.