by Zama Dube
An image is a site of history that begs to be brought back to life. This can be interpreted as history begging to be retrieved, restored and ultimately remembered, for it serves as a passage into the future. I see the practice of "remembering" as a refusal to consolidate cultural trauma into a coherent historical narrative. Ultimately, I deem it as a form of resistance for its refusal to conform to the rigidity of scholarly discipline. In order to legitimize history as truth, the process of remembering cannot be an individual process. As my attempt to theoretically harmonize with Pumla Gqola (2010), it is important to consider that "history shows us how the past is finished while memory shows how the past at times collides with the present, therefore the past is not a complete process."[i]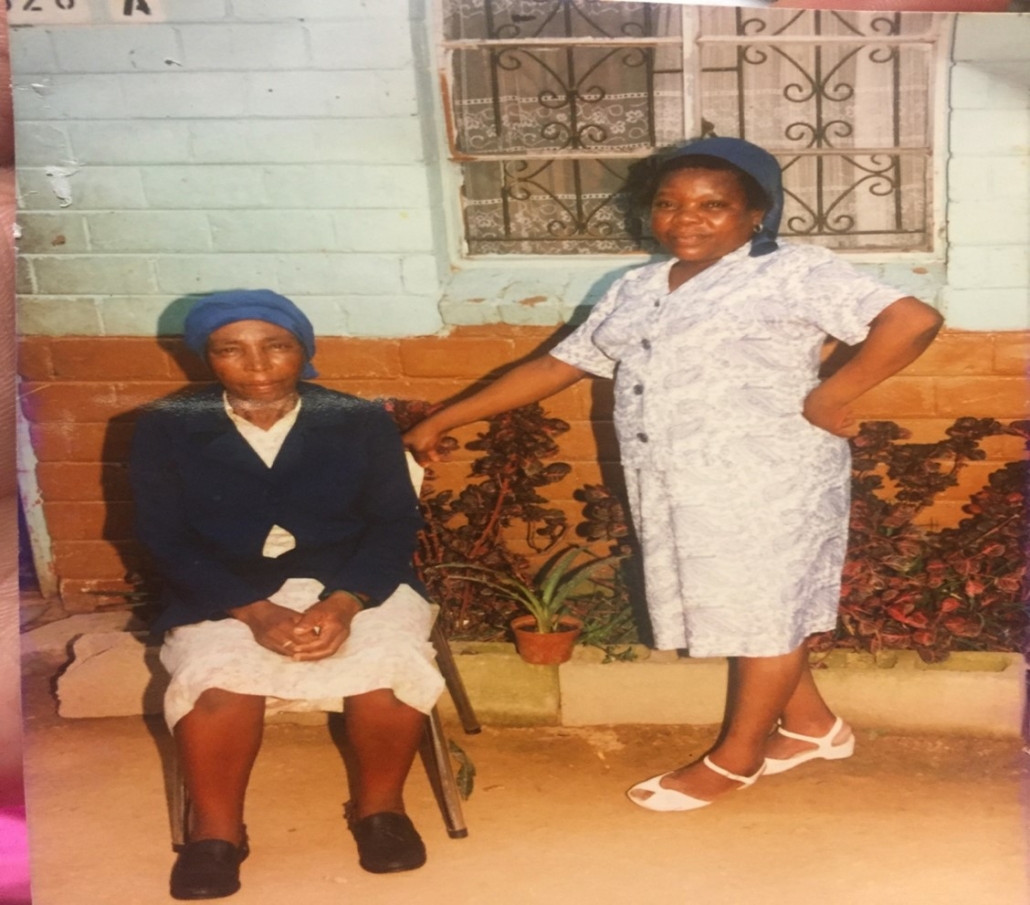 At the beginning of my PhD studies, I started to think about my grandmother and her mother. I was 28 and it was the summer of 2017 when I found myself in a New York bar, alone in Manhattan. Home was six hours ahead of me and the awareness of this time lapse shifted and reframed my conceptual understanding of time, space, home and ultimately exile. As I sat in that well-dimmed Manhattan bar with music blasting through the juke box, my body or spirit remembered my great grandmother, uMerica. Beckoning to this lifelong experiment of intimate Black epistemologies, my childhood curiosity had ensured that I asked my grandmother a lot of questions whilst she was still alive. It was only during this New York summer pilgrimage that I found parts of uMerica in me. This was my grandmother's mother. A Zulu woman who owned her own cattle and land. A rarity in postcolonial rural South Africa. I imagine that she must have believed in love and possibly yearned for it through her adult years, for she had fallen in love with several men over her lifespan, some of which she had children with. However, none of them were there on her last days on earth. I was raised by my mother, her sister and my grandmother. Three fierce Zulu women who have given me so much. When I think of Black feminism, I am reminded of the lineages of Blackwomen,[ii] both living and transcendent, that have poured into my person, my being and ultimately helped cultivate my feminist consciousness. My grandmother, whom I affectionately referred to as uGogo,is one such woman whose spirit has propelled me towards the pursuit of insurgent Black intellectual life. She remains to be one of the most revolutionary theorists I have encountered in this life and the many other realms she now occupies.
I believe that decolonizing forms of institutional knowledge requires a radical re-envisioning of what constitutes the canon, and what qualifies as theory. Often, personal narratives are perceived as self-indulgent and navel-gazing prose, however, I am of the belief that Black feminism's dynamism lies in how Blackwomen are able to use their life experiences as a source and resource for theorizing their feminism. By focusing on the deeply personal and the mundane, I seek to deliberately destabilize colonialist convictions and understandings of what is considered to be both scholarly and rigorous. For, what would it mean to theorize about the lives of ordinary Blackwomen across the diaspora? What would it mean to confer power to those who speak in muted tones? Thus, by sourcing from memory and the unspeakable teachings of the Blackwomen who have raised me, this allows me to reclaim feminism away from the exclusive territories and policing of academia. Furthermore, my preoccupation with actively grappling with various forms of decoloniality is what has inspired me to conceptually explore the idea of theorizing without words. By theorizing outside of the bounds of the academy, this enables me to center the wisdom of Blackwomen who have endured multiple forms of systemic jeopardy through colonialism, apartheid, patriarchy and the ongoing forms of neo-imperialism.
I use the term uGogo as a form of epistemic redress in order to prevent the epistemological challenges provided by "grandmother." To locate uGogo in the race for theory,[iii] I am ultimately challenging discourse that has continuously erased Blackwomen's intellectual contributions. This is a concept I borrow from Barbara Christian who offers me the grammar and the map to articulate this notion of academic hegemony in what she describes as the "race for theory." Black people, particularly those who inhabit the global south, "have always theorized—but in forms quite different from the Western form of abstract logic."[iv] It is important to confer value to assessing the figure of the grandmother beyond the invisible and unacknowledged histories. Therefore, I would like to meditate on the possibility of envisaging and reconfiguring uGogo as an institution of knowledge who transfers history through memory and folktales. I would like to reason backward from flimsy evidence by positioning uGogo as a body of indigenous knowledge who stores, transfers and ultimately disseminates knowledge and values to multiple generations of Blackwomen.
In an attempt to address the misperception of the African grandmother as either mythical or an ugly face of poverty and underdevelopment, I lean into the teachings of Babalwa Magoqwana (2018) who asserts that we need to historicize uGogo by "reclaiming and recognizing the elderly African women's bodies as institutions of indigenous knowledge, dissemination and storage in the precolonial and contemporary society."[v] In this way, Blackwomen such as uGogo have always been a race for theory that disrupts exclusionary academic sanctuaries. The teachings of uGogo ought to be evaluated by the aesthetic criteria of her culture of origin, "not criteria imported from Western or European cultural traditions that express a 'tone deafness to the black cultural voice' and result in intellectual racism."[vi]
To honor the sensual and abstract potential of Black feminism, memory compels me to cite concrete illustrations of intimate knowledge production that took place in uGogo's home. I recall learning my first English words from uGogo's kitchen teachings. As a domestic worker who was audacious enough to practice freedom in her own kitchen, uGogo was able to transcend the monstrous intimacies that were fashioned to sentence her to a life of servitude. Essentially, I was first educated by a Zulu woman who barely spoke the language herself due to the systemic violence that relegated her generation under the subjugation of "Bantu Education."[vii] Those exploded moments of teaching, of transferring knowledge and history, held time and space captive to an instance of "radical Black grand-mothering," which was enacted by the insistence to teach and effectively liberate even through the very trenches of institutional violence and exclusion.
Ancestral memory is something I constantly find myself fascinated by for what does it mean for me to remember those who not only lived before me but further continue to evade materiality? If we are to create relevant scholarship in Black diasporic knowledge systems, we have to also consider the metaphysical in the constitution of power, and pay attention to the ways in which spirituality informs the process of indigenous knowledge production. This wayward and unruly method to knowledge production queers the categories, definitions, and legitimate forms of theorizing, which are often limited to institutions. Through the poetics of repetition, I meditate on uGogo as a site that gives us the grammar and a map for reconfiguring Black feminist futures. This is a grammar steeped in eroticism, and in this vein, I would suggest that uGogo is an atlas of the wayward. Through the use of memory, uGogo subverts static understandings of history which foreclose indigenous wisdom, intuition, and sensual forms of "knowing." This approach to knowledge making eludes the capture of the master's tools by never settling. Ultimately, uGogo becomes what Saidiya Hartman (2019) forenames as "a queer resource of Black survival."[viii]
Zama Dube is a PhD student in Cinema and Media Studies at UCLA. Her research interests explore the contributions of Black women media makers in envisioning decolonial visual representations of Black womanhood, the aestheticization and representation of Africa in the Hollywood imagination, and the liberatory aesthetics of Black cinema. Dube is the recipient of CSW's 2019-2020 Mariame Kaba Graduate Fellowship in Black Feminist Research and the CSW Spring 2020 Travel Grant.
---
[i] Gqola, Pumla, What is Slavery to me? Postcolonial/Slave Memory in Post-apartheid South Africa, (Johannesburg: Wits University Press, 2010), 11.
[ii] As a nod to the radical teachings of Pumla Gqola, I deliberately combine the words "Black" and "Woman" in order to demonstrate the inextricable link between these two identities and to highlight my proposed stance on intersectional feminism.
[iii] Akin to a jazz improvisation with beautiful mathematical precision, I draw from Barbara Christian's 1988 article entitled "The Race for Theory."
[iv] Christian, Barbara, "The Race for Theory," Feminist Studies 14, no. 1 (1988): 68.
[v] Magoqwana, Babalwa, "Repositioning uMakhulu as an Institution of Knowledge," in Whose History Counts: Decolonising African Pre-Colonial Historiography, ed. Bam, June, Lungisile Ntsebeza, and Allan Zinn, (Stellenbosch, South Africa: African Sun Media, 2018), 76.
[vi] Christian, "The Race for Theory," 68.
[vii] Under the South African Apartheid government, discriminatory educational practices such as Bantu Education (also known as "Black Education") were legally enforced in order to keep Black and white people apart in all aspects of social life, and to control the movement and economic activity of Black people.
[viii] Hartman, Saidiya V., Wayward Lives, Beautiful Experiments: Intimate Histories of Social Upheaval, 1st ed. (New York, NY: W.W. Norton & Company, 2019).